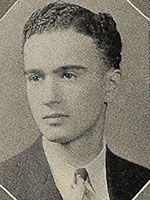 View these same grids with comments from:
David Steinberg (4)
See the 89 answer words debuted by Sidney L. Robbins.
Alternate names for this constructor:
S. L. Robbins
,
S. Robbins
,
Sidney L. Robbins (1909-97)
Sidney L. Robbins was born in Manhattan in 1909, the son of Herman and Mary (Susnitsky) Rabinowitz. He grew up in Brooklyn and attended Columbia College, graduating in 1930. In 1946, he married Beatrice Levine. Sidney was an executive in a leather manufacturing business.
He had over 200 crosswords published in the Times, including over 140 Mondays. Of his 50 Times puzzles in the Shortz Era, 48 were Mondays. He passed away in 1997 at the age of 86.