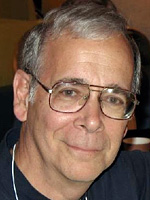 View these same grids with comments from:
Jeff Chen (1)
See the 1,104 answer words debuted by Rich Norris.
Alternate name for this constructor:
Rich Norris is the former Los Angeles Times crossword editor. He created high-quality crosswords for almost 30 years. His specialty is clean, accessible grids with precise, often twisty clues. His puzzles have appeared in many different venues, including the New York Times, Newsday, Wall Street Journal, and Crosswords Club, which he also used to edit.