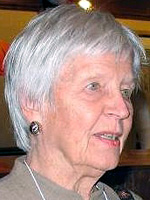 View these same grids with comments from:
Jim Horne (1)
See the 379 answer words debuted by Nancy Nicholson Joline.
Alternate names for this constructor:
N. Joline
,
N. N. Joline
,
Nancy Joline
,
Nancy N. Joline
Nancy worked as a journalist at The Long Islander and authored educational textbooks for Educational Developmental Laboratories.
Will Shortz has called Nancy, "one of the greats — one of the few constructors to successfully go from the Maleska era to my own."