This web browser is not supported. Use Chrome, Edge, Safari, or Firefox for best results.
Maura B. Jacobson author page
66 puzzles by Maura B. Jacobson (1926-2017)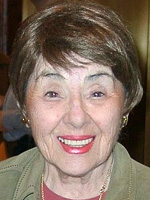 View these same grids with comments from:
David Steinberg (8)
See the 21 answer words debuted by Maura B. Jacobson.
Alternate names for this constructor:
M. Jacobson
,
Maura Jacobson
Maura Jacobson was the first winner of the prestigious Merl Reqgle Award for lifetime achievement in crossword constructing in 2016,
See Remembering Maura Jacobson by Will Shortz, and David's Steinberg's In Memoriam.
3 Shortz Era daily crosswords by Maura B. Jacobson
Wed 9/16/2009

| | | | | | | | | | | | | | | |
| --- | --- | --- | --- | --- | --- | --- | --- | --- | --- | --- | --- | --- | --- | --- |
| A | L | I | T | | D | E | L | A | | | A | M | E | N |
| N | A | D | A | | A | G | O | R | A | | M | E | G | A |
| T | W | E | N | T | Y | O | N | E | S | W | I | N | G | S |
| I | N | A | T | U | B | | I | N | T | H | E | U | S | A |
| | | | E | N | Y | A | | A | R | E | | | | |
| I | T | A | | E | D | O | M | | O | N | T | I | M | E |
| N | O | L | I | | A | R | A | T | | C | O | C | O | A |
| T | W | E | N | T | Y | T | H | R | E | E | K | I | D | S |
| R | I | N | G | O | | A | E | O | N | | E | L | E | E |
| A | T | E | A | M | S | | R | O | T | H | | Y | S | L |
| | | | | A | O | L | | P | R | O | D | | | |
| S | I | N | A | T | R | A | S | | U | N | W | I | S | E |
| T | W | O | F | O | R | T | H | E | S | E | E | S | A | W |
| L | I | M | A | | Y | E | A | S | T | | E | T | R | E |
| O | N | E | R | | | X | M | A | S | | B | O | A | R |
Sun 11/24/1996

Theme: The Lady Changes Her Name

| | | | | | | | | | | | | | | | | | | | | |
| --- | --- | --- | --- | --- | --- | --- | --- | --- | --- | --- | --- | --- | --- | --- | --- | --- | --- | --- | --- | --- |
| P | E | P | S | I | | F | E | T | I | D | | C | U | S | P | | O | R | B | S |
| O | L | E | I | N | | E | N | V | O | I | | A | S | W | E | | P | O | L | O |
| M | A | R | S | H | A | M | O | A | N | S | | L | E | E | R | | E | B | A | N |
| E | L | L | | A | L | M | S | | I | M | E | L | D | A | C | A | R | O | M | S |
| | | E | L | S | I | E | | | A | I | M | S | | R | E | B | A | T | E | |
| G | A | M | E | T | E | | M | A | N | S | E | | D | I | N | E | | | | |
| A | G | A | V | E | | C | O | T | | S | U | S | A | N | T | A | N | G | O | S |
| N | O | T | E | | | A | N | T | A | | S | U | M | | | M | O | O | R | E |
| G | R | E | E | R | G | R | O | A | N | S | | B | A | R | D | | T | A | L | C |
| | A | S | S | A | I | L | | I | T | E | M | | T | E | R | M | I | T | E | |
| | | | | Y | V | O | N | N | E | C | A | R | O | L | E | D | | | | |
| | P | A | P | E | E | T | E | | S | T | L | O | | A | G | L | E | A | M | |
| D | O | L | E | | A | S | K | S | | S | A | N | D | Y | S | I | N | N | E | D |
| I | S | L | A | M | | | T | A | J | | R | A | R | E | | | S | N | E | E |
| S | H | A | R | O | N | T | O | N | E | S | | L | A | D | | B | U | S | T | S |
| | | | | V | E | I | N | | S | T | U | D | Y | | K | A | R | N | A | K |
| | D | E | W | I | T | T | | A | S | A | P | | | C | A | N | E | A | | |
| J | U | L | I | E | W | A | N | D | E | R | S | | A | R | T | S | | R | A | E |
| I | C | E | D | | O | N | E | A | | L | E | S | L | E | Y | H | A | L | T | S |
| V | A | N | E | | R | I | A | L | | E | T | T | A | S | | E | V | E | R | T |
| E | L | A | N | | K | A | L | E | | T | S | A | R | S | | E | A | D | I | E |
Sun 10/29/1995

Round Robin

| | | | | | | | | | | | | | | | | | | | | |
| --- | --- | --- | --- | --- | --- | --- | --- | --- | --- | --- | --- | --- | --- | --- | --- | --- | --- | --- | --- | --- |
| A | W | L | S | | P | A | S | S | E | | P | L | A | S | M | A | | P | T | A |
| T | A | I | L | | A | L | L | E | Y | | L | E | C | H | E | R | | R | E | D |
| O | N | C | E | I | N | L | O | V | E | W | I | T | H | A | M | Y | | E | T | A |
| P | E | K | E | S | | O | W | E | | E | A | T | E | N | | | T | S | H | I |
| | | | T | O | F | U | | R | Y | A | N | S | D | A | U | G | H | T | E | R |
| I | N | T | I | M | A | T | E | | A | S | T | | | | S | T | A | I | R | |
| M | A | R | N | E | R | | R | O | L | E | | S | L | I | C | E | R | S | | |
| T | H | E | G | R | A | T | E | F | U | L | D | E | A | D | | | | S | O | B |
| O | A | K | | | W | H | I | T | | | O | R | L | O | | W | H | I | N | E |
| | | | | M | A | E | | | R | A | D | I | A | L | | A | I | M | E | D |
| | M | E | R | R | Y | W | I | V | E | S | O | F | W | I | N | D | S | O | R | |
| J | A | M | I | E | | E | L | A | T | E | S | | | Z | E | E | | | | |
| O | R | E | A | D | | L | I | L | I | | | A | N | E | W | | | T | A | J |
| B | E | N | | | | L | O | V | E | A | T | F | I | R | S | T | B | I | T | E |
| | | D | E | M | E | S | N | E | | G | E | L | S | | B | A | L | L | E | T |
| | L | A | M | E | R | | | | R | O | E | | I | S | O | L | A | T | E | S |
| B | A | T | M | A | N | R | E | T | U | R | N | S | | O | Y | L | S | | | |
| A | R | I | A | | | I | L | O | N | A | | A | S | P | | O | T | T | E | R |
| M | I | O | | W | I | N | D | O | W | S | O | N | T | H | E | W | O | R | L | D |
| B | A | N | | A | N | G | E | L | A | | S | T | A | I | N | | F | E | M | A |
| I | T | S | | S | T | O | R | E | Y | | S | A | T | E | D | | F | E | S | S |
63 pre-Shortz crosswords by Maura B. Jacobson
Sun 11/3/1991

INTERNATIONAL DOUBLE PLAYS

| | | | | | | | | | | | | | | | | | | | | |
| --- | --- | --- | --- | --- | --- | --- | --- | --- | --- | --- | --- | --- | --- | --- | --- | --- | --- | --- | --- | --- |
| B | O | R | E | D | | A | S | I | S | | S | P | E | E | D | | S | C | A | M |
| A | G | O | R | A | | R | O | O | K | | L | A | N | A | I | | E | Z | R | A |
| C | R | O | A | T | O | M | A | N | I | C | O | L | O | R | S | | M | E | I | R |
| H | E | F | T | E | D | | R | A | M | A | P | O | | L | O | G | I | C | A | L |
| | | | | D | O | S | | | | R | E | M | O | | R | A | S | H | | |
| L | O | C | O | | R | E | N | E | G | E | | A | N | O | D | E | | K | O | R |
| E | T | A | T | | | A | E | R | I | E | | | T | R | E | A | S | U | R | E |
| D | O | N | T | K | H | M | E | R | A | N | Y | M | O | O | R | | E | R | G | S |
| A | S | T | E | R | O | I | D | S | | | A | M | P | S | | M | E | D | I | A |
| | | T | R | A | W | L | | | | A | L | D | O | | K | O | P | P | E | L |
| A | S | H | | I | W | E | N | T | G | A | U | L | F | I | N | N | | A | S | E |
| C | H | A | S | T | E | | E | M | I | R | | | | G | O | T | A | T | | |
| C | A | I | U | S | | A | G | A | L | | | S | O | U | W | E | S | T | E | R |
| E | L | M | S | | G | R | A | N | D | K | E | N | Y | A | N | S | W | E | D | E |
| P | L | E | A | S | A | N | T | | | A | L | I | E | N | | | A | R | G | O |
| T | I | D | | T | R | E | E | S | | S | A | T | R | A | P | | N | N | E | S |
| | | E | G | E | R | | S | T | A | B | | | | S | O | T | | | | |
| E | N | D | E | M | I | C | | A | L | A | M | O | S | | L | E | A | S | E | S |
| L | O | O | S | | S | E | R | B | T | H | E | M | A | Y | A | N | D | I | S | H |
| B | O | W | S | | O | D | I | L | E | | M | A | L | E | | D | I | T | T | O |
| A | N | N | O | | N | E | V | E | R | | O | R | T | S | | S | T | E | E | D |
Sun 4/22/1990

MIDEAST MONKEYSHINES

| | | | | | | | | | | | | | | | | | | | | |
| --- | --- | --- | --- | --- | --- | --- | --- | --- | --- | --- | --- | --- | --- | --- | --- | --- | --- | --- | --- | --- |
| | M | A | O | R | I | | P | I | L | O | T | | | | A | M | I | S | S | |
| W | I | N | D | E | D | | E | T | O | S | H | A | | A | C | C | R | E | T | E |
| O | N | E | I | N | A | | T | H | E | S | E | W | A | G | E | C | A | N | A | L |
| E | D | U | C | E | | A | R | A | B | I | C | E | X | E | R | C | I | S | E | S |
| F | A | R | | | C | L | O | D | | | A | D | E | N | A | | S | O | L | E |
| U | N | I | | P | H | I | L | | A | M | T | | | | T | A | E | | | |
| L | A | S | C | A | R | | | E | R | I | | S | A | U | E | R | | S | T | O |
| | O | M | A | N | I | S | A | N | I | S | L | A | N | D | | A | F | T | E | R |
| | | | M | A | S | O | N | S | | C | O | N | D | O | | R | I | A | T | A |
| | A | G | E | | T | O | T | | | H | O | D | | | G | A | S | T | O | N |
| A | W | O | L | F | I | N | S | H | E | I | K | S | C | L | O | T | H | I | N | G |
| L | E | S | L | I | E | | | O | L | E | | | R | E | D | | M | C | S | |
| T | A | H | O | E | | N | E | G | E | V | | D | O | N | A | T | E | | | |
| E | R | E | T | S | | I | M | A | M | O | L | D | C | O | W | H | A | N | D | |
| R | Y | N | | T | E | X | A | N | | U | S | E | | | F | O | L | I | O | S |
| | | | M | A | X | | | | S | S | T | | P | O | U | R | | T | W | O |
| W | A | N | E | | A | L | I | B | I | | | D | A | H | L | | | R | A | U |
| A | D | E | N | P | L | A | N | E | T | A | R | I | U | M | | S | L | O | G | S |
| K | U | W | A | I | T | W | A | T | C | H | E | R | S | | A | P | O | G | E | E |
| E | L | E | C | T | E | D | | H | O | M | A | G | E | | P | A | C | E | R | S |
| | T | R | E | A | D | | | | M | E | D | E | S | | E | T | O | N | S | |
Sun 8/7/1988

SIENA TOURIST STOPS?

| | | | | | | | | | | | | | | | | | | | | |
| --- | --- | --- | --- | --- | --- | --- | --- | --- | --- | --- | --- | --- | --- | --- | --- | --- | --- | --- | --- | --- |
| I | C | E | R | | A | C | K | | | J | E | S | T | | | S | C | A | L | P |
| V | O | L | E | | I | H | A | D | | O | P | A | H | | | T | A | B | O | R |
| A | L | E | C | | M | A | Z | O | | H | I | V | E | | M | O | N | A | C | O |
| N | I | N | E | | F | L | O | R | E | N | C | E | O | F | A | R | A | B | I | A |
| | C | A | P | R | I | C | O | R | N | S | | S | C | R | I | M | P | | | |
| | | | T | O | R | O | | I | L | O | | | R | U | T | | E | I | R | E |
| B | E | C | O | M | E | | | T | A | N | G | | A | M | A | H | | N | E | D |
| A | D | A | R | E | | A | S | S | I | S | I | A | S | P | I | E | | C | I | G |
| M | E | R | | S | E | C | T | | | | A | L | Y | | | L | A | R | G | E |
| A | N | I | S | E | T | T | E | S | | O | N | O | | F | A | L | L | E | N | |
| | | C | A | R | R | A | R | A | M | O | T | H | E | R | H | O | O | D | | |
| | H | A | L | V | E | S | | L | I | P | | A | R | O | M | A | T | I | C | S |
| P | A | T | T | I | | | A | V | E | | | | I | T | E | M | | B | R | O |
| E | M | U | | C | R | E | M | O | N | A | S | A | S | H | | A | L | L | O | W |
| T | A | R | | E | E | L | S | | S | T | E | N | | | B | L | E | E | P | S |
| O | N | E | S | | A | L | T | | | T | I | T | | S | O | F | A | | | |
| | | | T | O | S | E | E | D | | A | N | A | P | O | L | I | D | A | Y | |
| P | I | S | A | P | O | R | R | I | D | G | E | C | O | L | D | | P | R | O | F |
| O | R | I | G | I | N | | D | R | E | I | | I | D | E | E | | I | D | L | E |
| L | O | D | E | N | | | A | G | A | R | | D | I | M | S | | P | O | K | E |
| S | N | I | D | E | | | M | E | R | L | | | A | N | T | | E | R | S | T |
Sun 3/6/1988

INTERNATIONAL WOMEN'S DAY

| | | | | | | | | | | | | | | | | | | | | |
| --- | --- | --- | --- | --- | --- | --- | --- | --- | --- | --- | --- | --- | --- | --- | --- | --- | --- | --- | --- | --- |
| P | L | E | D | | S | A | R | T | O | R | | A | W | L | | | Y | O | K | O |
| R | O | M | E | | O | T | I | O | S | E | | T | H | U | G | | A | M | I | R |
| E | D | I | T | H | C | A | V | E | L | L | | T | E | C | H | | L | A | W | N |
| P | I | L | A | U | | | E | I | O | | M | A | R | I | E | C | U | R | I | E |
| | | | I | N | T | E | R | N | | S | E | C | E | D | E | R | | | | |
| | | I | N | D | I | R | A | G | A | N | D | H | I | | | A | D | A | M | E |
| T | I | S | | R | P | M | S | | R | E | I | | | P | A | T | I | N | A | S |
| A | D | A | | E | T | A | | H | A | E | C | | S | O | B | | A | N | I | S |
| M | I | K | A | D | O | | H | A | R | R | I | E | T | T | U | B | M | A | N | |
| P | O | D | S | | P | I | E | T | A | S | | L | E | A | | R | E | P | | |
| A | M | I | S | S | | M | I | T | T | | H | A | F | T | | A | T | A | L | A |
| | | N | E | E | | P | S | I | | M | A | N | F | O | R | | E | V | I | L |
| | R | E | N | A | T | A | T | E | B | A | L | D | I | | E | A | R | L | A | P |
| U | I | S | T | | E | L | S | | E | R | I | S | | C | H | I | | O | N | E |
| S | T | E | E | P | L | E | | | A | T | T | | S | A | I | L | | V | A | N |
| C | A | N | D | O | | | M | O | T | H | E | R | T | E | R | E | S | A | | |
| | | | | R | O | B | E | R | T | A | | O | R | N | E | R | Y | | | |
| H | E | L | E | N | R | E | D | D | Y | | C | U | E | | | O | P | E | R | A |
| O | D | O | R | | B | R | I | E | | R | O | S | A | B | O | N | H | E | U | R |
| M | E | I | R | | S | L | U | R | | I | C | E | M | E | N | | O | L | L | A |
| E | N | N | S | | | E | M | S | | D | O | R | S | E | T | | N | Y | E | T |
Sun 6/14/1987

MANGLED MIDDLE NAMES

| | | | | | | | | | | | | | | | | | | | | |
| --- | --- | --- | --- | --- | --- | --- | --- | --- | --- | --- | --- | --- | --- | --- | --- | --- | --- | --- | --- | --- |
| A | D | A | R | E | | | E | D | O | M | | L | A | I | T | | | P | T | A |
| R | I | D | E | R | | | L | O | V | E | S | O | N | G | S | | F | L | I | C |
| A | N | E | M | I | A | | E | V | A | M | A | R | I | N | E | S | A | I | N | T |
| B | A | L | I | | S | A | M | | | E | L | A | | | | H | I | S | T | O |
| | H | A | N | S | K | R | I | S | H | N | A | N | A | N | D | E | R | S | E | N |
| | | | D | I | E | T | | C | A | T | A | | R | U | E | | L | E | D | |
| J | A | M | E | S | W | I | T | H | C | O | M | B | R | I | L | E | Y | | | |
| O | D | O | R | | | | E | E | K | S | | L | A | T | I | N | | P | A | Z |
| E | D | O | | | B | O | N | D | S | | F | I | N | | | L | I | E | G | E |
| | A | R | A | P | A | H | O | | | U | L | M | | F | L | I | R | T | E | D |
| | | | J | O | H | N | F | I | L | L | U | P | S | O | U | S | A | | | |
| A | N | N | A | T | T | O | | D | O | E | | | T | O | T | T | E | R | S | |
| T | I | A | R | A | | | S | L | Y | | W | R | O | T | E | | | H | E | M |
| A | X | E | | S | M | I | T | E | | G | A | I | L | | | | D | O | G | E |
| | | | T | H | O | M | A | S | H | A | L | V | A | H | E | D | I | S | O | N |
| | C | P | A | | M | A | R | | A | N | D | A | | A | L | E | S | | | |
| W | I | L | L | I | A | M | R | A | N | G | O | L | F | H | E | A | R | S | T | |
| A | R | I | O | N | | | | L | G | S | | | L | A | C | | A | M | I | D |
| F | R | A | N | C | I | S | S | C | A | T | K | E | Y | | T | R | E | A | T | Y |
| T | U | N | S | | S | Q | U | A | R | E | O | N | E | | | A | L | L | A | N |
| S | S | T | | | E | D | E | N | | R | O | A | R | | | M | I | L | N | E |
Sun 4/27/1986

TRAVEL LOG

| | | | | | | | | | | | | | | | | | | | | |
| --- | --- | --- | --- | --- | --- | --- | --- | --- | --- | --- | --- | --- | --- | --- | --- | --- | --- | --- | --- | --- |
| P | A | R | O | T | I | D | | R | E | G | A | L | | | A | L | E | C | S | |
| A | N | O | D | Y | N | E | | E | X | I | L | E | D | | G | O | T | H | A | M |
| S | O | M | E | R | S | E | T | T | O | G | O | T | I | B | E | T | H | I | L | O |
| H | I | P | S | | O | D | A | | | G | E | T | S | O | N | | S | L | I | P |
| A | N | E | S | T | | S | T | A | L | L | S | | T | U | T | S | | L | E | I |
| S | T | R | A | I | T | | A | B | E | E | | B | A | R | | A | M | E | N | S |
| | | | | S | O | M | M | E | A | R | G | O | N | N | E | F | O | R | T | H |
| P | O | R | E | | T | O | I | L | S | | I | N | T | E | G | E | R | | | |
| E | N | E | M | I | E | S | | S | E | L | L | S | | | G | R | E | T | A | S |
| R | E | V | E | L | L | E | D | | | A | D | A | R | S | | | | E | V | A |
| S | E | O | U | L | L | Y | O | N | S | M | A | I | N | E | R | H | O | D | E | S |
| O | Y | L | | | | S | I | E | T | E | | | S | N | E | A | K | E | R | S |
| N | E | T | T | I | E | | | V | A | D | I | M | | O | V | E | R | U | S | E |
| | | | I | N | A | S | P | I | N | | M | O | I | R | E | | A | M | E | S |
| A | N | D | O | R | R | A | A | N | D | A | M | A | N | A | A | R | | | | |
| S | E | I | N | E | | R | R | S | | R | I | T | A | | L | E | M | A | N | S |
| S | I | P | | D | D | T | S | | E | G | E | S | T | A | | S | A | D | A | T |
| I | T | H | E | | O | R | N | A | T | E | | | U | L | A | | N | O | T | A |
| G | H | A | N | A | W | E | I | I | N | N | M | O | B | I | L | E | T | R | U | K |
| N | E | S | T | E | D | | P | R | A | T | E | R | | M | O | L | I | E | R | E |
| | R | E | E | F | Y | | | E | S | S | A | Y | | B | R | A | S | S | E | S |
Sun 12/2/1984

LETTER ADDENDA

| | | | | | | | | | | | | | | | | | | | | |
| --- | --- | --- | --- | --- | --- | --- | --- | --- | --- | --- | --- | --- | --- | --- | --- | --- | --- | --- | --- | --- |
| G | A | L | B | A | | P | A | I | R | | | A | S | I | A | | M | O | K | O |
| O | L | E | O | S | | E | R | L | E | | L | I | O | N | C | H | A | N | E | Y |
| L | E | N | A | H | O | R | N | E | T | | A | R | Y | A | N | O | N | E | A | L |
| A | N | D | R | E | G | U | I | D | E | | P | L | A | T | E | R | S | | | |
| N | E | S | S | | I | S | E | E | | A | H | A | | | | N | I | C | O | L |
| | | | | A | V | E | S | | | S | A | N | E | S | T | | O | H | T | O |
| R | E | L | A | T | E | D | | | J | A | M | E | S | H | A | R | N | E | S | S |
| E | L | I | S | E | | | A | G | A | | | S | O | O | T | H | | V | U | E |
| V | I | V | I | E | N | S | L | E | I | G | H | | P | R | I | O | R | Y | | |
| E | S | P | | | A | I | L | S | | R | O | A | S | T | | D | I | C | T | A |
| T | H | U | M | B | E | D | | S | T | A | I | R | | A | B | A | S | H | E | D |
| S | A | L | L | E | | E | B | O | L | I | | G | I | G | I | | | A | R | E |
| | | L | I | G | A | T | E | | C | L | A | U | D | E | B | R | A | I | N | S |
| H | A | M | | A | T | R | I | A | | | L | E | O | | | I | N | S | E | T |
| A | L | A | S | T | A | I | R | S | I | M | P | | | M | A | L | T | E | S | E |
| R | A | N | T | | S | P | A | W | N | S | | | P | I | N | E | | | | |
| M | I | N | E | O | | | | I | T | S | | P | E | R | I | | T | A | L | C |
| | | | L | A | C | T | A | S | E | | U | L | N | A | M | E | R | K | E | L |
| M | E | A | L | F | E | R | R | E | R | | L | E | N | C | A | R | I | B | O | U |
| E | L | L | A | S | L | O | G | A | N | | A | B | E | L | | I | N | A | N | E |
| T | I | E | R | | A | D | O | S | | | R | E | D | E | | C | E | R | E | S |
Sun 8/28/1983

SENTENCING THE CELEBRITIES

| | | | | | | | | | | | | | | | | | | | | |
| --- | --- | --- | --- | --- | --- | --- | --- | --- | --- | --- | --- | --- | --- | --- | --- | --- | --- | --- | --- | --- |
| E | L | M | I | R | A | | S | A | S | S | I | N | G | | A | M | E | L | I | A |
| L | O | O | S | E | N | | A | N | T | O | N | I | O | | S | A | L | O | N | S |
| F | R | I | E | N | D | L | Y | N | A | B | O | R | S | M | I | X | B | E | S | T |
| I | N | R | E | D | | A | T | A | T | | N | O | S | E | | B | A | S | E | R |
| N | A | E | | I | S | T | H | M | U | S | | | A | L | V | A | | S | T | A |
| | | | U | T | I | C | A | | T | E | A | | M | O | O | E | D | | | |
| A | L | B | R | I | G | H | T | M | E | N | C | K | E | N | W | R | I | G | H | T |
| S | E | A | S | O | N | | | E | S | T | H | E | R | S | | | M | O | U | E |
| S | U | S | A | N | | D | E | L | | | E | N | S | | Z | A | P | P | E | D |
| O | K | S | | | A | R | R | A | I | G | N | | | T | O | L | L | | | |
| C | O | O | K | E | B | U | R | N | S | L | E | M | M | O | N | P | E | E | L | E |
| | | | N | O | A | M | | | H | O | S | A | N | N | A | | | R | E | M |
| R | E | L | E | N | T | | H | I | M | | | C | O | G | | I | N | I | G | O |
| A | P | I | A | | | M | E | N | A | S | H | A | | | O | N | E | C | A | R |
| W | I | L | D | E | W | O | L | F | E | H | O | W | E | L | L | S | D | A | L | Y |
| | | | S | C | A | P | I | | L | A | R | | N | I | D | U | S | | | |
| O | R | D | | S | N | I | P | | | D | R | A | W | L | E | R | | A | P | E |
| C | H | E | A | T | | N | O | L | A | | I | R | R | A | | A | B | D | U | L |
| C | O | L | M | A | N | G | R | O | Z | A | B | L | A | C | K | B | E | A | R | D |
| U | N | E | A | S | Y | | T | R | O | L | L | O | P | | E | L | A | P | S | E |
| R | E | D | D | Y | E | | S | I | N | L | E | S | S | | W | E | T | T | E | R |
Sun 5/23/1982

"ROSE IS A ROSE"

| | | | | | | | | | | | | | | | | | | | | |
| --- | --- | --- | --- | --- | --- | --- | --- | --- | --- | --- | --- | --- | --- | --- | --- | --- | --- | --- | --- | --- |
| S | U | B | | | | M | E | I | N | | | A | I | M | | R | I | A | L | S |
| O | N | E | S | | T | O | R | M | E | | E | D | N | A | | E | L | B | O | W |
| P | I | T | H | | A | D | O | P | T | | N | A | R | C | | B | O | I | L | S |
| A | T | T | A | I | N | E | D | A | H | I | G | H | E | R | L | E | V | E | L | |
| | S | I | D | S | | R | E | L | | R | R | S | | A | X | L | E | S | | |
| | | | E | M | M | A | | A | R | E | A | | E | M | I | L | | I | L | E |
| A | R | G | O | | A | T | T | | E | N | I | S | L | E | | E | A | R | E | D |
| P | E | R | F | U | M | E | E | S | S | E | N | C | E | | I | D | L | I | N | G |
| E | T | E | R | N | E | | L | I | P | | | A | M | A | S | | E | S | T | E |
| S | E | W | E | R | | P | E | T | E | O | R | B | I | L | L | Y | | H | O | D |
| | | | D | I | D | I | | | C | H | A | | | A | S | O | W | | | |
| P | A | T | | G | O | T | O | U | T | O | F | B | E | D | | G | O | Y | A | S |
| A | R | A | L | | N | A | H | S | | | F | E | D | | R | E | M | O | R | A |
| R | O | B | U | S | T | | A | M | E | R | I | C | A | N | B | E | A | U | T | Y |
| S | A | L | V | O | | O | R | A | L | E | S | | M | O | I | | N | A | E | S |
| E | R | E | | R | I | L | E | | A | S | H | E | | T | S | P | S | | | |
| | | W | I | E | L | D | | M | I | O | | D | N | A | | A | N | A | S | |
| | K | I | N | D | O | F | W | I | N | D | O | W | O | R | Q | U | A | R | T | Z |
| M | A | N | E | T | | L | A | N | E | | C | A | R | I | B | | M | E | R | E |
| A | L | E | P | H | | A | X | I | S | | T | R | I | E | S | | E | N | O | S |
| G | E | S | T | E | | G | Y | M | | | O | D | A | S | | | | A | P | T |
Sun 7/26/1981

TYPOGRAPHICS

| | | | | | | | | | | | | | | | | | | | | |
| --- | --- | --- | --- | --- | --- | --- | --- | --- | --- | --- | --- | --- | --- | --- | --- | --- | --- | --- | --- | --- |
| D | A | N | E | | S | M | O | G | | | G | B | S | | B | A | O | B | A | B |
| A | M | A | N | | C | A | S | A | | A | R | O | W | | O | R | I | O | L | E |
| B | O | R | D | E | R | L | I | N | E | C | A | S | E | | W | I | L | S | O | N |
| S | I | D | E | W | I | S | E | G | L | A | N | C | E | | | Z | E | S | T | S |
| | | | D | E | B | A | R | | L | U | G | | P | A | G | O | D | A | | |
| A | S | P | | L | E | N | | T | I | D | E | | | N | A | N | | N | E | O |
| S | H | A | W | L | | O | N | E | C | A | R | A | T | D | I | A | M | O | N | D |
| S | I | L | A | S | | | I | C | E | L | | R | O | E | | | O | V | I | D |
| I | N | A | S | | S | A | T | S | | | C | R | O | S | S | R | O | A | D | S |
| S | T | E | A | D | I | E | R | | L | I | L | A | | | H | O | T | | | |
| T | O | O | B | I | G | F | O | R | O | N | E | S | B | R | I | T | C | H | E | S |
| | | | L | E | M | | | O | S | S | A | | I | C | E | H | O | U | S | E |
| M | I | L | E | S | A | P | A | R | T | | | E | S | A | S | | U | R | S | A |
| A | S | I | T | | | O | W | E | | P | I | R | O | | | A | R | L | E | S |
| T | O | P | O | F | T | H | E | M | O | R | N | I | N | G | | S | T | E | N | O |
| A | F | R | | L | E | A | | | L | U | C | K | | R | E | C | | D | E | N |
| | | E | M | I | L | I | O | | I | D | E | | G | A | S | E | S | | | |
| S | T | A | I | R | | | F | I | V | E | P | O | U | N | D | N | O | T | E | S |
| I | O | D | A | T | E | | T | W | E | N | T | Y | Y | A | R | D | D | A | S | H |
| P | R | E | M | E | D | | H | A | R | T | | E | D | D | A | | O | T | T | O |
| S | T | R | I | D | E | | E | S | S | | | S | E | A | S | | M | E | E | T |
Sun 1/25/1981

CRAZY RHYTHMS

| | | | | | | | | | | | | | | | | | | | | | | |
| --- | --- | --- | --- | --- | --- | --- | --- | --- | --- | --- | --- | --- | --- | --- | --- | --- | --- | --- | --- | --- | --- | --- |
| R | O | L | E | | O | D | I | S | T | | | M | D | C | C | L | | | R | E | B | S |
| E | L | A | M | | P | I | N | C | H | | P | A | Y | O | L | A | | T | O | S | E | A |
| A | L | C | O | T | T | S | C | H | I | L | L | U | N | G | O | T | R | H | Y | T | H | M |
| P | A | S | T | A | | N | A | E | | Y | U | M | A | | P | E | E | R | | E | I | O |
| | | | I | D | E | E | | M | O | C | | A | S | H | | | B | A | I | R | N | S |
| I | L | O | V | E | M | Y | W | I | F | E | B | U | T | O | H | E | U | C | L | I | D | |
| D | O | R | E | M | I | | I | N | F | E | R | | I | C | E | D | T | E | A | | | |
| E | R | E | | A | L | L | E | G | E | | A | E | C | | I | D | S | | | T | O | D |
| S | A | L | S | | I | O | N | | R | H | I | N | | A | N | I | | L | O | A | M | Y |
| T | I | S | T | H | E | S | E | A | S | O | N | T | O | B | E | C | H | A | R | L | I | E |
| | N | E | R | O | | E | R | R | | T | Y | R | O | L | | | E | V | I | C | T | S |
| | | | A | R | M | S | | A | M | S | | E | T | E | | S | W | A | G | | | |
| T | S | E | T | S | E | | | M | A | P | O | S | | T | E | T | | B | A | Y | S | |
| E | U | B | I | E | S | O | N | I | C | E | T | O | C | O | M | E | H | O | M | E | T | O |
| C | R | O | C | S | | C | O | S | | L | I | L | A | | B | E | E | | I | M | A | N |
| H | E | N | | | D | E | N | | P | L | O | | U | D | A | L | L | S | | E | T | A |
| | | | I | S | R | A | E | L | I | | S | I | D | E | R | | L | E | A | N | O | N |
| | L | I | S | T | E | N | T | O | T | H | E | M | A | R | K | H | A | M | B | I | R | D |
| C | A | N | T | O | N | | | U | F | O | | A | L | I | | A | S | P | S | | | |
| A | R | T | | U | C | L | A | | A | L | A | R | | D | A | R | | E | E | R | I | E |
| K | E | E | P | T | H | E | H | O | L | M | F | I | R | E | S | B | U | R | N | I | N | G |
| E | D | N | A | S | | T | E | L | L | E | R | | A | R | I | O | T | | C | L | O | G |
| D | O | T | S | | | A | M | A | S | S | | | T | S | A | R | S | | E | E | N | S |
Sun 3/2/1980

ODD JOBS

| | | | | | | | | | | | | | | | | | | | | |
| --- | --- | --- | --- | --- | --- | --- | --- | --- | --- | --- | --- | --- | --- | --- | --- | --- | --- | --- | --- | --- |
| L | I | M | I | T | | | | C | O | S | T | | S | A | F | E | | I | M | A |
| A | N | A | D | E | M | | S | P | E | A | R | | O | Y | E | R | | M | A | X |
| B | R | U | I | S | E | D | C | A | R | D | E | A | L | E | R | S | | A | R | M |
| S | E | D | | T | R | I | O | | | L | A | R | A | S | | | B | R | I | E |
| | | | L | A | V | A | T | O | R | Y | T | E | C | H | N | I | C | I | A | N |
| R | I | C | A | | | | E | A | U | | | T | E | A | A | N | D | | | |
| B | L | O | C | K | M | A | R | K | E | T | E | E | R | | D | R | E | S | S | |
| I | S | A | | N | O | N | | | D | E | L | S | | C | I | A | | U | I | T |
| S | A | L | | O | P | T | S | | A | S | I | | T | O | R | I | N | E | S | E |
| | | P | O | P | U | L | A | R | | T | H | I | O | L | | N | E | R | A | C |
| | S | O | N | | P | E | T | A | L | P | U | S | H | E | R | | A | W | L | |
| S | T | R | I | P | | R | E | T | I | A | | R | I | S | E | S | T | O | | |
| C | O | T | T | A | G | E | S | | B | P | S | | S | L | A | T | | R | H | O |
| H | U | E | | R | I | D | | P | R | E | P | | | A | T | A | | K | A | I |
| | T | R | A | I | N | | H | A | I | R | A | I | D | W | A | R | D | E | N | S |
| | | | B | A | Z | A | A | R | | | R | N | A | | | | U | R | G | E |
| M | E | R | C | H | A | N | T | S | O | F | V | E | N | I | S | O | N | | | |
| A | X | I | S | | | S | T | E | A | L | | | T | B | A | R | | I | D | A |
| J | I | M | | B | E | A | R | E | R | O | F | G | O | O | D | N | U | D | E | S |
| O | L | E | | A | L | T | E | | E | O | S | I | N | | A | I | R | O | U | T |
| R | E | D | | G | L | E | E | | D | R | A | G | | | | S | E | L | M | A |
Sun 10/14/1979

INQUIRE PRACTICE

| | | | | | | | | | | | | | | | | | | | | |
| --- | --- | --- | --- | --- | --- | --- | --- | --- | --- | --- | --- | --- | --- | --- | --- | --- | --- | --- | --- | --- |
| B | A | R | B | | D | A | K | A | R | | T | R | I | S | | B | A | S | S | O |
| O | G | E | E | | O | T | E | R | O | | W | I | T | H | | A | N | W | A | R |
| W | H | A | T | S | T | H | E | U | S | E | O | F | W | O | R | R | Y | I | N | G |
| S | A | R | A | H | | E | N | N | I | S | | E | A | V | E | | A | L | D | A |
| | | | S | A | T | I | E | | E | P | I | | S | E | T | A | | L | E | N |
| S | T | B | | M | E | S | S | | | O | N | S | | L | I | N | N | | | |
| W | H | Y | H | A | S | T | T | H | O | U | F | O | R | S | A | K | E | N | M | E |
| A | R | R | A | N | T | | | A | R | S | E | N | E | | | A | G | A | I | N |
| N | O | D | E | | A | S | S | U | R | E | R | | M | R | S | | E | R | A | T |
| | | | C | A | M | E | O | S | | D | O | Y | O | U | L | O | V | E | M | E |
| A | C | T | | M | E | R | C | E | | | | O | R | S | U | N | | S | I | R |
| W | H | O | S | O | N | F | I | R | S | T | | U | S | A | G | E | S | | | |
| A | I | N | T | | T | S | E | | T | H | E | R | E | S | A | | A | H | A | S |
| S | C | O | U | T | | | T | H | R | O | N | E | | | B | I | R | E | M | E |
| H | O | W | D | O | E | S | Y | O | U | R | G | A | R | D | E | N | G | R | O | W |
| | | | S | A | V | E | | I | N | N | | | A | I | D | S | | O | K | S |
| D | A | S | | D | E | N | T | | G | I | A | | N | A | S | T | S | | | |
| A | S | T | A | | O | D | E | S | | E | N | A | C | T | | A | M | A | Z | E |
| W | H | E | R | E | F | O | R | E | A | R | T | T | H | O | U | R | O | M | E | O |
| N | O | V | E | L | | F | R | A | Y | | I | T | E | M | S | | K | E | R | N |
| S | T | E | A | K | | F | A | T | E | | C | U | R | S | T | | E | N | O | S |
Sun 6/10/1979

PLAINT SPEAKING

| | | | | | | | | | | | | | | | | | | | | |
| --- | --- | --- | --- | --- | --- | --- | --- | --- | --- | --- | --- | --- | --- | --- | --- | --- | --- | --- | --- | --- |
| A | B | O | R | T | | A | L | I | T | | A | B | L | E | | D | A | N | A | E |
| C | O | N | D | E | | P | I | T | H | | R | O | O | D | | E | L | I | T | E |
| I | W | A | S | N | T | S | P | E | E | D | I | N | G | O | F | F | I | C | E | R |
| D | I | I | | S | H | E | S | | P | I | A | N | O | | R | I | C | K | E | Y |
| S | E | R | A | P | I | S | | T | E | N | S | E | | P | A | C | E | | | |
| | | | I | O | N | | S | I | C | E | | | S | I | N | I | S | T | E | R |
| I | D | O | N | T | G | E | T | N | O | R | E | S | P | E | C | T | | A | D | O |
| S | O | C | S | | | P | A | Y | S | | U | N | I | T | E | | A | R | I | L |
| L | Y | R | I | C | I | S | T | | | F | R | E | T | S | | O | V | A | T | E |
| A | L | E | | A | M | O | I | | B | A | E | R | | | A | C | E | | | |
| M | Y | A | L | A | R | M | C | L | O | C | K | D | I | D | N | T | R | I | N | G |
| | | | A | P | E | | | A | R | E | A | | N | I | N | A | | N | E | R |
| P | A | R | T | I | | T | W | I | G | S | | | H | E | A | D | A | C | H | E |
| O | G | E | E | | H | A | I | T | I | | P | L | A | T | | | D | A | R | E |
| O | R | E | | I | O | N | L | Y | A | T | E | O | N | E | P | E | A | N | U | T |
| H | A | L | F | N | O | T | E | | | O | R | A | D | | I | N | N | | | |
| | | | E | C | T | O | | E | D | W | I | N | | A | L | C | O | H | O | L |
| P | I | C | N | I | C | | O | R | R | I | S | | E | N | O | L | | O | S | O |
| I | D | O | N | T | H | A | V | E | A | T | H | I | N | G | T | O | W | E | A | R |
| P | E | L | E | E | | B | E | C | K | | E | V | I | L | | S | E | R | G | E |
| S | E | A | L | S | | A | N | T | E | | D | A | D | E | | E | I | S | E | N |
Sun 3/4/1979

RHYME SCHEME

| | | | | | | | | | | | | | | | | | | | | |
| --- | --- | --- | --- | --- | --- | --- | --- | --- | --- | --- | --- | --- | --- | --- | --- | --- | --- | --- | --- | --- |
| S | C | O | T | | B | A | T | | I | S | N | T | | | A | L | L | E | G | E |
| H | A | T | H | | A | N | I | | S | H | O | R | E | | L | O | O | S | E | R |
| A | L | A | E | | S | E | A | | M | O | V | I | N | G | F | A | S | T | E | R |
| H | E | R | R | | K | U | R | A | | W | A | N | D | A | | N | E | E | S | E |
| | B | U | M | P | E | R | A | C | C | E | S | S | O | R | Y | | S | E | E | D |
| | | | S | E | T | I | | E | A | R | | | | B | E | E | F | | | |
| I | C | S | | A | R | C | | T | R | E | T | A | | | T | R | A | M | P | S |
| S | O | L | E | L | Y | | K | I | N | D | O | F | R | A | I | N | C | O | A | T |
| O | X | Y | G | E | N | | I | N | E | | U | R | A | L | | E | E | R | I | E |
| N | A | G | A | | E | P | S | | | G | R | O | W | T | H | S | | E | L | M |
| | | I | D | L | E | R | S | | P | I | N | | H | E | A | T | E | D | | |
| N | A | G | | E | D | I | T | I | O | N | | | I | R | V | | G | E | N | A |
| E | D | G | E | S | | O | H | M | S | | B | U | D | | E | V | E | N | E | R |
| W | A | L | L | S | T | R | E | E | T | T | A | P | E | | A | I | R | S | A | C |
| T | H | E | L | O | W | | | T | O | R | I | C | | S | Q | S | | E | T | H |
| | | | I | N | A | T | | | | O | R | A | | T | U | E | S | | | |
| A | M | A | N | | S | H | I | N | E | U | N | S | T | E | A | D | I | L | Y | |
| S | O | N | G | S | | A | L | O | S | S | | T | E | R | R | | M | A | I | M |
| C | O | T | T | O | N | W | O | R | K | E | R | | E | I | R | | O | G | P | U |
| A | R | I | O | S | O | | T | S | A | R | S | | U | L | E | | N | O | E | L |
| P | E | N | N | O | N | | | E | R | S | T | | P | E | L | | E | S | S | E |
Mon 2/26/1979

| | | | | | | | | | | | | | | |
| --- | --- | --- | --- | --- | --- | --- | --- | --- | --- | --- | --- | --- | --- | --- |
| H | A | I | R | | V | A | N | E | | A | L | A | M | O |
| O | N | T | O | | E | D | E | N | | M | E | M | O | S |
| L | O | O | S | E | N | E | S | S | | A | D | O | B | E |
| M | A | R | Y | F | E | L | T | H | U | N | G | R | Y | |
| | | | | F | E | E | | R | I | D | E | | | |
| L | A | S | S | E | R | | L | I | N | A | | B | A | A |
| O | L | E | I | C | | P | I | N | T | | S | I | M | S |
| D | I | D | N | T | H | A | V | E | A | S | T | E | A | K |
| E | K | G | S | | O | R | E | S | | A | E | R | I | E |
| S | E | E | | A | R | T | S | | A | T | T | E | N | D |
| | | | O | M | A | R | | O | L | E | | | | |
| | H | A | D | A | L | I | T | T | L | E | L | A | M | B |
| T | O | L | E | T | | D | E | T | O | N | A | T | O | R |
| E | N | V | O | I | | G | R | E | W | | Z | A | N | E |
| D | E | A | N | S | | E | R | R | S | | E | N | O | W |
Thu 2/22/1979

| | | | | | | | | | | | | | | |
| --- | --- | --- | --- | --- | --- | --- | --- | --- | --- | --- | --- | --- | --- | --- |
| A | G | E | E | | C | R | A | W | | H | A | F | T | S |
| J | I | N | X | | R | I | M | E | | A | M | O | R | E |
| A | V | I | O | L | E | T | I | S | N | T | B | L | U | E |
| R | E | D | | O | O | Z | E | | E | L | U | D | E | |
| | | | O | W | L | | | R | U | E | S | | | |
| P | U | R | P | L | E | I | S | I | T | S | H | U | E | |
| O | T | A | R | Y | | R | I | V | E | S | | R | N | A |
| L | I | V | Y | | O | I | L | E | R | | W | A | D | I |
| A | C | E | | M | U | S | E | R | | S | E | N | O | R |
| | A | N | D | A | T | E | X | A | N | K | N | O | W | S |
| | | | I | L | L | S | | | E | A | T | | | |
| | D | E | L | L | A | | P | I | T | T | | G | U | M |
| Y | E | L | L | O | W | I | S | T | H | E | R | O | S | E |
| A | S | K | E | W | | W | I | S | E | | E | Y | E | D |
| P | I | E | R | S | | O | S | A | R | | F | A | D | E |
Wed 1/31/1979

| | | | | | | | | | | | | | | |
| --- | --- | --- | --- | --- | --- | --- | --- | --- | --- | --- | --- | --- | --- | --- |
| A | M | P | | | C | A | L | I | F | | S | L | E | D |
| D | A | U | B | | A | D | A | N | O | | W | O | R | E |
| A | R | T | I | C | L | E | P | A | R | T | I | C | L | E |
| M | I | S | R | U | L | E | S | | E | A | S | I | E | R |
| | | | D | R | E | D | | A | S | K | S | | | |
| V | I | S | C | I | D | | A | N | T | E | | A | S | S |
| I | N | C | A | N | | P | L | I | E | | U | R | A | N |
| S | N | U | G | G | L | E | S | T | R | U | G | G | L | E |
| T | E | T | E | | A | R | I | A | | G | L | O | V | E |
| A | R | E | | S | T | O | P | | R | A | I | N | E | R |
| | | | L | A | I | N | | M | A | N | N | | | |
| A | T | T | E | S | T | | G | A | R | D | E | N | E | D |
| T | R | E | A | S | U | R | E | M | E | A | S | U | R | E |
| O | U | R | S | | D | O | R | I | S | | S | T | A | N |
| P | E | N | T | | E | M | M | E | T | | | S | T | Y |
Sun 11/19/1978

THEYDUNIT

| | | | | | | | | | | | | | | | | | | | | | | |
| --- | --- | --- | --- | --- | --- | --- | --- | --- | --- | --- | --- | --- | --- | --- | --- | --- | --- | --- | --- | --- | --- | --- |
| P | O | N | D | | F | L | O | | P | O | S | E | | A | R | C | S | | P | R | O | M |
| U | V | E | A | | L | O | A | | I | N | C | A | | C | O | O | P | | R | U | D | I |
| R | E | X | S | T | O | U | T | | G | E | O | R | G | E | S | S | I | M | E | N | O | N |
| A | R | T | H | U | R | S | | S | I | M | O | N | E | | S | T | R | I | P | I | N | G |
| | | | I | L | E | | | O | R | A | T | I | N | G | | S | E | C | A | N | T | |
| | C | H | E | S | T | E | R | T | O | N | | N | I | A | S | | S | K | I | | | |
| P | A | U | L | A | | L | E | O | N | | E | G | E | R | I | A | | E | D | G | A | R |
| H | U | R | L | | A | L | M | S | | A | R | S | | B | E | L | L | Y | | R | H | O |
| E | S | T | H | | P | E | I | | N | I | L | | M | O | N | T | Y | | R | I | O | T |
| B | E | L | A | B | O | R | S | | E | L | E | M | E | | N | O | N | | A | L | M | A |
| E | D | E | M | A | | Y | S | E | R | | G | E | N | O | A | | D | O | Y | L | E | |
| | | | M | I | S | S | | C | I | C | A | D | A | S | | B | A | L | M | | | |
| | Q | U | E | E | N | | L | O | S | E | R | | C | H | A | R | | P | O | S | S | E |
| A | U | N | T | | A | P | E | | S | E | D | G | E | | R | E | P | E | N | T | E | R |
| R | I | F | T | | R | I | A | T | A | | N | O | D | | M | A | O | | D | E | C | O |
| A | R | I | | D | E | N | S | E | | F | E | D | | J | A | K | E | | C | P | O | S |
| L | E | T | H | E | | T | E | N | S | O | R | | S | A | D | E | | R | H | I | N | E |
| | | | A | T | T | | S | T | I | R | | J | P | M | A | R | Q | U | A | N | D | |
| | T | A | B | A | R | D | | H | E | R | C | U | L | E | | | U | R | N | | | |
| P | O | L | I | C | I | E | S | | P | E | A | L | E | S | | R | O | A | D | H | O | G |
| A | G | A | T | H | A | C | H | R | I | S | T | I | E | | S | P | I | L | L | A | N | E |
| R | A | T | E | | L | A | O | S | | T | H | A | N | | O | T | T | | E | R | I | N |
| T | E | E | D | | S | L | O | T | | S | Y | N | S | | D | D | S | | R | I | T | A |
Fri 8/4/1978

| | | | | | | | | | | | | | | |
| --- | --- | --- | --- | --- | --- | --- | --- | --- | --- | --- | --- | --- | --- | --- |
| T | A | P | | S | E | P | A | L | S | | W | A | D | E |
| E | U | R | | O | X | A | L | I | C | | A | C | E | D |
| A | D | O | | L | O | V | E | M | A | T | C | H | E | S |
| M | I | X | E | D | D | O | U | B | L | E | S | | | |
| S | T | Y | L | E | | | T | O | A | N | | B | B | A |
| | | | A | R | A | G | | | R | A | B | I | E | S |
| D | R | O | P | S | H | O | T | S | | M | A | J | A | S |
| E | A | T | S | | A | L | O | H | A | | C | O | L | E |
| A | Z | T | E | C | | F | O | O | T | F | A | U | L | T |
| D | O | O | D | A | D | | | P | E | A | R | | | |
| S | R | S | | D | U | E | L | | | I | D | A | H | O |
| | | | S | E | R | V | I | C | E | L | I | N | E | S |
| M | I | S | S | T | H | E | B | A | L | L | | V | I | C |
| A | N | E | T | | A | R | A | B | L | E | | I | N | A |
| L | E | T | S | | M | E | N | S | A | S | | L | E | N |
Sun 7/16/1978

PRINTER'S DEVILTRY

| | | | | | | | | | | | | | | | | | | | | | | |
| --- | --- | --- | --- | --- | --- | --- | --- | --- | --- | --- | --- | --- | --- | --- | --- | --- | --- | --- | --- | --- | --- | --- |
| F | O | C | I | | G | R | I | S | T | | D | I | V | A | | | L | E | L | A | N | D |
| A | M | A | N | | H | A | N | O | I | | A | T | I | L | T | | E | L | I | N | O | R |
| C | A | R | G | O | I | N | G | U | P | | M | A | R | G | I | N | A | L | N | O | T | E |
| E | N | O | L | A | | | O | T | T | S | | | T | U | B | O | | S | E | A | R | S |
| T | I | M | E | S | W | I | T | H | O | U | T | N | U | M | B | E | R | | U | S | E | S |
| | | | S | T | A | D | | | E | R | I | A | | | S | L | E | E | P | | | |
| A | D | A | | | R | E | F | S | | E | N | T | R | E | | | P | E | O | P | L | E |
| B | I | G | T | I | M | E | O | P | E | R | A | T | O | R | S | | | S | N | E | E | R |
| B | R | O | W | N | E | | Y | A | M | | S | Y | N | A | P | S | E | | T | R | I | S |
| A | G | R | E | E | D | | | R | E | A | | | S | T | I | C | K | S | H | I | F | T |
| S | E | A | L | | | A | P | T | E | R | A | L | | | G | A | G | N | E | | | |
| | S | E | V | E | | S | H | A | R | P | V | I | S | I | O | N | | A | R | E | S | |
| | | | E | R | A | T | O | | | S | E | C | A | N | T | S | | | I | L | L | A |
| R | U | N | O | N | L | I | N | E | S | | | K | I | D | | | L | O | G | I | E | R |
| A | V | E | C | | B | R | I | T | I | S | H | | N | I | A | | A | S | H | C | A | N |
| Y | E | L | L | S | | | A | C | C | O | U | N | T | E | X | E | C | U | T | I | V | E |
| S | A | L | O | O | N | | | S | E | L | M | A | | S | E | C | T | | | T | E | E |
| | | | C | L | E | A | N | | | O | I | D | S | | | A | I | T | S | | | |
| M | A | S | K | | T | W | O | C | A | N | C | E | L | L | E | D | C | H | E | C | K | S |
| A | M | A | H | S | | E | N | O | S | | | R | O | A | N | | | R | A | R | E | E |
| S | P | L | I | T | S | E | C | O | N | D | S | | G | R | A | N | D | O | P | E | R | A |
| A | L | E | G | A | R | | E | P | E | E | S | | A | R | T | I | E | | I | M | A | M |
| N | E | P | H | R | O | | | T | R | E | E | | N | Y | E | T | S | | G | E | T | S |
Thu 5/11/1978

| | | | | | | | | | | | | | | |
| --- | --- | --- | --- | --- | --- | --- | --- | --- | --- | --- | --- | --- | --- | --- |
| S | L | A | V | | A | B | E | A | M | | B | R | I | M |
| P | U | M | A | | C | A | R | P | I | | A | I | D | A |
| E | L | O | N | | E | A | R | L | C | A | R | T | E | R |
| D | U | R | A | N | T | E | S | | H | I | R | A | M | S |
| | | | L | A | I | D | | D | E | S | I | | | |
| G | A | R | L | I | C | | C | O | N | N | O | R | S | |
| A | R | I | E | L | | P | A | R | E | E | | E | T | A |
| D | E | A | N | | B | A | R | E | R | | W | H | I | G |
| S | A | N | | T | R | I | E | S | | S | H | A | L | E |
| | S | T | E | W | A | R | T | | O | P | I | N | E | D |
| | | | L | A | D | S | | A | X | I | S | | | |
| O | N | E | A | N | D | | O | R | E | N | T | H | A | L |
| M | O | N | T | G | O | M | E | R | Y | | L | O | G | E |
| A | L | I | E | | C | A | N | O | E | | E | V | E | N |
| R | I | D | D | | K | N | O | W | S | | R | E | E | D |
Fri 3/10/1978

| | | | | | | | | | | | | | | |
| --- | --- | --- | --- | --- | --- | --- | --- | --- | --- | --- | --- | --- | --- | --- |
| A | M | A | H | | S | C | A | L | A | | C | H | A | W |
| T | O | N | O | | E | O | L | I | C | | H | O | R | A |
| A | U | T | U | M | N | A | L | E | Q | U | I | N | O | X |
| P | E | A | S | A | N | T | S | | U | N | T | I | D | Y |
| | | | E | K | E | S | | D | A | D | A | | | |
| | W | E | M | E | T | | T | R | I | O | | H | A | L |
| P | I | L | A | U | | S | H | I | N | | D | O | Z | E |
| E | C | L | I | P | S | E | O | F | T | H | E | S | U | N |
| S | K | I | D | | A | I | N | T | | E | V | E | R | T |
| T | S | E | | J | U | N | G | | P | R | I | D | E | |
| | | | M | I | T | E | | D | A | M | A | | | |
| S | L | E | E | V | E | | P | O | S | I | T | I | V | E |
| W | I | N | T | E | R | S | O | L | S | T | I | C | E | S |
| I | N | C | A | | N | I | E | C | E | | N | E | R | A |
| G | A | E | L | | E | N | T | E | R | | G | R | A | U |
Sun 2/19/1978

TALL TITLES

| | | | | | | | | | | | | | | | | | | | | |
| --- | --- | --- | --- | --- | --- | --- | --- | --- | --- | --- | --- | --- | --- | --- | --- | --- | --- | --- | --- | --- |
| C | A | I | N | | B | E | T | S | | | D | O | R | I | A | | B | A | R | B |
| A | L | D | A | | A | T | H | O | S | | U | S | I | N | G | | O | M | A | R |
| M | O | O | S | | T | H | E | F | O | R | E | S | I | G | H | T | S | A | G | A |
| P | U | L | S | E | | | R | A | I | O | N | | S | E | A | R | C | H | E | D |
| | | | A | L | I | | O | R | G | A | N | A | | S | S | E | | | | |
| O | F | H | U | M | A | N | B | A | N | D | A | G | E | | T | A | S | S | E | L |
| R | E | E | | | G | E | E | S | E | | | G | S | A | | T | A | H | O | E |
| I | N | D | I | G | O | S | | | | T | A | R | T | S | | | D | I | N | S |
| O | D | D | E | R | | T | A | P | | O | L | E | O | S | | L | A | P | S | E |
| L | E | A | S | E | S | | D | R | A | C | O | S | | O | D | E | T | O | | |
| E | R | G | | T | H | E | J | O | Y | O | F | S | E | C | T | S | | F | B | A |
| | | A | M | E | E | R | | M | A | N | T | E | E | | S | T | E | F | A | N |
| B | A | B | E | L | | I | S | I | N | G | | S | R | O | | W | O | U | L | D |
| E | B | B | S | | | C | E | S | T | A | | | | D | I | E | S | E | L | S |
| A | B | E | T | S | | A | R | E | | | B | E | V | I | N | | | L | O | O |
| S | A | R | A | H | S | | B | R | A | Z | E | N | I | N | T | H | E | S | U | N |
| | | | | R | E | D | | S | T | A | R | T | S | | O | U | S | | | |
| P | O | S | T | U | R | E | S | | O | C | R | E | A | | | S | T | A | K | E |
| L | O | O | K | B | A | C | K | I | N | H | A | N | G | A | R | | A | J | A | X |
| E | Z | I | O | | P | A | I | N | E | | S | T | E | L | A | | T | A | M | E |
| D | E | L | S | | E | L | M | O | S | | | E | S | A | U | | E | R | A | S |
Tue 1/24/1978

| | | | | | | | | | | | | | | |
| --- | --- | --- | --- | --- | --- | --- | --- | --- | --- | --- | --- | --- | --- | --- |
| M | A | S | C | | S | C | A | L | D | | S | E | E | R |
| O | A | H | U | | T | U | T | T | I | | M | A | L | I |
| P | R | E | F | E | R | R | E | D | S | T | O | C | K | S |
| S | E | L | F | M | A | D | E | | T | O | T | H | E | E |
| | | | L | I | P | S | | K | I | T | E | | | |
| A | V | A | I | L | S | | G | A | T | E | | R | A | W |
| M | A | G | N | I | | D | A | R | C | | A | O | N | E |
| B | R | O | K | E | R | A | G | E | H | O | U | S | E | S |
| L | A | O | S | | E | V | E | N | | U | T | I | L | E |
| E | N | D | | E | G | I | S | | S | T | O | N | E | R |
| | | | E | N | I | D | | F | L | A | G | | | |
| A | L | O | N | Z | O | | O | R | I | G | I | N | A | L |
| D | O | W | J | O | N | E | S | A | V | E | R | A | G | E |
| I | D | E | O | | A | N | I | M | E | | O | M | A | N |
| T | I | N | Y | | L | A | S | E | R | | S | E | R | T |
Tue 1/10/1978

| | | | | | | | | | | | | | | |
| --- | --- | --- | --- | --- | --- | --- | --- | --- | --- | --- | --- | --- | --- | --- |
| R | A | G | S | | E | T | H | E | L | | S | W | A | M |
| O | G | L | E | | S | H | E | R | E | | O | R | L | E |
| T | H | E | R | E | S | U | R | R | E | C | T | I | O | N |
| L | A | N | G | U | A | G | E | | J | O | T | T | E | D |
| | | | E | P | I | S | | E | C | T | O | | | |
| R | O | M | A | N | S | | F | L | O | E | | T | I | E |
| A | T | O | N | E | | C | R | I | B | | D | R | A | M |
| W | H | A | T | A | G | O | O | D | B | O | Y | A | M | I |
| L | E | N | S | | O | N | C | E | | R | E | G | A | L |
| Y | R | S | | B | A | C | K | | C | O | S | I | N | E |
| | | | B | O | T | H | | A | L | I | T | | | |
| L | O | S | E | R | S | | T | R | A | D | U | C | E | D |
| I | T | H | I | N | K | T | H | E | R | E | F | O | R | E |
| E | T | U | N | | I | R | A | T | E | | F | L | I | C |
| D | O | N | G | | N | A | T | E | S | | S | A | C | K |
Wed 12/14/1977

| | | | | | | | | | | | | | | |
| --- | --- | --- | --- | --- | --- | --- | --- | --- | --- | --- | --- | --- | --- | --- |
| S | L | A | M | | A | G | A | T | E | | D | A | L | I |
| M | A | S | C | | M | I | M | I | C | | O | V | A | L |
| E | R | I | K | | B | L | A | C | K | S | T | O | N | E |
| W | C | F | I | E | L | D | S | | S | T | A | N | D | S |
| | | | N | A | E | S | | S | T | A | G | | | |
| G | U | I | L | D | S | | S | H | I | R | E | R | S | |
| E | R | N | E | S | | P | L | A | N | K | | H | U | T |
| M | I | T | Y | | G | E | O | D | E | | D | O | D | O |
| S | A | R | | B | A | S | T | E | | C | E | D | A | R |
| | H | O | G | A | R | T | H | | L | O | M | A | N | S |
| | | | R | I | R | E | | L | E | N | A | | | |
| S | A | F | A | R | I | | C | O | N | G | R | E | V | E |
| L | L | O | Y | D | S | C | O | T | T | | E | D | I | T |
| E | T | R | E | | O | R | A | T | E | | S | O | S | O |
| D | O | E | R | | N | I | X | O | N | | T | M | A | N |
Wed 9/7/1977

| | | | | | | | | | | | | | | |
| --- | --- | --- | --- | --- | --- | --- | --- | --- | --- | --- | --- | --- | --- | --- |
| S | U | B | J | | S | C | A | D | S | | A | C | M | E |
| A | R | L | O | | P | A | U | L | A | | S | H | O | R |
| U | S | E | S | | R | U | B | I | N | S | T | E | I | N |
| L | I | B | E | R | A | C | E | | D | M | I | T | R | I |
| | | | I | O | T | A | | P | B | A | | S | E | E |
| H | I | A | T | U | S | | C | L | A | S | P | | | |
| U | N | D | U | E | | F | O | U | R | H | A | N | D | S |
| L | E | A | R | | F | O | R | M | S | | D | O | I | T |
| K | E | Y | B | O | A | R | D | S | | N | E | R | V | E |
| | | | I | N | C | A | S | | G | E | R | M | A | N |
| C | P | O | | E | E | N | | B | A | R | E | | | |
| A | E | R | I | A | L | | H | O | R | O | W | I | T | Z |
| V | A | N | C | L | I | B | U | R | N | | S | O | H | O |
| I | L | I | E | | F | O | R | G | E | | K | N | E | E |
| L | E | S | S | | T | Y | L | E | R | | I | S | M | S |
Sun 8/28/1977

CITY ADDITIONS

| | | | | | | | | | | | | | | | | | | | | | | |
| --- | --- | --- | --- | --- | --- | --- | --- | --- | --- | --- | --- | --- | --- | --- | --- | --- | --- | --- | --- | --- | --- | --- |
| A | D | A | M | | A | L | S | O | | A | L | A | M | B | | | C | A | M | E | L | S |
| H | O | S | E | | B | E | A | R | | C | O | V | E | R | | C | A | T | A | N | I | A |
| A | L | E | C | | A | C | R | E | | T | A | I | W | A | N | O | N | T | O | D | A | Y |
| B | L | A | C | K | C | O | A | L | O | F | C | A | L | C | U | T | T | A | | E | N | E |
| | | | A | E | O | N | S | | S | O | H | N | | H | M | S | | R | A | D | A | R |
| T | A | R | R | Y | | T | O | S | I | R | | | R | I | B | | A | S | P | | | |
| O | T | H | O | | S | E | T | A | E | | B | O | A | | E | A | R | | E | R | I | C |
| R | H | O | N | D | A | | A | R | R | I | V | E | D | E | R | C | I | A | R | O | M | A |
| M | O | D | I | C | U | M | | T | E | N | D | R | I | L | | E | E | R | | T | A | D |
| E | S | E | | I | D | A | | O | D | D | | | A | I | D | | S | T | O | O | G | E |
| | | S | I | L | I | C | A | | | I | V | A | N | H | O | E | | Y | E | M | E | N |
| S | E | C | S | | | A | G | R | A | C | U | L | T | U | R | E | | | N | A | S | T |
| A | Y | O | N | T | | O | N | E | S | T | E | P | | | S | L | I | P | O | N | | |
| V | E | L | O | U | R | | O | A | T | | | A | T | A | | E | D | O | | D | E | S |
| I | L | L | | R | E | D | | T | O | P | I | C | A | L | | R | E | S | T | A | R | T |
| L | E | A | R | N | T | O | P | A | R | K | D | A | K | A | R | | S | T | O | L | A | E |
| E | T | R | E | | I | N | A | | I | S | O | | E | R | E | C | T | | K | A | T | E |
| | | | A | R | A | | P | G | A | | | C | H | E | T | O | | B | Y | Y | O | N |
| E | T | A | P | E | | I | A | L | | A | A | R | E | | E | L | A | I | O | | | |
| A | H | S | | G | E | T | Y | O | U | R | B | E | R | I | N | G | S | T | R | A | I | T |
| G | R | A | H | A | M | C | A | R | A | C | A | S | | S | T | A | D | | O | L | L | A |
| R | U | D | O | L | P | H | | I | N | A | R | T | | I | O | T | A | | E | V | E | L |
| E | M | O | T | E | S | | | A | G | E | E | S | | T | R | E | Y | | S | A | X | E |
Fri 8/12/1977

| | | | | | | | | | | | | | | |
| --- | --- | --- | --- | --- | --- | --- | --- | --- | --- | --- | --- | --- | --- | --- |
| O | T | I | C | | S | C | R | I | P | | O | R | S | O |
| D | A | D | A | | A | L | O | N | E | | F | A | T | A |
| O | B | E | R | | B | A | N | K | R | O | B | B | E | R |
| R | U | S | T | L | E | R | S | | J | U | L | E | P | |
| | | | H | E | R | A | | T | U | T | U | | | |
| P | O | S | I | E | S | | M | U | R | D | E | R | E | R |
| I | M | P | E | R | | C | A | M | E | O | | E | P | I |
| N | A | I | F | | B | A | T | I | R | | A | M | O | S |
| U | N | E | | L | U | R | E | D | | B | R | I | D | E |
| P | I | L | F | E | R | E | R | | F | A | S | T | E | N |
| | | | O | R | G | Y | | H | A | L | O | | | |
| | E | R | R | O | L | | M | U | T | I | N | E | E | R |
| P | L | A | G | I | A | R | I | S | T | | I | D | L | E |
| H | I | V | E | | R | I | N | S | E | | S | A | K | I |
| D | E | E | R | | S | A | T | Y | R | | T | M | E | N |
Tue 6/21/1977

| | | | | | | | | | | | | | | |
| --- | --- | --- | --- | --- | --- | --- | --- | --- | --- | --- | --- | --- | --- | --- |
| A | T | O | M | | C | A | D | E | T | | P | A | A | R |
| C | I | M | A | | A | R | E | N | A | | R | E | N | O |
| H | E | A | D | P | R | O | J | E | C | T | I | O | N | S |
| S | A | R | D | I | N | I | A | | K | I | D | N | E | Y |
| | | | E | K | E | D | | B | E | N | E | | | |
| R | O | M | N | E | Y | | S | U | D | S | | A | G | A |
| A | V | O | I | R | | E | C | R | U | | K | N | A | R |
| T | U | R | N | S | O | N | A | S | P | I | N | D | L | E |
| A | L | E | G | | U | C | L | A | | G | O | R | E | N |
| L | E | S | | S | T | E | P | | C | U | T | E | S | T |
| | | | P | A | L | S | | A | H | A | H | | | |
| A | N | G | O | R | A | | A | D | E | N | O | I | D | S |
| W | I | L | L | I | S | A | N | D | W | A | L | T | E | R |
| O | N | E | A | | T | I | T | L | E | | E | T | N | A |
| L | E | E | R | | S | T | E | E | D | | S | O | Y | S |
Sun 5/22/1977

NOT SO SYMBOL AS π

| | | | | | | | | | | | | | | | | | | | | | | |
| --- | --- | --- | --- | --- | --- | --- | --- | --- | --- | --- | --- | --- | --- | --- | --- | --- | --- | --- | --- | --- | --- | --- |
| M | A | T | S | | D | R | I | P | | T | R | I | B | | C | I | A | | A | J | A | R |
| O | N | I | C | | R | E | D | A | | H | A | J | I | | R | N | S | | T | A | C | O |
| S | E | P | A | R | A | T | E | C | H | E | C | K | S | | A | T | T | R | A | C | T | S |
| T | W | O | D | E | G | R | E | E | S | B | E | L | O | W | Z | E | R | O | | K | E | Y |
| | | | S | A | G | E | | S | T | E | W | | N | O | I | S | O | M | E | | | |
| S | A | M | | M | E | A | D | | S | L | A | P | | N | E | T | | M | O | F | F | O |
| C | R | I | B | | D | D | A | Y | | L | Y | O | N | | R | A | V | E | N | O | U | S |
| A | T | S | E | A | | | R | A | H | | | S | O | C | | T | E | L | | U | S | S |
| R | E | S | T | S | B | E | T | W | E | E | N | H | A | L | V | E | S | | U | R | S | A |
| | | E | T | H | E | L | | L | U | R | E | | M | A | O | | T | O | R | T | | |
| D | I | S | A | L | L | O | W | | R | I | P | E | | S | T | A | | U | N | H | A | T |
| A | N | N | | A | T | T | H | R | E | E | O | N | T | H | E | D | O | T | | Q | I | D |
| W | O | O | E | R | | H | E | E | | S | T | O | W | | S | E | L | L | O | U | T | S |
| | | T | A | S | S | | A | N | T | | I | L | E | X | | E | D | I | N | A | | |
| B | O | H | R | | P | U | T | T | H | E | C | A | R | I | N | R | E | V | E | R | S | E |
| E | L | I | | B | U | N | | S | A | X | | | P | O | E | | | E | A | T | E | R |
| L | A | N | Y | A | R | D | S | | N | E | W | T | | N | A | P | S | | M | E | T | S |
| A | N | G | E | R | | E | P | I | | C | A | R | D | | T | A | P | E | | R | A | T |
| | | | S | E | C | R | E | T | E | | S | I | A | M | | R | E | N | E | | | |
| A | L | L | | S | I | G | N | O | N | T | H | E | D | O | T | T | E | D | L | I | N | E |
| B | O | Y | S | T | O | O | D | | T | W | O | S | E | C | O | N | D | S | F | L | A | T |
| E | D | N | A | | N | N | E | | R | O | U | T | | K | L | E | E | | I | S | O | N |
| T | E | X | T | | S | E | R | | E | S | T | E | | S | A | R | D | | N | A | S | A |
Tue 5/10/1977

| | | | | | | | | | | | | | | |
| --- | --- | --- | --- | --- | --- | --- | --- | --- | --- | --- | --- | --- | --- | --- |
| G | A | L | S | | G | L | A | D | S | | C | A | S | K |
| I | G | O | T | | R | E | L | E | E | | O | N | E | A |
| S | E | C | U | R | I | T | Y | B | L | A | N | K | E | T |
| T | R | I | D | E | N | T | S | | E | S | C | A | P | E |
| | | | P | A | D | S | | A | C | T | H | | | |
| A | B | H | O | R | S | | R | I | T | A | | A | B | C |
| Q | U | A | K | E | | M | I | R | O | | I | N | R | O |
| U | N | D | E | R | C | O | V | E | R | G | R | O | U | P |
| A | C | O | R | | O | V | E | R | | O | R | A | T | E |
| S | O | N | | S | M | I | T | | I | R | I | S | E | S |
| | | | S | U | P | E | | U | N | I | T | | | |
| A | F | F | A | I | R | | A | P | P | E | A | L | T | O |
| Q | U | I | L | T | I | N | G | P | A | R | T | I | E | S |
| U | N | D | O | | S | O | R | E | R | | E | R | A | S |
| I | T | O | N | | E | W | A | R | T | | D | E | L | A |
Fri 3/4/1977

| | | | | | | | | | | | | | | |
| --- | --- | --- | --- | --- | --- | --- | --- | --- | --- | --- | --- | --- | --- | --- |
| I | B | I | D | | C | U | P | I | D | | L | A | M | P |
| L | A | M | E | | A | N | I | S | E | | O | L | I | O |
| K | E | E | P | O | F | F | T | H | E | G | R | A | S | S |
| A | R | T | I | S | T | E | S | | R | A | R | I | T | Y |
| | | | C | L | A | D | | E | S | T | E | | | |
| B | A | T | T | E | N | | L | A | K | E | | P | U | B |
| O | N | A | I | R | | S | E | T | I | | L | E | N | O |
| D | E | P | O | S | I | T | T | E | N | C | E | N | T | S |
| E | L | A | N | | S | O | O | N | | A | M | A | I | N |
| D | E | S | | F | A | U | N | | T | R | O | L | L | S |
| | | | B | U | T | T | | E | R | I | N | | | |
| O | F | F | I | S | H | | S | T | U | N | T | M | E | N |
| C | R | O | S | S | O | N | T | H | E | G | R | E | E | N |
| T | O | R | O | | M | O | A | N | S | | E | R | L | E |
| O | M | E | N | | E | R | G | O | T | | E | L | Y | S |
Fri 12/31/1976

| | | | | | | | | | | | | | | |
| --- | --- | --- | --- | --- | --- | --- | --- | --- | --- | --- | --- | --- | --- | --- |
| M | A | S | H | | S | A | P | I | D | | T | A | B | U |
| I | N | E | E | | P | L | E | B | E | | O | M | A | R |
| N | O | T | E | S | O | F | A | M | E | E | T | I | N | G |
| T | A | I | L | C | O | A | T | | P | L | E | D | G | E |
| | | | M | A | R | S | | E | D | A | M | | | |
| I | B | E | A | M | S | | E | R | I | N | | G | B | S |
| S | L | U | R | P | | O | L | E | S | | E | L | E | M |
| W | O | R | K | I | N | G | S | C | H | E | D | U | L | E |
| O | N | U | S | | A | D | I | T | | L | U | C | I | A |
| N | D | S | | A | T | E | E | | C | O | C | K | E | R |
| | | | A | S | I | N | | P | A | P | A | | | |
| G | H | E | T | T | O | | S | O | M | E | T | I | M | E |
| L | A | R | A | I | N | E | A | N | D | D | O | R | I | S |
| E | V | I | L | | A | L | I | C | E | | R | A | M | O |
| N | E | A | L | | L | A | D | E | N | | S | N | I | P |
Sun 12/5/1976

EXAM TIME

| | | | | | | | | | | | | | | | | | | | | | | |
| --- | --- | --- | --- | --- | --- | --- | --- | --- | --- | --- | --- | --- | --- | --- | --- | --- | --- | --- | --- | --- | --- | --- |
| L | I | N | D | A | | S | P | I | R | A | L | S | | S | C | A | N | | | Q | U | A |
| A | V | E | R | S | | A | L | S | A | T | I | A | | O | H | I | O | | P | U | N | Y |
| M | A | R | Y | H | A | D | A | L | I | T | T | L | E | L | A | M | B | | H | I | D | E |
| A | N | O | N | | L | I | N | | | L | E | A | N | E | R | S | | T | O | D | O | S |
| | | | E | L | I | S | | Z | O | E | | | U | L | M | | E | R | N | | | |
| B | A | T | S | I | N | T | H | E | B | E | L | F | R | Y | | B | R | I | E | F | E | R |
| E | N | I | S | L | E | | O | N | E | | O | I | E | | M | A | O | | B | R | A | E |
| A | T | A | | L | O | A | D | | R | A | R | E | | O | U | T | S | | O | E | R | S |
| R | E | J | O | I | N | S | | D | O | W | N | F | O | R | T | H | E | C | O | U | N | T |
| C | A | U | S | E | | S | A | U | N | A | | | T | A | T | E | | L | T | D | | |
| U | T | A | S | | P | A | W | N | | K | O | C | H | | | | R | E | H | I | T | |
| B | E | N | | C | H | I | N | E | S | E | C | H | E | C | K | E | R | S | | A | E | C |
| | R | A | B | I | D | | | | O | D | A | L | | U | R | N | S | | O | N | L | Y |
| | | B | U | G | | S | E | E | R | | | O | I | R | A | T | | A | N | S | E | R |
| C | A | R | L | S | B | A | D | C | A | V | E | R | N | S | | R | I | V | O | L | T | A |
| R | I | A | L | | U | R | D | U | | I | R | O | N | | M | Y | N | A | | I | A | N |
| A | S | S | N | | N | A | Y | | S | S | S | | E | T | O | | A | L | E | P | P | O |
| B | E | S | E | E | C | H | | V | I | C | T | O | R | I | A | C | R | O | S | S | E | S |
| | | | C | R | O | | B | E | G | | | U | S | E | | R | A | N | T | | | |
| A | L | I | K | E | | Z | E | R | M | A | T | T | | | A | U | G | | I | R | I | S |
| J | O | K | E | | H | E | R | M | A | J | E | S | T | Y | S | S | E | R | V | I | C | E |
| A | C | E | D | | A | N | T | I | | A | L | E | C | O | S | T | | E | A | G | E | R |
| X | I | S | | | L | O | A | N | | R | E | T | U | N | E | S | | B | L | A | S | T |
Fri 9/3/1976

| | | | | | | | | | | | | | | |
| --- | --- | --- | --- | --- | --- | --- | --- | --- | --- | --- | --- | --- | --- | --- |
| L | O | T | I | | R | A | V | I | | H | E | R | E | S |
| A | R | U | N | | E | D | E | N | | A | B | E | L | L |
| M | A | T | T | | C | O | R | D | O | N | B | L | E | U |
| B | L | U | E | R | I | B | B | O | N | | S | A | M | E |
| | | | R | I | T | E | | L | E | M | | X | I | S |
| L | I | T | T | L | E | | L | E | I | G | H | | | |
| A | B | O | W | L | | H | U | N | D | R | E | D | T | H |
| V | E | N | I | | P | E | S | C | A | | L | O | R | E |
| E | X | O | N | E | R | A | T | E | | M | I | L | E | R |
| | | | E | M | I | R | S | | P | O | O | L | E | D |
| K | A | T | | S | E | T | | D | A | R | T | | | |
| A | T | O | P | | S | H | O | E | S | T | R | I | N | G |
| T | A | P | E | S | T | R | I | E | S | | O | N | E | A |
| E | X | A | L | T | | U | S | M | A | | P | E | A | L |
| S | I | Z | E | S | | G | E | S | T | | E | Z | R | A |
Thu 8/12/1976

| | | | | | | | | | | | | | | |
| --- | --- | --- | --- | --- | --- | --- | --- | --- | --- | --- | --- | --- | --- | --- |
| S | A | U | D | | T | A | S | T | E | | | E | T | H |
| A | N | T | I | | I | L | I | A | D | | T | R | I | O |
| L | O | A | M | | B | O | B | M | A | T | H | I | A | S |
| Z | A | H | A | R | I | A | S | | R | A | R | E | S | T |
| | | | G | O | A | D | | A | C | R | E | | | |
| A | D | A | G | E | S | | C | H | A | D | W | I | C | K |
| L | I | S | I | S | | H | O | A | R | Y | | M | A | N |
| I | T | T | O | | M | A | M | B | O | | B | I | T | E |
| M | T | A | | M | A | T | E | S | | P | A | N | E | L |
| B | O | B | J | O | N | E | S | | H | U | B | E | R | T |
| | | | O | D | O | R | | B | O | R | E | | | |
| D | I | E | S | E | L | | S | U | G | A | R | R | A | Y |
| C | H | R | I | S | E | V | E | R | T | | U | E | L | E |
| V | A | L | E | | T | A | R | S | I | | T | M | A | N |
| I | D | E | | | E | N | A | T | E | | H | O | S | S |
Sun 8/1/1976

LITERARY CURVES

| | | | | | | | | | | | | | | | | | | | | | | |
| --- | --- | --- | --- | --- | --- | --- | --- | --- | --- | --- | --- | --- | --- | --- | --- | --- | --- | --- | --- | --- | --- | --- |
| C | H | E | A | P | | A | M | E | N | | S | T | U | M | | | A | S | T | R | O | |
| H | A | S | T | E | | D | I | L | I | | A | R | N | E | | | B | A | H | A | M | A |
| A | T | T | A | R | | I | M | A | L | L | L | E | A | R | S | | O | N | E | M | A | N |
| T | H | E | V | I | C | T | I | M | O | F | S | K | U | L | L | D | I | G | G | E | R | Y |
| | | | I | L | E | S | | | T | S | E | | | | A | L | L | A | H | | | |
| A | N | D | S | O | N | | I | F | I | | | I | R | A | N | I | | | O | O | Z | E |
| Y | O | U | M | U | S | T | B | E | C | H | O | K | I | N | G | | S | Y | S | T | E | M |
| E | R | R | | S | O | R | E | L | | E | D | E | M | A | | A | S | A | T | E | A | M |
| A | M | B | I | | R | I | A | L | | R | I | S | E | R | | D | E | M | I | L | L | E |
| R | A | I | L | S | | O | M | A | G | E | | | | C | R | I | | | S | L | O | T |
| | S | N | O | U | T | | | H | I | T | T | H | E | H | I | G | H | S | C | O | T | S |
| | | | V | E | R | A | S | | B | I | K | O | L | | F | E | R | A | L | | | |
| C | H | E | E | Z | I | T | T | H | E | C | O | P | S | E | | | H | I | E | R | O | |
| R | O | S | Y | | | I | S | O | | | | P | E | A | C | H | | L | A | H | R | S |
| U | N | P | O | S | E | D | | A | L | I | B | I | | S | H | U | T | | R | O | I | L |
| M | O | R | U | L | A | E | | R | O | S | I | N | | T | O | N | I | C | | M | O | O |
| P | R | I | S | O | N | | A | S | P | I | N | G | F | O | R | T | R | O | U | B | L | E |
| S | E | T | H | | | I | D | E | S | T | | | A | N | D | | A | N | N | I | E | S |
| | | | R | E | A | L | M | | | | P | A | R | | | T | N | T | S | | | |
| M | A | D | E | A | P | O | I | S | O | N | A | L | A | P | P | E | A | R | A | N | C | E |
| D | R | O | W | S | E | | T | A | L | E | O | F | W | H | O | A | | A | F | I | R | E |
| S | A | D | L | E | R | | | G | A | E | L | | A | I | N | O | | C | E | S | A | R |
| | B | O | Y | D | S | | | E | N | D | O | | Y | S | E | R | | T | R | I | G | O |
Fri 7/2/1976

| | | | | | | | | | | | | | | |
| --- | --- | --- | --- | --- | --- | --- | --- | --- | --- | --- | --- | --- | --- | --- |
| C | A | L | F | | T | A | M | E | R | | S | I | L | L |
| O | M | A | R | | O | D | I | L | E | | P | R | O | A |
| T | A | K | E | T | W | O | A | S | P | I | R | I | N | S |
| S | T | E | E | R | E | R | S | | R | A | I | S | E | S |
| | | | L | U | R | E | | S | I | N | G | | | |
| C | O | C | O | A | S | | E | W | E | S | | F | L | O |
| A | L | L | A | N | | S | L | A | V | | C | L | A | P |
| R | E | A | D | T | H | E | E | Y | E | C | H | A | R | T |
| G | I | N | S | | A | R | M | S | | H | I | N | G | E |
| O | N | S | | G | I | V | E | | H | O | C | K | E | D |
| | | | I | N | R | E | | P | A | R | K | | | |
| R | E | D | G | A | P | | S | E | R | A | P | H | I | M |
| O | P | E | N | W | I | D | E | R | P | L | E | A | S | E |
| M | I | N | I | | N | O | N | C | E | | A | S | E | A |
| A | C | T | S | | S | A | T | Y | R | | S | H | E | D |
Fri 5/14/1976

| | | | | | | | | | | | | | | |
| --- | --- | --- | --- | --- | --- | --- | --- | --- | --- | --- | --- | --- | --- | --- |
| S | A | W | A | | B | I | L | G | E | | T | E | L | L |
| E | R | I | C | | U | V | E | A | S | | E | L | I | A |
| M | A | S | C | U | L | I | N | E | T | U | R | K | E | Y |
| I | M | P | I | N | G | E | D | | H | E | R | O | N | S |
| | | | D | R | E | D | | C | O | L | A | | | |
| T | O | S | E | E | D | | J | A | N | E | | C | S | T |
| A | S | O | N | E | | S | A | R | I | | A | O | N | E |
| S | C | O | T | L | A | N | D | Y | A | R | D | M | A | N |
| T | A | T | S | | S | E | E | S | | E | V | I | C | T |
| E | R | Y | | S | T | A | D | | S | M | O | C | K | S |
| | | | A | P | E | D | | B | L | O | C | | | |
| A | I | R | I | E | R | | B | E | A | R | A | B | L | E |
| C | A | U | S | E | I | R | R | I | T | A | T | I | O | N |
| E | M | I | L | | S | H | A | N | E | | E | N | I | D |
| D | A | N | E | | K | O | N | G | S | | D | E | N | S |
Sun 3/7/1976

IMPERTINENT QUESTIONS

| | | | | | | | | | | | | | | | | | | | | | | |
| --- | --- | --- | --- | --- | --- | --- | --- | --- | --- | --- | --- | --- | --- | --- | --- | --- | --- | --- | --- | --- | --- | --- |
| | R | E | F | E | R | | | C | A | S | O | | | A | D | O | S | | M | O | A | B |
| R | E | G | U | L | A | R | | O | L | A | F | S | | S | E | V | E | R | A | N | C | E |
| A | N | I | M | O | S | E | | M | A | R | T | H | A | S | V | I | N | E | Y | A | R | D |
| J | O | S | E | P | H | S | B | R | E | T | H | R | E | N | | | A | T | O | N | E | S |
| | | | D | E | E | P | A | S | | R | E | E | F | | M | I | T | E | | | | |
| C | I | M | A | R | R | O | N | | H | E | E | D | | F | I | N | E | | S | M | E | W |
| E | R | A | T | | | N | E | M | O | | | | A | I | N | T | | S | O | A | V | E |
| B | O | R | | R | E | D | S | A | I | L | S | I | N | T | H | E | S | U | N | S | E | T |
| U | N | V | E | I | L | | | A | S | O | L | D | A | S | | N | E | M | A | T | | |
| | | I | N | D | I | R | A | | T | R | O | U | B | L | E | D | W | A | T | E | R | S |
| E | T | N | A | S | | A | T | T | | D | E | B | A | I | N | | E | C | A | R | T | E |
| W | I | G | | | C | H | L | O | E | | | | S | K | A | L | D | | | S | E | G |
| E | L | A | P | S | E | | A | F | L | O | A | T | | E | C | O | | A | N | D | S | O |
| S | T | R | A | U | S | S | W | A | L | T | Z | E | S | | T | I | P | T | O | E | | |
| | | D | R | E | S | T | | T | I | T | A | N | I | A | | | R | E | D | G | A | P |
| T | H | E | F | R | E | N | C | H | C | O | N | N | E | C | T | I | O | N | | R | M | A |
| A | R | N | O | S | | I | O | E | E | | | | N | E | E | D | | | D | E | A | N |
| U | S | S | R | | A | C | E | R | | P | A | C | A | | N | E | S | C | I | E | N | T |
| | | | | A | R | K | S | | O | R | E | L | | J | O | N | A | H | S | | | |
| A | D | V | I | S | E | | | S | H | O | R | E | S | O | F | T | R | I | P | O | L | I |
| B | E | E | T | H | O | V | E | N | S | F | I | F | T | H | | I | G | N | O | R | E | D |
| B | A | R | C | E | L | O | N | A | | S | A | T | A | N | | C | O | U | S | I | N | S |
| A | D | A | H | | A | L | E | P | | | L | S | T | S | | | S | P | E | N | T | |
Fri 2/6/1976

| | | | | | | | | | | | | | | |
| --- | --- | --- | --- | --- | --- | --- | --- | --- | --- | --- | --- | --- | --- | --- |
| F | E | R | N | | R | E | L | I | C | | M | A | L | I |
| O | M | O | O | | E | R | A | T | O | | U | F | O | S |
| R | U | S | S | I | A | N | P | O | L | I | T | I | C | O |
| E | S | S | E | N | C | E | S | | A | L | E | X | I | S |
| | | | C | U | T | S | | E | N | I | D | | | |
| P | A | R | O | L | S | | O | L | D | E | | P | L | Y |
| O | M | A | N | I | | A | P | S | E | | S | L | O | E |
| S | I | L | E | N | T | S | T | A | R | P | E | A | R | L |
| E | L | L | S | | H | O | E | S | | O | N | T | A | P |
| D | E | Y | | M | E | N | D | | E | L | T | O | N | S |
| | | | V | I | S | E | | A | L | L | E | | | |
| A | R | M | A | D | A | | A | L | I | E | N | A | T | E |
| F | E | E | L | I | N | G | D | E | J | E | C | T | E | D |
| A | N | T | I | | D | U | R | R | A | | E | K | E | D |
| R | O | A | D | | S | T | E | T | H | | S | A | D | A |
Fri 12/5/1975

| | | | | | | | | | | | | | | |
| --- | --- | --- | --- | --- | --- | --- | --- | --- | --- | --- | --- | --- | --- | --- |
| S | A | T | D | O | W | N | | S | I | T | U | P | S | |
| C | R | O | A | T | I | A | | U | N | I | T | I | N | G |
| O | L | D | R | O | C | K | I | N | G | C | H | A | I | R |
| T | O | O | T | | K | E | N | | | S | E | N | T | A |
| | | | | S | E | D | E | R | E | | R | O | S | Y |
| S | I | S | T | E | R | | R | E | C | E | S | S | | |
| O | N | A | I | R | | S | T | A | R | S | | T | R | A |
| H | O | T | S | E | A | T | | D | U | T | E | O | U | S |
| O | N | O | | I | T | A | L | Y | | O | S | O | L | E |
| | | N | I | N | E | T | Y | | A | P | P | L | E | S |
| G | N | A | W | | S | E | D | A | N | S | | | | |
| I | O | W | A | S | | | I | C | I | | S | H | E | A |
| G | R | A | N | D | S | T | A | N | D | S | E | A | T | S |
| S | A | L | T | A | T | O | | E | L | E | C | T | R | A |
| | S | L | A | K | E | D | | S | E | T | T | E | E | S |
Sat 10/11/1975

| | | | | | | | | | | | | | | |
| --- | --- | --- | --- | --- | --- | --- | --- | --- | --- | --- | --- | --- | --- | --- |
| E | S | Q | U | E | | T | E | N | | | V | A | S | T |
| S | H | U | N | S | | A | L | E | S | | I | N | O | W |
| Q | U | E | E | N | E | L | I | Z | A | B | E | T | H | I |
| | T | U | X | E | D | O | S | | N | O | T | I | O | N |
| | S | E | P | | A | N | I | | J | O | S | | | |
| | | | I | S | M | | O | D | O | R | | T | A | J |
| Z | E | B | R | A | | U | N | A | S | | M | A | R | E |
| E | X | P | E | C | T | S | | M | E | X | I | C | A | N |
| R | O | O | D | | R | E | D | S | | I | S | T | L | E |
| O | N | E | | P | U | R | R | | A | I | T | | | |
| | | | S | O | I | | A | D | V | | L | O | A | |
| J | U | I | C | E | S | | G | E | E | Z | E | R | S | |
| E | X | C | O | M | M | U | N | I | C | A | T | I | O | N |
| H | O | O | T | | S | T | E | T | | N | O | O | N | E |
| U | R | N | S | | | S | T | Y | | E | E | L | E | D |
Thu 9/11/1975

| | | | | | | | | | | | | | | |
| --- | --- | --- | --- | --- | --- | --- | --- | --- | --- | --- | --- | --- | --- | --- |
| C | L | U | B | | A | C | E | R | B | | T | A | L | L |
| H | O | P | O | | S | H | E | A | R | | O | L | E | O |
| O | T | I | C | | M | A | N | H | A | T | T | A | N | S |
| P | I | N | K | L | A | D | Y | | N | E | A | R | A | T |
| | | | B | A | R | S | | A | D | A | S | | | |
| A | S | P | E | R | A | | W | H | I | S | K | I | E | S |
| S | H | R | E | D | | A | I | M | E | E | | R | A | E |
| S | O | I | R | | G | U | L | E | S | | H | A | T | E |
| A | L | E | | B | I | D | E | D | | W | I | N | E | S |
| M | A | R | T | I | N | I | S | | R | E | G | I | N | A |
| | | | I | N | S | O | | L | E | A | H | | | |
| S | P | I | R | A | L | | B | O | U | R | B | O | N | S |
| C | U | B | A | L | I | B | R | E | S | | A | N | O | A |
| A | R | I | D | | N | O | I | S | E | | L | E | E | K |
| B | A | S | E | | G | L | O | S | S | | L | A | D | E |
Sun 8/10/1975

WRITERS' GATHERING

| | | | | | | | | | | | | | | | | | | | | | | |
| --- | --- | --- | --- | --- | --- | --- | --- | --- | --- | --- | --- | --- | --- | --- | --- | --- | --- | --- | --- | --- | --- | --- |
| S | A | L | S | | T | S | A | R | S | | G | A | E | S | | T | S | E | L | I | O | T |
| A | S | E | A | | I | T | H | O | T | | A | S | I | P | | H | H | M | U | N | R | O |
| I | C | A | L | | L | E | O | T | O | L | S | T | O | Y | | R | O | S | T | A | N | D |
| C | H | R | I | S | T | I | E | | D | U | M | A | U | R | I | E | R | | E | S | A | U |
| | | | N | O | U | N | | E | D | N | A | | | I | M | A | | O | D | E | T | S |
| R | E | D | G | A | P | | D | R | A | G | N | E | T | | P | T | A | H | | T | E | T |
| Y | P | R | E | S | | P | A | I | R | S | | T | O | I | | S | P | A | S | | | |
| O | S | A | R | | B | L | U | E | D | | E | A | R | N | S | | P | R | I | S | M | S |
| T | O | G | | B | E | A | N | S | | E | D | G | A | R | A | L | L | A | N | P | O | E |
| S | M | O | L | L | E | T | T | | W | O | D | E | H | O | U | S | E | | C | O | T | A |
| | | | A | E | R | O | | D | A | N | A | | | A | L | T | | P | L | U | T | O |
| B | A | D | W | A | Y | | C | O | G | S | | G | A | D | S | | C | O | A | T | O | F |
| A | M | O | R | T | | J | O | G | | | F | I | D | S | | B | A | L | I | | | |
| N | O | T | E | | C | O | R | N | E | I | L | L | E | | R | E | M | A | R | Q | U | E |
| J | O | H | N | D | O | S | P | A | S | S | O | S | | J | A | N | U | S | | U | P | S |
| O | N | E | C | U | P | | S | I | K | E | S | | F | O | N | T | S | | M | A | T | T |
| | | | E | T | T | U | | L | E | R | | Y | E | A | T | S | | F | I | C | H | E |
| A | M | I | | C | E | N | S | | R | E | W | A | R | D | S | | W | I | C | K | E | R |
| N | I | N | T | H | | T | H | O | | | A | L | M | S | | M | I | N | H | | | |
| I | S | S | U | | B | R | E | T | H | A | R | T | E | | V | O | N | N | E | G | U | T |
| T | H | O | R | E | A | U | | H | E | R | M | A | N | W | O | U | K | | N | I | K | E |
| A | A | M | I | L | N | E | | E | R | A | T | | T | E | T | R | A | | E | D | E | N |
| S | P | E | N | S | E | R | | R | O | T | H | | S | T | E | N | T | | R | E | S | T |
Tue 6/17/1975

| | | | | | | | | | | | | | | |
| --- | --- | --- | --- | --- | --- | --- | --- | --- | --- | --- | --- | --- | --- | --- |
| B | A | D | E | | R | O | P | E | D | | C | L | A | P |
| A | M | A | N | | E | P | O | D | E | | A | O | N | E |
| H | A | V | I | N | G | A | L | O | N | G | S | U | I | T |
| T | H | E | G | I | R | L | S | | T | A | T | T | L | E |
| | | | M | A | E | S | | M | I | N | E | | | |
| I | M | P | A | C | T | | J | E | S | T | | A | S | K |
| C | O | A | T | I | | O | A | S | T | | A | T | O | I |
| A | L | V | I | N | O | F | B | A | S | E | B | A | L | L |
| L | A | I | C | | U | F | O | S | | N | Y | L | O | N |
| S | R | S | | S | T | E | T | | A | S | S | E | S | S |
| | | | P | O | O | R | | A | B | U | M | | | |
| S | T | A | R | O | F | | O | F | H | E | A | R | T | S |
| H | A | V | I | N | G | A | G | O | O | D | L | O | O | K |
| A | X | E | D | | A | L | L | O | R | | L | V | I | I |
| W | I | R | E | | S | E | E | L | S | | Y | E | L | P |
Thu 5/8/1975

| | | | | | | | | | | | | | | |
| --- | --- | --- | --- | --- | --- | --- | --- | --- | --- | --- | --- | --- | --- | --- |
| P | E | A | C | E | | A | T | L | I | | J | I | M | A |
| A | L | L | O | T | | T | W | I | N | | A | R | I | L |
| S | U | M | M | A | T | I | O | N | S | | Z | A | N | E |
| S | L | A | P | | A | L | T | I | | A | Z | T | E | C |
| | | | E | P | I | T | O | M | E | S | | E | D | S |
| T | U | N | N | E | L | | | E | L | S | A | | | |
| S | P | U | D | S | | M | E | N | I | N | G | E | A | L |
| H | O | N | I | | H | A | R | T | E | | G | A | P | E |
| I | N | C | U | B | A | T | E | S | | A | R | S | O | N |
| | | | M | E | I | R | | | T | W | E | E | D | S |
| E | G | G | | B | R | I | E | F | I | N | G | | | |
| Q | U | I | R | E | | M | A | L | L | | A | G | R | A |
| U | N | D | O | | T | O | T | A | L | I | T | I | E | S |
| A | G | E | S | | O | N | E | R | | B | E | N | E | T |
| L | A | S | S | | T | Y | R | E | | O | S | A | K | A |
Sun 3/9/1975

EYE-SQUINTING

| | | | | | | | | | | | | | | | | | | | | | | |
| --- | --- | --- | --- | --- | --- | --- | --- | --- | --- | --- | --- | --- | --- | --- | --- | --- | --- | --- | --- | --- | --- | --- |
| I | T | O | | I | F | O | R | A | N | I | | I | S | H | A | D | O | W | | T | A | W |
| N | O | W | | R | E | S | O | L | E | S | | R | E | A | L | I | T | E | | A | B | A |
| R | U | N | S | A | N | I | O | V | E | R | | A | P | P | L | E | O | F | H | I | S | I |
| E | T | U | I | S | | E | M | I | R | | S | N | A | P | S | | E | T | A | P | E | S |
| D | E | P | T | | W | R | E | N | | E | M | I | L | Y | | | | S | C | E | N | T |
| | | | | B | O | E | R | | F | L | E | A | S | | A | V | E | | K | I | T | S |
| S | H | I | P | A | N | D | | A | L | I | E | N | | F | R | I | E | S | | | | |
| H | A | W | I | N | G | | | T | O | S | S | | T | O | O | L | R | E | S | T | S | |
| A | W | I | N | G | | T | A | L | C | S | | A | A | R | O | N | | T | E | H | E | E |
| M | K | T | S | | | H | O | O | K | A | N | D | I | | M | A | T | I | N | E | E | S |
| S | I | N | | | T | A | R | O | | | O | A | K | S | | | A | N | D | P | I | E |
| | S | E | R | | H | I | T | S | T | H | E | B | U | L | L | S | I | | S | U | N | |
| O | T | S | E | G | O | | | E | R | I | A | | | A | G | O | N | | | B | G | S |
| P | A | S | T | E | U | R | S | | I | D | R | O | P | P | E | R | | | B | L | I | P |
| S | T | E | R | N | | A | M | A | Z | E | | L | A | P | S | E | | M | A | I | D | U |
| | E | S | O | T | E | R | I | C | A | | L | I | V | E | | | R | A | N | C | O | R |
| | | | | S | T | E | L | E | | D | I | V | E | R | | C | O | N | D | I | G | N |
| A | L | O | G | | A | R | E | | P | I | M | A | S | | G | R | U | S | | | | |
| M | U | S | I | C | | | | A | E | G | I | S | | I | L | E | T | | B | E | R | G |
| E | P | I | L | O | G | | S | L | E | E | T | | A | R | A | S | | A | U | R | A | L |
| B | I | R | D | S | I | V | I | E | W | S | | I | L | E | S | S | I | N | G | A | Z | A |
| A | N | I | | T | R | I | P | P | E | T | | C | O | N | S | E | N | T | | T | O | D |
| E | S | S | | I | L | A | S | H | E | S | | S | E | E | I | T | O | I | | O | R | I |
Thu 3/6/1975

| | | | | | | | | | | | | | | |
| --- | --- | --- | --- | --- | --- | --- | --- | --- | --- | --- | --- | --- | --- | --- |
| L | E | D | A | | N | O | M | A | D | | T | I | D | E |
| A | P | I | N | | A | G | O | R | A | | A | S | E | A |
| M | I | S | T | | P | R | O | M | E | T | H | E | U | S |
| A | C | H | I | L | L | E | S | | D | R | I | E | S | T |
| | | | G | O | E | S | | B | A | I | T | | | |
| J | A | S | O | N | S | | C | A | L | L | I | O | P | E |
| A | W | I | N | G | | K | A | B | U | L | | V | A | R |
| L | A | M | E | | M | I | R | E | S | | H | E | R | A |
| N | I | B | | M | E | L | T | S | | B | E | R | E | T |
| A | T | A | L | A | N | T | A | | P | O | S | T | N | O |
| | | | O | D | E | S | | R | U | M | P | | | |
| S | P | I | R | A | L | | C | E | R | B | E | R | U | S |
| T | E | L | E | M | A | C | H | U | S | | R | A | N | A |
| A | L | A | N | | U | D | I | N | E | | U | R | I | S |
| B | E | Y | S | | S | E | D | E | R | | S | E | T | H |
Fri 12/20/1974

| | | | | | | | | | | | | | | |
| --- | --- | --- | --- | --- | --- | --- | --- | --- | --- | --- | --- | --- | --- | --- |
| S | H | A | M | | P | A | S | H | A | | F | I | B | S |
| H | O | M | O | | A | N | I | O | N | | A | C | R | O |
| O | P | E | N | | T | I | T | T | A | T | T | O | E | S |
| P | I | N | O | C | H | L | E | | G | O | I | N | T | O |
| | | | P | R | O | S | | D | R | U | M | | | |
| D | A | D | O | E | S | | C | H | A | R | A | D | E | S |
| A | G | I | L | E | | B | O | O | M | S | | E | A | T |
| M | O | N | Y | | C | R | A | W | S | | P | A | R | A |
| U | R | E | | C | H | A | T | S | | M | A | L | T | Y |
| P | A | R | C | H | E | S | I | | L | O | T | T | O | S |
| | | | H | I | C | S | | P | O | L | I | | | |
| A | S | S | I | L | K | | R | O | U | L | E | T | T | E |
| B | A | T | T | L | E | S | H | I | P | | N | A | R | Y |
| B | R | U | T | | R | A | I | S | E | | C | L | U | E |
| E | D | D | Y | | S | I | N | E | S | | E | K | E | D |
Fri 9/27/1974

| | | | | | | | | | | | | | | |
| --- | --- | --- | --- | --- | --- | --- | --- | --- | --- | --- | --- | --- | --- | --- |
| J | E | A | N | | | J | A | C | K | | J | U | A | N |
| A | M | B | I | T | | O | T | H | E | | O | P | R | Y |
| M | I | D | L | O | T | H | I | A | N | | N | A | M | E |
| B | L | U | E | J | E | A | N | S | | A | S | S | E | T |
| S | Y | L | | O | R | N | | T | A | C | O | | | |
| | | | A | S | S | N | | I | M | I | N | E | S | |
| M | A | R | Y | | | | I | S | E | E | | R | E | B |
| I | V | A | N | T | H | E | T | E | R | R | I | B | L | E |
| S | O | N | | Y | E | A | S | | | | D | A | L | Y |
| | W | I | L | K | E | S | | A | L | A | S | | | |
| | | | L | E | P | T | | R | A | M | | E | R | A |
| C | A | K | E | S | | G | I | O | V | A | N | N | I | S |
| A | N | E | W | | J | A | N | M | A | S | A | R | Y | K |
| S | O | R | I | | A | T | K | A | | S | T | O | A | S |
| H | A | N | S | | B | E | A | S | | | A | L | D | A |
Sat 8/24/1974

| | | | | | | | | | | | | | | |
| --- | --- | --- | --- | --- | --- | --- | --- | --- | --- | --- | --- | --- | --- | --- |
| R | A | G | S | | A | M | B | E | R | | S | A | M | S |
| O | N | I | T | | N | O | R | I | A | | T | R | I | O |
| T | O | R | A | | G | L | E | N | N | B | E | A | L | L |
| H | A | T | F | I | E | L | D | | D | O | L | L | E | D |
| | | | F | O | R | S | | T | O | O | L | | | |
| B | A | R | O | N | S | | T | A | L | M | A | D | G | E |
| I | T | E | R | S | | P | U | L | P | S | | R | E | S |
| B | R | A | D | | C | I | N | C | H | | T | E | S | T |
| L | I | D | | E | R | N | E | S | | I | H | A | T | E |
| E | A | S | T | L | A | N | D | | E | L | U | D | E | S |
| | | | E | D | N | A | | O | M | E | R | | | |
| A | B | O | D | E | S | | P | R | O | X | M | I | R | E |
| R | O | B | E | R | T | T | A | F | T | | O | D | O | R |
| A | L | O | U | | O | R | C | A | E | | N | E | L | L |
| S | T | E | M | | N | E | A | R | S | | D | O | L | E |
Fri 6/28/1974

| | | | | | | | | | | | | | | |
| --- | --- | --- | --- | --- | --- | --- | --- | --- | --- | --- | --- | --- | --- | --- |
| C | R | O | W | | D | O | T | E | R | | G | A | L | A |
| H | E | M | O | | A | R | E | N | O | | A | L | O | U |
| I | D | E | O | | M | E | A | D | O | W | L | A | R | K |
| C | A | R | D | I | N | A | L | | S | H | O | R | E | S |
| | | | C | O | E | D | | S | T | O | P | | | |
| S | T | R | O | U | D | | P | H | E | A | S | A | N | T |
| C | R | O | C | S | | W | H | I | R | S | | W | O | E |
| O | I | N | K | | T | H | O | R | S | | P | A | A | R |
| F | A | D | | P | A | I | N | T | | S | E | R | I | N |
| F | L | A | M | I | N | G | O | | B | O | N | E | R | S |
| | | | U | N | A | S | | T | O | N | G | | | |
| I | N | A | R | U | G | | S | E | A | G | U | L | L | S |
| W | O | O | D | P | E | C | K | E | R | | I | O | W | A |
| A | N | N | E | | R | O | U | N | D | | N | O | O | N |
| S | E | E | R | | S | W | A | Y | S | | S | S | W | S |
Fri 4/26/1974

| | | | | | | | | | | | | | | |
| --- | --- | --- | --- | --- | --- | --- | --- | --- | --- | --- | --- | --- | --- | --- |
| L | E | A | R | | I | S | A | A | C | | O | K | R | A |
| A | R | G | O | | H | I | N | D | U | | F | O | O | L |
| S | I | R | S | | E | D | N | A | M | I | L | L | A | Y |
| T | E | A | S | D | A | L | E | | M | R | A | N | D | |
| | | | E | I | R | E | | D | I | A | M | | | |
| C | A | R | T | E | D | | S | A | N | D | B | U | R | G |
| A | B | U | T | S | | S | Y | N | G | E | | R | U | R |
| R | A | N | I | | W | E | L | T | S | | R | I | S | A |
| O | B | I | | S | H | A | P | E | | P | O | E | S | Y |
| M | A | C | L | E | I | S | H | | S | A | B | L | E | S |
| | | | A | L | T | O | | E | T | U | I | | | |
| | B | R | U | I | T | | B | R | O | W | N | I | N | G |
| J | O | H | N | M | I | L | T | O | N | | S | T | O | A |
| O | D | I | C | | E | A | U | D | E | | O | S | E | S |
| G | E | N | E | | R | I | S | E | S | | N | A | S | H |
Sun 4/21/1974

BY NO MEANS

| | | | | | | | | | | | | | | | | | | | | | | |
| --- | --- | --- | --- | --- | --- | --- | --- | --- | --- | --- | --- | --- | --- | --- | --- | --- | --- | --- | --- | --- | --- | --- |
| A | L | P | S | | C | A | P | | P | E | G | | T | A | S | S | | S | O | U | P | S |
| N | A | R | A | | A | N | A | T | O | L | E | | S | L | U | E | | I | S | S | U | E |
| T | H | E | F | I | D | D | L | E | R | I | N | T | H | E | B | A | S | E | M | E | N | T |
| H | O | S | E | D | | C | A | T | C | H | E | R | I | N | T | H | E | V | O | D | K | A |
| E | R | I | | S | M | O | T | E | | U | T | A | | | L | E | N | E | S | | | |
| M | E | D | E | | A | N | E | S | T | | | D | O | Z | E | N | | | I | R | O | N |
| | | E | N | B | A | S | | | E | S | S | E | N | E | | | M | O | N | A | C | O |
| R | A | N | G | E | | | W | I | N | T | E | R | S | E | T | M | A | U | G | H | A | M |
| A | N | T | | R | E | M | E | M | B | E | R | | | | O | U | R | S | | | | |
| L | T | D | | G | L | E | A | M | | | I | N | A | C | T | I | V | E | | G | E | M |
| L | E | E | R | | L | A | K | E | I | N | F | E | R | I | O | R | | L | E | A | V | E |
| I | N | W | A | R | | | | R | C | A | | M | A | R | | | | S | T | R | I | A |
| E | N | E | M | Y | | E | I | G | H | T | N | O | T | R | U | M | P | | O | D | D | S |
| D | A | Y | | E | S | P | R | E | S | S | O | | | A | R | A | R | A | | E | E | L |
| | | | | M | A | I | A | | | | R | E | S | T | A | T | E | S | | N | N | E |
| L | A | W | R | E | N | C | E | O | F | I | S | R | A | E | L | | | T | O | O | T | S |
| A | T | H | E | N | S | | | B | O | N | E | R | S | | | T | H | I | E | F | | |
| G | A | O | L | | | C | A | J | U | N | | | S | A | B | R | A | | R | A | Z | E |
| | | | A | L | T | O | S | | | E | L | I | | G | A | U | G | E | | T | E | X |
| F | R | A | T | E | R | N | I | T | Y | S | I | S | T | E | R | S | | N | O | T | A | T |
| T | H | E | H | A | I | R | D | R | E | S | S | E | R | O | F | S | E | V | I | L | L | E |
| H | I | R | E | S | | A | E | O | N | | T | R | I | F | L | E | D | | N | E | O | N |
| S | N | O | R | T | | D | S | T | S | | S | E | X | | Y | D | S | | K | E | T | T |
Fri 2/8/1974

| | | | | | | | | | | | | | | |
| --- | --- | --- | --- | --- | --- | --- | --- | --- | --- | --- | --- | --- | --- | --- |
| S | P | A | T | | E | S | T | O | P | | T | A | L | C |
| L | A | I | R | | F | E | R | R | I | | A | N | Y | A |
| A | R | N | O | | F | R | E | N | C | H | H | O | R | N |
| T | R | U | M | P | E | T | S | | C | A | I | N | E | |
| | | | B | E | T | S | | P | O | E | T | | | |
| A | S | L | O | P | E | | D | U | L | C | I | M | E | R |
| P | I | A | N | O | | P | E | T | O | S | | E | R | A |
| O | T | H | E | | B | U | F | O | S | | M | A | U | I |
| R | A | M | | A | A | R | O | N | | H | A | R | P | S |
| T | R | I | A | N | G | L | E | | L | A | N | A | T | E |
| | | | T | I | P | S | | L | O | U | D | | | |
| | A | M | A | T | I | | B | A | S | S | O | O | N | S |
| S | O | U | S | A | P | H | O | N | E | | L | U | A | U |
| U | N | I | T | | E | I | D | E | R | | I | S | O | N |
| M | E | R | E | | S | E | E | D | S | | N | E | S | S |
Sun 8/26/1973

TRICKS OF THE TRADE

| | | | | | | | | | | | | | | | | | | | | | | |
| --- | --- | --- | --- | --- | --- | --- | --- | --- | --- | --- | --- | --- | --- | --- | --- | --- | --- | --- | --- | --- | --- | --- |
| | O | A | S | I | S | | D | R | E | E | | S | O | R | B | | T | I | N | S | E | L |
| O | P | T | O | M | E | T | R | I | S | T | | O | R | E | L | | I | N | T | O | N | E |
| S | A | T | U | R | D | A | Y | S | C | H | I | L | D | W | O | R | K | S | H | A | R | D |
| P | L | I | | E | A | R | S | | O | A | T | S | | A | W | A | I | T | | N | A | G |
| R | I | C | E | | N | O | T | U | R | N | S | | T | R | U | S | S | | E | D | G | E |
| E | N | U | R | E | | R | A | N | T | S | | N | Y | M | P | H | | E | A | S | E | R |
| Y | E | S | O | R | | O | T | I | S | | N | O | P | E | S | | E | X | G | O | D | S |
| | | | S | O | G | O | E | S | | M | A | N | E | D | | O | B | A | L | | | |
| R | O | I | | D | E | T | S | | L | A | M | P | S | | U | D | O | M | E | T | E | R |
| A | R | M | L | E | T | S | | T | A | K | E | L | E | S | S | O | N | S | | E | V | A |
| T | I | M | O | N | S | | C | A | K | E | B | A | T | T | E | R | S | | I | N | I | T |
| A | N | E | N | T | | G | A | M | E | H | U | N | T | E | R | S | | G | R | A | N | T |
| T | O | R | E | | P | I | P | E | F | I | T | T | E | R | S | | F | R | A | N | C | E |
| A | C | S | | F | I | V | E | S | I | S | T | E | R | S | | G | L | A | N | C | E | R |
| T | O | E | B | O | N | E | S | | S | T | O | R | S | | A | E | O | N | | Y | D | S |
| | | | O | U | T | S | | P | H | O | N | S | | O | S | T | E | A | L | | | |
| C | E | D | A | R | S | | F | A | I | R | S | | A | R | F | S | | D | A | L | I | S |
| O | Y | E | R | S | | F | E | R | N | Y | | C | L | A | R | A | | A | G | E | N | T |
| R | E | A | D | | S | O | B | I | G | | H | O | T | N | E | S | S | | O | T | T | O |
| I | S | R | | B | A | R | R | E | | S | U | M | O | | S | E | E | D | | C | E | R |
| N | O | S | U | B | S | T | I | T | U | T | E | F | O | R | H | A | R | D | W | O | R | K |
| T | R | I | L | L | S | | L | A | T | E | | I | N | H | A | L | A | T | I | O | N | S |
| H | E | R | E | S | Y | | E | L | A | M | | T | A | O | S | | I | S | T | L | E | |
Fri 4/12/1957

| | | | | | | | | | | | | | | |
| --- | --- | --- | --- | --- | --- | --- | --- | --- | --- | --- | --- | --- | --- | --- |
| S | H | E | D | | H | A | I | F | A | | I | M | P | S |
| N | O | D | E | | O | R | S | O | N | | R | A | R | E |
| A | U | G | U | S | T | M | O | O | N | | O | T | E | A |
| P | R | E | C | E | D | E | N | T | | E | N | C | Y | S |
| | | | E | T | O | N | | | S | A | S | H | | |
| C | A | M | | | G | I | S | | P | R | I | M | A | |
| A | M | Y | S | | | A | T | T | E | N | D | A | N | T |
| S | O | F | A | | I | N | R | E | D | | E | K | K | A |
| T | R | A | V | E | R | S | E | R | | | S | E | L | L |
| | T | I | O | G | A | | P | M | G | | | R | E | C |
| | | R | Y | A | N | | | I | R | A | S | | | |
| S | A | L | A | D | | M | A | N | I | T | O | B | A | N |
| O | M | A | R | | P | A | J | A | M | A | G | A | M | E |
| T | O | D | D | | A | G | A | T | E | | G | R | A | B |
| S | K | Y | S | | M | I | X | E | S | | Y | E | N | S |
Sat 2/2/1957

| | | | | | | | | | | | | | | |
| --- | --- | --- | --- | --- | --- | --- | --- | --- | --- | --- | --- | --- | --- | --- |
| C | O | D | A | | B | A | B | A | R | | E | R | S | T |
| O | V | E | R | | I | D | O | L | A | | G | O | T | O |
| R | E | F | R | I | G | E | R | A | T | O | R | C | A | R |
| E | N | S | E | M | B | L | E | | T | R | E | A | T | Y |
| | | | S | P | E | E | | A | L | E | S | | | |
| M | I | T | T | E | N | | P | L | E | A | S | U | R | E |
| E | T | H | E | L | | L | A | I | R | D | | S | A | M |
| S | A | A | R | | M | I | N | E | S | | G | E | N | E |
| A | L | T | | B | E | V | I | N | | B | A | R | G | E |
| S | Y | S | T | E | M | I | C | | N | A | S | S | E | R |
| | | | R | E | E | D | | R | O | I | L | | | |
| S | A | T | U | R | N | | N | U | T | R | I | E | N | T |
| E | R | N | E | S | T | H | E | M | I | N | G | W | A | Y |
| J | E | T | S | | O | U | T | O | F | | H | E | M | P |
| M | A | S | T | | S | T | O | R | Y | | T | R | E | E |
Sun 3/6/1955

CENTER OF THE STAGE

| | | | | | | | | | | | | | | | | | | | | | | |
| --- | --- | --- | --- | --- | --- | --- | --- | --- | --- | --- | --- | --- | --- | --- | --- | --- | --- | --- | --- | --- | --- | --- |
| | S | P | I | E | D | | S | T | L | O | | S | A | S | H | | N | A | M | E | D | |
| A | P | O | S | T | R | O | P | H | E | S | | E | S | T | E | | I | N | U | L | I | N |
| T | E | A | H | O | U | S | E | O | F | T | H | E | A | U | G | U | S | T | M | O | O | N |
| U | N | C | | N | I | L | E | | T | E | A | M | | D | I | N | E | S | | I | N | E |
| A | C | H | Y | | D | O | C | K | I | N | G | | S | E | R | A | I | | A | N | N | A |
| N | E | E | S | E | | | H | I | E | D | | F | I | N | A | L | | F | R | E | E | S |
| A | R | D | E | N | | D | I | E | S | | M | A | S | T | S | | H | E | A | R | S | T |
| | | | R | E | B | U | F | F | | M | I | T | T | S | | S | E | A | N | | | |
| M | O | B | | M | O | N | Y | | B | A | S | T | E | | S | C | I | S | S | O | R | S |
| E | R | O | S | I | O | N | | C | U | S | T | E | R | S | L | A | S | T | | V | A | T |
| T | I | N | T | E | R | | B | E | T | T | E | R | H | O | U | R | S | | M | E | M | O |
| O | N | D | E | S | | L | E | T | T | E | R | F | O | R | M | S | | S | I | R | E | N |
| P | O | M | P | | W | I | N | T | E | R | B | O | O | T | S | | D | E | B | A | S | E |
| I | C | E | | T | E | N | D | E | R | M | O | O | D | S | | P | U | N | S | T | E | R |
| C | O | N | S | E | N | T | S | | B | I | N | D | S | | C | A | N | A | | E | S | S |
| | | | A | N | D | Y | | B | E | N | E | S | | P | I | R | A | T | E | | | |
| P | L | A | N | E | S | | G | R | A | D | S | | L | O | G | S | | O | V | E | R | S |
| R | A | I | T | T | | M | A | I | N | S | | M | I | C | A | | | R | E | M | E | T |
| A | B | R | A | | H | E | L | D | S | | S | E | N | O | R | A | S | | S | O | D | A |
| N | I | T | | V | E | N | A | L | | B | E | R | G | | E | R | N | O | | T | E | L |
| C | A | I | N | E | M | U | T | I | N | Y | C | O | U | R | T | M | A | R | T | I | A | L |
| E | L | M | I | R | A | | I | N | R | E | | P | A | R | T | Y | F | A | V | O | R | S |
| | S | E | D | A | N | | A | G | A | S | | E | L | S | E | | U | L | A | N | S | |
Fri 12/17/1954

| | | | | | | | | | | | | | | |
| --- | --- | --- | --- | --- | --- | --- | --- | --- | --- | --- | --- | --- | --- | --- |
| Q | U | O | T | A | | A | L | D | A | | A | R | O | W |
| U | N | I | O | N | | L | E | A | R | | I | O | N | A |
| A | L | L | E | N | | L | A | N | C | A | S | T | E | R |
| D | I | E | | E | W | E | S | | S | U | L | T | R | Y |
| S | T | R | A | T | E | G | I | C | | L | E | E | | |
| | | | A | T | T | E | N | D | E | D | | R | H | O |
| C | L | A | R | E | T | | G | I | N | | A | D | A | M |
| R | E | P | O | S | E | | | | F | A | T | A | L | E |
| I | V | A | N | | S | T | B | | A | C | U | M | E | N |
| B | A | R | | M | T | V | E | R | N | O | N | | | |
| | | T | R | Y | | A | L | E | T | T | E | R | T | O |
| H | O | M | E | R | S | | L | A | S | T | | E | R | A |
| A | L | E | X | A | N | D | E | R | | A | E | G | I | S |
| L | I | N | E | | I | D | A | E | | G | R | A | T | E |
| L | O | T | S | | P | E | U | R | | E | S | N | E | S |
XWord Info © 2007-2023,
Jim Horne
0.21 sec