This web browser is not supported. Use Chrome, Edge, Safari, or Firefox for best results.
Thumbnails
137 puzzles by Lou Sabin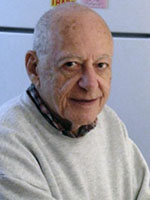 View these same grids with comments from:
David Steinberg (3)
See the 137 answer words debuted by Lou Sabin.
Alternate names for this constructor:
In a 2019 interview for the Pre-Shortzian Puzzle Project, Lou Sabin noted that his late wife, Fran, was only listed as a co-constructor on his New York Times crosswords for business purposes.
29 Shortz Era Daily crosswords by Lou Sabin
Tue 9/15/2009

| | | | | | | | | | | | | | | |
| --- | --- | --- | --- | --- | --- | --- | --- | --- | --- | --- | --- | --- | --- | --- |
| M | O | T | H | | S | U | B | A | R | U | | O | R | A |
| O | N | C | E | | P | L | A | N | E | S | | R | A | G |
| D | O | U | B | L | E | E | A | G | L | E | | I | F | I |
| | | | | A | W | E | E | | A | D | R | O | I | T |
| S | N | E | E | Z | E | | D | R | U | | U | L | N | A |
| M | I | N | D | E | D | | | A | N | D | R | E | S | |
| O | G | L | E | | | T | R | I | C | E | | S | I | P |
| T | H | I | N | G | S | W | I | T | H | W | I | N | G | S |
| E | T | S | | A | H | I | N | T | | | G | E | N | A |
| | I | T | A | L | I | C | | | P | R | O | S | I | T |
| K | N | E | W | | P | E | G | | A | O | R | T | A | S |
| O | G | D | E | N | S | | O | N | I | T | | | | |
| D | A | M | | A | I | R | F | O | R | C | E | O | N | E |
| A | L | E | | I | D | E | A | T | E | | G | W | E | N |
| K | E | N | | F | E | A | R | E | D | | G | N | A | T |
Wed 5/11/2005

| | | | | | | | | | | | | | | |
| --- | --- | --- | --- | --- | --- | --- | --- | --- | --- | --- | --- | --- | --- | --- |
| M | I | S | S | | | G | R | A | F | | L | I | M | O |
| A | C | T | U | P | | L | U | L | L | | A | N | E | W |
| Y | O | U | M | A | C | O | N | F | U | N | O | F | M | E |
| A | N | N | | R | O | V | E | | | O | T | O | E | S |
| | | | I | S | L | E | | K | A | T | Z | | | |
| Y | O | U | R | E | A | R | E | A | L | B | U | T | T | E |
| A | Z | T | E | C | | | S | T | A | Y | | R | O | M |
| H | A | I | D | | O | A | S | E | S | | G | O | T | O |
| O | R | C | | A | U | R | A | | | C | R | U | E | T |
| O | K | A | Y | T | R | O | Y | T | O | H | I | T | M | E |
| | | | E | S | S | O | | A | B | E | T | | | |
| A | T | I | M | E | | | S | T | I | R | | E | S | E |
| J | U | N | E | A | U | W | H | A | T | Y | A | D | I | D |
| A | N | O | N | | S | H | I | M | | L | O | D | G | E |
| R | A | N | I | | H | O | P | I | | | L | Y | N | N |
Tue 1/11/2000

| | | | | | | | | | | | | | | |
| --- | --- | --- | --- | --- | --- | --- | --- | --- | --- | --- | --- | --- | --- | --- |
| C | E | L | T | S | | F | E | R | N | | B | I | C | S |
| A | L | O | N | E | | A | P | I | E | | O | R | A | L |
| F | A | N | T | A | S | T | I | C | V | O | Y | A | G | E |
| E | N | G | | B | A | T | C | H | | L | I | N | E | D |
| | | | N | I | L | E | | | C | D | S | | | |
| | I | N | C | R | E | D | I | B | L | E | H | U | L | K |
| B | L | O | O | D | | | R | O | A | R | | N | A | E |
| A | I | R | S | | C | L | O | W | N | | S | T | I | R |
| B | U | M | | S | O | O | N | | | B | A | I | R | N |
| A | M | A | Z | I | N | G | S | T | O | R | I | E | S | |
| | | | E | L | K | | | E | T | A | L | | | |
| B | A | S | R | A | | T | A | L | O | N | | M | S | G |
| I | M | P | O | S | S | I | B | L | E | D | R | E | A | M |
| A | M | I | E | | I | D | L | E | | O | H | A | R | A |
| S | O | N | S | | P | E | E | R | | N | O | T | I | N |
Mon 9/13/1999

| | | | | | | | | | | | | | | |
| --- | --- | --- | --- | --- | --- | --- | --- | --- | --- | --- | --- | --- | --- | --- |
| T | S | A | R | | S | W | E | D | E | | E | Q | U | I |
| O | L | G | A | | E | A | T | I | N | | R | U | S | S |
| P | E | A | C | H | E | S | A | N | D | C | R | E | A | M |
| P | E | T | E | R | S | | | N | U | R | S | E | | |
| E | V | E | R | S | | E | M | E | R | Y | | N | T | H |
| D | E | S | | | S | T | A | R | E | | A | B | O | O |
| | | | C | A | P | O | N | | | A | L | E | U | T |
| | S | A | L | T | A | N | D | P | E | P | P | E | R | |
| H | A | B | I | T | | | A | U | N | T | S | | | |
| U | N | D | O | | B | U | T | T | E | | | A | S | P |
| P | E | I | | E | L | S | E | S | | P | E | S | T | O |
| | | C | U | R | I | E | | | S | E | N | S | E | S |
| M | E | A | T | A | N | D | P | O | T | A | T | O | E | S |
| C | U | T | E | | D | U | E | N | A | | E | R | L | E |
| I | R | E | S | | S | P | R | A | T | | R | T | E | S |
Sun 8/29/1999

TRADEMARKS

| | | | | | | | | | | | | | | | | | | | | |
| --- | --- | --- | --- | --- | --- | --- | --- | --- | --- | --- | --- | --- | --- | --- | --- | --- | --- | --- | --- | --- |
| A | C | T | S | | A | R | E | E | L | | G | L | E | E | | S | P | R | A | Y |
| W | A | R | P | | R | O | L | L | O | | L | U | G | S | | C | R | I | M | E |
| E | L | I | A | | G | O | L | A | N | | O | L | I | O | | A | U | D | E | N |
| | L | A | R | R | Y | K | I | N | G | S | S | U | S | P | E | N | D | E | R | S |
| | A | L | K | A | L | I | S | | S | A | S | S | | H | A | T | E | | | |
| | | | I | S | L | E | | L | I | L | Y | | C | A | G | Y | | C | P | R |
| A | S | S | N | S | | | S | I | N | S | | S | A | G | E | | S | H | O | E |
| D | O | U | G | L | A | S | M | A | C | A | R | T | H | U | R | S | P | I | P | E |
| A | L | I | | E | N | T | I | R | E | | E | O | N | S | | W | I | P | E | D |
| M | E | N | D | | G | A | L | | | S | I | P | | | L | I | N | | | |
| | | G | E | O | R | G | E | B | U | R | N | S | S | C | I | G | A | R | | |
| | | | R | O | Y | | | O | R | O | | | O | H | O | | L | E | E | K |
| E | M | A | I | L | | C | A | N | S | | D | E | M | O | N | S | | A | C | E |
| S | A | L | V | A | D | O | R | D | A | L | I | S | M | U | S | T | A | C | H | E |
| M | U | L | E | | O | W | N | S | | E | S | S | E | | | A | N | T | O | N |
| E | L | Y | | L | U | B | E | | A | T | M | O | | U | C | L | A | | | |
| | | | L | E | G | O | | A | R | G | O | | O | P | H | E | L | I | A | |
| D | O | R | O | T | H | Y | L | A | M | O | U | R | S | S | A | R | O | N | G | |
| A | B | O | U | T | | H | O | R | A | | N | I | S | A | N | | G | A | N | G |
| M | O | O | S | E | | A | N | O | N | | T | O | I | L | E | | U | L | E | E |
| P | E | T | E | R | | T | E | N | D | | S | T | E | A | L | | E | L | S | E |
Mon 1/25/1999

| | | | | | | | | | | | | | | |
| --- | --- | --- | --- | --- | --- | --- | --- | --- | --- | --- | --- | --- | --- | --- |
| A | C | T | E | | L | I | A | R | | M | E | L | T | S |
| M | A | I | L | | U | R | G | E | | I | D | E | A | L |
| A | S | T | I | | C | O | O | N | | L | I | E | B | Y |
| S | T | A | N | D | I | N | G | O | R | D | E | R | S | |
| S | E | N | O | R | A | | | W | I | E | | | | |
| | | | R | U | N | N | I | N | G | W | A | T | E | R |
| B | U | D | | B | O | A | S | | A | S | T | H | M | A |
| I | T | E | M | | | B | I | N | | | T | E | M | P |
| D | A | M | A | S | K | | N | O | A | H | | M | A | T |
| S | H | O | O | T | I | N | G | S | T | A | R | | | |
| | | | | A | L | A | | | T | R | A | I | L | S |
| | F | L | Y | I | N | G | S | Q | U | I | R | R | E | L |
| A | L | I | E | N | | S | T | U | N | | I | A | G | O |
| D | A | N | T | E | | A | L | E | E | | T | N | U | T |
| O | N | A | I | R | | T | O | S | S | | Y | I | P | S |
Wed 9/30/1998

| | | | | | | | | | | | | | | |
| --- | --- | --- | --- | --- | --- | --- | --- | --- | --- | --- | --- | --- | --- | --- |
| S | P | O | T | | | S | T | A | S | H | | B | I | T |
| U | S | U | A | L | | S | O | L | T | I | | A | T | E |
| B | I | T | T | E | R | S | W | E | E | T | | Y | E | P |
| | | L | E | A | H | | I | N | E | | S | O | M | E |
| B | A | A | | P | O | R | T | E | R | H | O | U | S | E |
| I | R | S | | S | N | O | | | S | A | G | | | |
| M | I | T | T | | D | A | H | S | | S | O | F | A | R |
| B | E | E | R | B | A | R | R | E | L | P | O | L | K | A |
| O | L | D | I | E | | S | H | O | O | | D | A | R | T |
| | | | P | E | A | | | U | M | S | | M | O | O |
| S | T | O | U | T | F | E | L | L | O | W | | I | N | N |
| H | E | L | P | | F | R | I | | N | O | O | N | | |
| A | L | I | | D | R | A | F | T | D | O | D | G | E | R |
| R | E | V | | E | A | S | E | D | | P | E | O | N | S |
| E | X | E | | M | Y | E | R | S | | | S | S | G | T |
Thu 8/6/1998

| | | | | | | | | | | | | | | |
| --- | --- | --- | --- | --- | --- | --- | --- | --- | --- | --- | --- | --- | --- | --- |
| P | A | P | A | | S | I | M | P | | | D | O | O | M |
| A | R | T | S | | O | N | U | S | | S | A | U | T | E |
| P | E | P | S | | F | T | S | T | O | C | K | T | O | N |
| P | A | L | E | T | T | E | S | | N | O | O | S | E | D |
| | | E | N | R | O | L | | J | E | T | T | | | |
| B | E | A | T | O | N | | B | A | D | T | A | S | T | E |
| U | P | S | E | T | | L | E | M | A | Y | | T | R | A |
| S | P | A | R | | C | O | N | E | Y | | F | L | I | T |
| T | I | N | | S | I | R | E | S | | D | I | A | N | E |
| S | E | T | A | P | A | R | T | | D | A | R | W | I | N |
| | | | M | A | R | E | | B | A | D | E | R | | |
| A | S | C | E | N | D | | F | O | R | S | W | E | A | R |
| M | T | M | C | K | I | N | L | E | Y | | O | N | C | E |
| P | O | O | H | S | | H | U | R | L | | O | C | H | O |
| S | A | N | E | | | L | E | S | S | | D | E | E | S |
Sat 7/11/1998

| | | | | | | | | | | | | | | |
| --- | --- | --- | --- | --- | --- | --- | --- | --- | --- | --- | --- | --- | --- | --- |
| | G | E | L | A | T | I | N | | R | A | J | A | S | |
| S | A | R | A | S | O | T | A | | A | D | A | P | T | S |
| A | M | E | T | H | Y | S | T | | D | E | G | R | E | E |
| M | E | L | E | E | S | | I | B | I | S | | I | R | A |
| A | L | O | S | S | | P | O | L | A | | B | O | I | L |
| R | A | N | T | | P | E | N | A | L | | E | R | L | E |
| A | N | G | | M | O | N | A | S | T | E | R | I | E | S |
| | | | R | E | S | U | L | T | I | N | G | | | |
| D | O | G | C | A | T | C | H | E | R | S | | G | A | L |
| U | N | I | T | | S | H | O | R | E | | L | A | N | E |
| P | E | G | S | | E | E | L | S | | B | U | G | G | Y |
| E | N | G | | N | A | S | I | | F | U | S | S | E | D |
| R | O | L | E | O | S | | D | O | L | I | T | T | L | E |
| S | T | E | R | N | O | | A | N | A | C | R | E | O | N |
| | E | D | S | O | N | | Y | O | N | K | E | R | S | |
Sun 4/26/1998

Bases Loaded

| | | | | | | | | | | | | | | | | | | | | |
| --- | --- | --- | --- | --- | --- | --- | --- | --- | --- | --- | --- | --- | --- | --- | --- | --- | --- | --- | --- | --- |
| F | R | A | S | | T | R | E | S | S | | L | O | L | A | | | H | I | S | T |
| R | E | N | T | | R | U | R | A | L | | I | D | I | O | T | | I | N | T | O |
| O | T | T | O | | U | N | I | T | E | | F | O | U | R | B | A | G | G | E | R |
| G | R | O | U | N | D | S | K | E | E | P | E | R | | T | I | N | H | O | R | N |
| S | O | N | T | A | G | | | S | P | A | | S | T | A | R | D | A | T | E | |
| | | | S | T | E | L | A | | I | L | S | | A | L | D | E | N | | | |
| W | H | O | | T | R | I | P | L | E | P | L | A | Y | | | A | D | D | U | P |
| H | U | B | B | Y | | A | P | E | R | | A | I | L | S | | N | O | I | S | E |
| A | S | I | A | | C | R | A | G | | E | N | R | O | L | L | | U | R | S | A |
| T | H | E | L | M | A | | L | A | C | E | D | | R | O | O | S | T | E | R | S |
| | | | L | O | N | G | | L | O | R | E | S | | B | O | A | S | | | |
| S | N | A | P | P | E | R | S | | W | I | R | E | D | | S | L | I | P | O | N |
| I | O | L | A | | D | I | E | P | P | E | | W | I | D | E | | D | U | K | E |
| B | A | I | R | D | | N | A | T | O | | R | U | N | E | | B | E | R | R | A |
| S | H | A | K | O | | | M | A | K | E | U | P | G | A | M | E | | E | A | R |
| | | | F | R | O | M | E | | E | L | F | | O | N | E | A | L | | | |
| | S | C | R | E | W | I | N | G | | A | F | L | | | T | S | E | T | S | E |
| M | E | L | A | M | E | D | | R | E | L | I | E | F | P | I | T | C | H | E | R |
| O | P | E | N | I | N | G | D | A | Y | | A | D | O | R | E | | H | E | I | R |
| D | I | R | K | | S | E | N | S | E | | N | I | C | E | R | | E | R | N | E |
| S | A | K | S | | | T | A | P | S | | S | N | I | P | S | | R | E | E | D |
Tue 12/9/1997

| | | | | | | | | | | | | | | |
| --- | --- | --- | --- | --- | --- | --- | --- | --- | --- | --- | --- | --- | --- | --- |
| P | O | D | S | | C | L | O | T | | T | I | M | I | D |
| A | V | O | W | | R | I | M | E | | O | D | I | L | E |
| D | A | Z | E | | A | N | N | A | | N | E | L | L | Y |
| S | L | E | E | P | Y | T | I | M | E | G | A | L | | |
| | | | P | R | O | | | | F | U | S | S | E | D |
| A | D | O | | I | N | S | P | I | R | E | | T | S | E |
| D | I | N | G | S | | T | E | T | E | | E | R | T | E |
| D | R | E | A | M | D | R | E | A | M | D | R | E | A | M |
| L | E | T | S | | R | O | L | L | | A | G | A | T | E |
| E | C | O | | C | O | M | E | S | B | Y | | M | E | D |
| S | T | O | P | U | P | | | | E | A | U | | | |
| | | M | I | S | T | E | R | S | A | N | D | M | A | N |
| S | C | A | N | T | | C | O | O | T | | D | A | L | I |
| O | U | N | C | E | | H | A | L | E | | E | X | E | C |
| D | R | Y | E | R | | O | D | O | R | | R | I | C | K |
Sat 3/29/1997

| | | | | | | | | | | | | | | |
| --- | --- | --- | --- | --- | --- | --- | --- | --- | --- | --- | --- | --- | --- | --- |
| A | B | C | S | | S | H | O | R | E | L | E | A | V | E |
| S | A | R | I | | P | O | P | U | L | A | T | I | O | N |
| T | R | I | M | | A | P | P | L | E | C | A | R | T | S |
| A | T | M | O | S | T | | R | E | C | | S | T | A | N |
| G | E | E | N | A | | N | E | R | T | S | | O | R | A |
| E | R | A | | G | R | O | S | S | | A | F | A | I | R |
| | | | M | E | A | T | S | | M | U | R | I | E | L |
| | P | U | E | N | T | E | | D | I | C | E | R | S | |
| P | O | N | G | E | E | | G | E | L | I | D | | | |
| E | L | I | A | S | | G | E | E | S | E | | M | A | R |
| R | E | V | | S | T | R | O | P | | S | H | A | M | E |
| U | S | E | R | | A | A | R | | S | T | A | L | A | G |
| S | T | R | I | K | I | N | G | L | Y | | D | A | Z | E |
| E | A | S | T | I | N | D | I | A | N | | A | D | I | N |
| D | R | E | A | M | T | E | A | M | S | | T | E | N | T |
Wed 12/11/1996

| | | | | | | | | | | | | | | |
| --- | --- | --- | --- | --- | --- | --- | --- | --- | --- | --- | --- | --- | --- | --- |
| L | O | C | A | L | | L | A | I | R | | C | R | A | M |
| O | H | A | R | A | | E | I | N | E | | L | A | V | A |
| T | O | R | I | C | | G | R | A | B | | A | C | I | D |
| T | H | R | E | E | D | A | Y | P | A | S | S | E | S | |
| | | | S | U | I | T | | E | T | E | S | | | |
| S | A | P | | P | R | I | N | T | E | R | | P | A | M |
| A | R | E | A | | G | O | O | | | V | I | R | G | O |
| T | U | R | N | S | E | N | D | O | V | E | R | E | N | D |
| U | B | O | A | T | | | E | V | A | | A | G | E | E |
| P | A | N | | O | U | R | S | E | L | F | | O | W | L |
| | | | F | I | N | E | | R | E | E | D | | | |
| | B | L | O | C | K | A | N | D | T | A | C | K | L | E |
| P | O | O | L | | E | R | O | O | | S | L | I | E | R |
| I | D | O | L | | P | E | N | N | | T | I | L | E | R |
| N | Y | N | Y | | T | R | E | E | | S | I | L | K | S |
Mon 11/18/1996

| | | | | | | | | | | | | | | |
| --- | --- | --- | --- | --- | --- | --- | --- | --- | --- | --- | --- | --- | --- | --- |
| P | A | P | A | | L | E | A | S | H | | I | S | N | T |
| I | L | L | S | | A | L | B | E | E | | S | T | I | R |
| C | L | A | S | S | C | L | O | W | N | | L | U | N | A |
| T | E | N | E | T | | A | M | E | N | | A | D | A | M |
| S | N | O | R | E | D | | B | R | A | W | N | Y | | |
| | | | T | R | O | T | | | | A | D | H | O | C |
| L | A | D | S | | N | O | S | H | E | R | | A | D | O |
| I | C | E | | A | N | A | T | O | M | Y | | L | I | T |
| A | L | A | | N | A | T | U | R | E | | K | L | E | E |
| R | U | N | O | N | | | | A | N | D | A | | | |
| | | S | C | A | R | F | S | | D | E | R | A | I | L |
| L | O | L | A | | I | O | U | S | | L | A | S | S | O |
| A | V | I | S | | G | Y | M | T | E | A | C | H | E | R |
| L | E | S | E | | O | L | M | O | S | | H | E | R | R |
| A | R | T | Y | | R | E | A | P | S | | I | S | E | E |
Sun 8/18/1996

What's My Line?

| | | | | | | | | | | | | | | | | | | | | |
| --- | --- | --- | --- | --- | --- | --- | --- | --- | --- | --- | --- | --- | --- | --- | --- | --- | --- | --- | --- | --- |
| S | A | D | A | | | B | L | A | H | | M | A | M | A | | N | O | I | S | E |
| W | R | E | N | | B | R | O | M | O | | O | L | A | F | | A | N | G | E | R |
| A | B | E | T | | L | A | B | O | R | | R | E | S | T | | T | I | L | E | R |
| M | O | R | E | M | O | N | E | Y | S | H | O | R | T | E | R | H | O | U | R | S |
| I | R | E | L | A | N | D | | | E | A | S | T | | R | O | A | N | | | |
| | | | O | D | D | S | | A | C | R | E | | E | L | A | N | | D | U | N |
| S | T | O | P | A | | | C | H | A | T | | A | X | I | S | | K | E | N | O |
| M | O | V | E | T | O | T | H | E | R | E | A | R | O | F | T | H | E | B | U | S |
| A | V | I | S | | P | O | E | M | S | | S | I | T | E | | E | A | T | M | E |
| R | A | N | | S | A | P | | | | C | O | S | I | | A | R | N | | | |
| T | H | E | Y | A | R | E | A | P | E | R | F | E | C | T | C | O | U | P | L | E |
| | | | A | N | T | | B | E | A | U | | | | U | H | S | | R | I | G |
| S | P | O | C | K | | P | A | R | R | | S | E | T | T | O | | P | I | S | A |
| I | L | L | H | A | V | E | T | O | P | U | T | Y | O | U | O | N | H | O | L | D |
| M | E | E | T | | E | D | E | N | | N | O | R | M | | | A | I | R | E | S |
| I | D | O | | A | N | O | S | | F | I | N | E | | E | C | O | L | | | |
| | | | A | T | O | M | | C | O | T | E | | | L | A | M | O | T | T | A |
| T | R | U | S | T | M | E | T | H | I | S | D | R | E | S | S | I | S | Y | O | U |
| A | E | R | I | E | | T | O | I | L | | E | U | B | I | E | | O | P | E | N |
| P | A | G | A | N | | E | R | T | E | | A | L | O | E | S | | P | E | A | T |
| E | M | E | N | D | | R | E | A | D | | F | E | N | S | | | H | A | T | S |
Mon 3/25/1996

| | | | | | | | | | | | | | | |
| --- | --- | --- | --- | --- | --- | --- | --- | --- | --- | --- | --- | --- | --- | --- |
| S | T | A | B | | S | T | E | P | | E | R | A | S | E |
| W | A | X | Y | | C | O | A | L | | N | E | W | E | L |
| I | C | E | R | | E | A | S | E | | S | N | E | A | K |
| G | O | L | D | E | N | S | T | A | T | U | E | T | T | E |
| | | | | L | I | T | | | B | E | G | | | |
| M | O | S | A | I | C | | G | E | E | | E | A | T | S |
| A | V | A | S | T | | A | L | D | A | | | P | H | I |
| J | I | M | H | E | N | S | O | N | M | U | P | P | E | T |
| O | N | O | | | O | T | R | A | | N | O | L | I | E |
| R | E | A | M | | B | A | Y | | C | I | D | E | R | S |
| | | | C | O | E | | | S | R | O | | | | |
| J | A | C | K | K | L | U | G | M | A | N | R | O | L | E |
| A | M | O | U | R | | T | O | O | N | | I | D | E | S |
| M | A | K | E | A | | A | N | T | E | | L | E | A | P |
| S | T | E | N | S | | H | E | E | D | | L | A | D | Y |
Sun 3/10/1996

PARTING WORDS

| | | | | | | | | | | | | | | | | | | | | |
| --- | --- | --- | --- | --- | --- | --- | --- | --- | --- | --- | --- | --- | --- | --- | --- | --- | --- | --- | --- | --- |
| W | A | R | D | | G | R | A | S | P | | R | M | S | | A | L | A | S | K | A |
| A | G | E | R | | H | I | L | L | S | | E | A | T | | R | A | S | P | E | D |
| D | I | V | I | D | E | D | L | O | Y | A | L | T | Y | | T | I | T | L | E | D |
| E | L | E | V | A | T | E | S | | C | R | A | T | E | R | | D | R | I | P | S |
| R | E | L | E | N | T | S | | C | H | E | T | S | | O | R | I | O | N | | |
| | | | L | E | O | | B | O | I | T | E | | M | A | I | N | S | T | A | Y |
| A | S | S | E | S | | M | I | N | C | E | D | H | A | M | S | | | E | S | E |
| L | I | E | D | | C | O | L | D | | | | E | P | E | E | | S | R | T | A |
| A | L | P | | B | R | O | K | E | N | F | I | E | L | D | | R | A | F | E | R |
| S | T | A | L | L | E | R | S | | E | L | O | P | E | | M | O | L | A | R | S |
| | | R | O | U | S | E | | | G | I | T | | | T | A | B | A | C | | |
| C | L | A | V | E | S | | S | E | R | R | A | | C | H | R | I | S | T | I | E |
| A | L | T | E | R | | S | P | L | I | T | S | C | R | E | E | N | | I | R | E |
| B | A | E | R | | A | T | E | E | | | | R | O | S | S | | S | O | O | N |
| A | M | I | | | C | R | A | C | K | E | D | I | C | E | | F | A | N | N | Y |
| L | A | N | D | S | E | E | R | | A | R | A | B | S | | P | I | N | | | |
| | | C | E | A | S | E | | A | N | G | U | S | | S | A | N | D | A | L | S |
| S | P | O | R | T | | P | A | S | S | O | N | | P | I | N | E | T | R | E | E |
| A | R | M | I | E | S | | S | H | A | T | T | E | R | E | D | D | R | E | A | M |
| T | E | E | V | E | E | | T | E | N | | E | L | E | V | E | | A | N | N | I |
| E | S | S | E | N | E | | O | N | S | | R | I | P | E | R | | P | A | T | S |
Wed 2/21/1996

| | | | | | | | | | | | | | | |
| --- | --- | --- | --- | --- | --- | --- | --- | --- | --- | --- | --- | --- | --- | --- |
| J | A | D | E | D | | T | R | O | T | | V | C | R | S |
| A | R | R | A | U | | O | A | H | U | | F | R | O | E |
| V | F | O | R | M | A | T | I | O | N | | O | O | N | A |
| A | S | P | | P | L | A | N | | N | A | R | W | A | L |
| | | | V | I | A | L | | M | E | R | V | | | |
| S | C | O | N | E | S | | T | A | L | K | I | N | T | O |
| T | A | P | E | S | | C | O | N | S | | C | O | O | P |
| E | R | E | C | T | | H | O | N | | S | T | O | M | A |
| P | E | R | K | | T | A | T | A | | T | O | N | E | R |
| S | W | A | B | B | E | R | S | | T | O | R | E | S | T |
| | | | L | I | L | Y | | C | O | P | Y | | | |
| P | A | G | O | D | A | | T | O | R | O | | G | O | D |
| A | L | O | U | | V | A | S | I | N | V | I | O | L | A |
| U | F | O | S | | I | V | A | N | | E | D | G | E | R |
| L | A | K | E | | V | E | R | S | | R | O | O | S | T |
Thu 1/4/1996

| | | | | | | | | | | | | | | |
| --- | --- | --- | --- | --- | --- | --- | --- | --- | --- | --- | --- | --- | --- | --- |
| G | A | E | L | | M | O | T | O | R | | S | P | A | M |
| I | S | L | A | | A | R | I | P | E | | T | I | L | E |
| S | P | I | K | E | J | O | N | E | S | | A | N | O | N |
| H | E | T | E | R | O | | T | R | A | I | P | S | E | D |
| | R | E | B | O | R | N | | A | M | B | L | E | | |
| | | | E | D | S | E | L | | P | O | E | T | I | C |
| P | A | S | D | E | | P | A | U | L | | S | T | A | R |
| A | M | C | | S | C | A | N | N | E | R | | E | G | O |
| L | O | R | E | | O | L | D | S | | A | D | R | O | P |
| P | R | E | Y | O | N | | S | E | L | M | A | | | |
| | | W | E | N | D | S | | R | E | A | P | E | R | |
| H | I | P | B | O | O | T | S | | A | P | P | L | E | S |
| A | G | I | O | | N | A | I | L | P | O | L | I | S | H |
| G | E | N | L | | E | L | L | I | E | | E | Z | I | O |
| S | T | E | T | | D | E | T | E | R | | D | A | N | E |
Fri 11/17/1995

| | | | | | | | | | | | | | | |
| --- | --- | --- | --- | --- | --- | --- | --- | --- | --- | --- | --- | --- | --- | --- |
| S | T | O | N | E | M | A | S | O | N | | C | A | S | T |
| N | I | N | A | S | I | M | O | N | E | | O | D | I | E |
| O | V | E | R | P | R | O | V | E | S | | L | A | M | A |
| B | O | B | | | O | R | E | O | S | | A | M | P | S |
| S | L | A | P | S | | S | T | R | I | P | | B | E | E |
| | I | R | A | T | E | | S | M | E | E | | E | R | R |
| | | | G | I | N | G | K | O | | W | A | D | E | S |
| | C | L | A | N | C | Y | | R | A | T | T | E | R | |
| T | H | I | N | K | | R | E | E | F | E | R | | | |
| R | E | F | | U | N | O | S | | C | R | I | S | S | |
| O | R | E | | P | E | S | T | O | | S | A | T | U | P |
| T | O | L | L | | S | C | A | P | E | | | A | D | S |
| O | K | I | E | | T | O | T | E | B | O | A | R | D | S |
| F | E | N | S | | O | P | E | R | A | T | I | V | E | S |
| F | E | E | T | | R | E | S | E | N | T | M | E | N | T |
Sun 7/23/1995

In 1945

| | | | | | | | | | | | | | | | | | | | | |
| --- | --- | --- | --- | --- | --- | --- | --- | --- | --- | --- | --- | --- | --- | --- | --- | --- | --- | --- | --- | --- |
| F | A | R | M | | A | H | A | L | T | | R | O | W | E | L | | P | A | S | T |
| O | B | O | E | | C | O | C | O | A | | E | D | I | L | E | | E | L | L | E |
| G | O | L | D | I | E | H | A | W | N | | P | E | N | I | C | I | L | L | I | N |
| G | O | L | F | S | H | O | T | | N | E | A | L | E | | U | B | O | A | T | S |
| | | | L | O | I | S | | P | E | R | I | L | | C | O | S | T | | | |
| P | A | G | I | N | G | | T | U | R | I | N | | M | A | N | E | A | T | E | R |
| L | I | R | E | | H | A | R | R | Y | S | T | R | U | M | A | N | | A | R | U |
| A | M | E | S | S | | H | O | G | | | | E | S | E | | | | L | V | I |
| T | E | E | | U | N | I | T | E | D | N | A | T | I | O | N | S | | K | I | N |
| H | E | R | R | I | O | T | | | E | O | L | I | C | | O | I | L | I | N | G |
| | | G | O | T | O | | | A | N | N | I | E | | | S | W | A | N | | |
| S | L | A | T | E | S | | A | R | T | E | S | | | T | E | A | R | G | A | S |
| A | I | R | | D | E | T | R | O | I | T | T | I | G | E | R | S | | B | L | T |
| H | E | S | | | | R | I | A | | | | N | I | L | | H | A | O | L | E |
| I | T | O | | S | T | U | A | R | T | L | I | T | T | L | E | | B | O | E | R |
| B | O | N | F | I | R | E | S | | R | A | C | E | S | | A | W | A | K | E | N |
| | | | I | N | A | S | | D | E | V | I | L | | S | T | A | T | | | |
| H | A | R | L | A | N | | R | O | M | A | N | | T | W | I | S | T | O | F | F |
| A | T | O | M | I | C | B | O | M | B | | E | I | S | E | N | H | O | W | E | R |
| L | O | P | E | | E | A | S | E | L | | S | T | A | A | T | | I | N | L | A |
| S | P | E | D | | S | H | A | D | E | | S | A | R | T | O | | R | S | T | U |
Tue 7/4/1995

| | | | | | | | | | | | | | | |
| --- | --- | --- | --- | --- | --- | --- | --- | --- | --- | --- | --- | --- | --- | --- |
| A | P | O | E | M | | S | P | A | M | | S | C | A | B |
| M | A | T | S | U | | T | I | D | E | | M | A | M | E |
| T | I | T | A | N | | R | E | A | S | S | U | R | E | R |
| | L | O | U | I | S | A | R | M | S | T | R | O | N | G |
| | | | | C | I | D | | | E | L | F | | | |
| | A | L | V | I | N | | A | S | S | | | H | A | T |
| B | L | U | E | P | A | I | N | T | | A | R | O | M | A |
| A | B | I | G | A | I | L | V | A | N | B | U | R | E | N |
| L | E | G | A | L | | S | I | B | E | R | I | A | N | S |
| L | E | I | | | M | A | L | | W | A | N | E | D | |
| | | | E | T | A | | | L | E | S | | | | |
| C | A | L | V | I | N | C | O | O | L | I | D | G | E | |
| A | N | O | I | N | T | I | N | G | | V | E | I | D | T |
| S | K | I | T | | E | T | T | A | | E | L | D | E | R |
| H | A | N | A | | L | Y | O | N | | S | I | E | N | A |
Thu 1/12/1995

| | | | | | | | | | | | | | | |
| --- | --- | --- | --- | --- | --- | --- | --- | --- | --- | --- | --- | --- | --- | --- |
| | A | C | U | T | E | R | | M | A | D | A | M | S | |
| S | T | A | T | U | T | E | | O | P | E | R | A | T | E |
| C | A | R | E | E | N | S | | N | E | M | E | S | E | S |
| A | V | I | | S | A | I | N | T | | O | A | T | E | S |
| L | I | O | N | | S | N | E | R | D | | S | E | R | E |
| A | S | C | O | T | | S | W | E | E | P | | R | E | N |
| | M | A | R | I | S | | J | A | N | E | E | Y | R | E |
| | | | S | T | A | T | E | L | I | N | E | | | |
| S | T | E | E | L | B | A | R | | S | A | L | S | A | |
| T | E | X | | E | R | N | S | T | | L | E | E | R | S |
| R | E | P | S | | A | G | E | R | S | | D | A | R | K |
| A | T | E | A | M | | E | Y | I | N | G | | M | I | I |
| T | E | N | N | I | E | L | | B | E | E | H | I | V | E |
| A | R | S | E | N | I | O | | A | V | A | I | L | E | D |
| | S | E | R | I | N | S | | L | A | R | D | E | D | |
Fri 1/6/1995

| | | | | | | | | | | | | | | |
| --- | --- | --- | --- | --- | --- | --- | --- | --- | --- | --- | --- | --- | --- | --- |
| C | H | O | P | | D | R | A | M | A | | | P | A | Y |
| L | O | V | E | | A | E | S | I | R | | R | U | N | E |
| I | R | A | T | E | M | A | I | L | C | L | E | R | K | S |
| P | A | L | | D | A | D | A | | | E | M | I | L | E |
| | | | C | A | G | Y | | A | S | S | U | M | E | S |
| S | A | L | O | M | E | | C | L | A | S | S | | | |
| A | X | I | L | | | C | L | O | S | E | | S | H | E |
| N | E | V | E | R | G | R | O | U | S | E | T | H | E | Y |
| E | L | Y | | O | L | A | N | D | | | R | E | A | R |
| | | | A | M | U | S | E | | B | R | I | D | L | E |
| R | E | S | U | M | E | S | | C | O | U | P | | | |
| E | L | I | D | E | | | S | H | O | P | | O | R | B |
| M | E | R | E | L | Y | S | T | A | M | P | A | W | A | Y |
| A | M | E | N | | E | R | A | S | E | | S | E | C | T |
| P | I | N | | | T | I | G | E | R | | K | N | E | E |
Thu 11/24/1994

| | | | | | | | | | | | | | | |
| --- | --- | --- | --- | --- | --- | --- | --- | --- | --- | --- | --- | --- | --- | --- |
| B | E | T | H | | R | O | N | D | O | | S | A | G | A |
| O | B | O | E | | A | H | A | I | R | | A | B | A | B |
| B | R | O | A | D | W | A | Y | F | A | I | L | U | R | E |
| S | O | L | D | I | E | R | S | | T | N | U | T | S | |
| | | | L | O | S | E | | C | O | S | T | | | |
| R | E | S | O | R | T | | P | A | R | T | E | R | R | E |
| O | R | A | N | | | | E | R | I | E | | O | U | R |
| P | I | L | G | R | I | M | S | P | O | P | T | U | N | E |
| E | K | E | | A | N | A | T | | | | O | T | I | C |
| D | A | M | A | S | C | U | S | | F | L | U | E | N | T |
| | | | I | C | E | D | | H | O | E | R | | | |
| | S | A | R | A | N | | R | E | R | A | I | S | E | S |
| A | P | R | I | L | S | H | O | W | E | R | S | H | I | P |
| R | A | I | N | | E | A | S | E | S | | T | O | R | A |
| S | T | A | G | | S | M | A | R | T | | S | E | E | R |
Wed 10/5/1994

| | | | | | | | | | | | | | | |
| --- | --- | --- | --- | --- | --- | --- | --- | --- | --- | --- | --- | --- | --- | --- |
| F | E | S | S | | D | E | N | E | B | | W | H | A | M |
| A | C | T | A | | O | M | E | G | A | | H | A | R | E |
| C | H | A | R | L | E | S | V | A | N | D | O | R | E | N |
| T | O | N | T | O | | | A | D | Z | E | | D | A | D |
| | | | R | O | L | L | | | A | L | S | | | |
| N | I | N | E | T | E | E | N | F | I | F | T | I | E | S |
| E | D | O | | S | H | O | E | R | | T | O | D | A | Y |
| G | E | T | Z | | R | I | G | I | D | | P | E | R | K |
| R | A | T | O | N | | I | R | E | A | D | | S | T | E |
| I | S | O | L | A | T | I | O | N | B | O | O | T | H | S |
| | | | A | X | E | | | D | O | R | P | | | |
| A | B | S | | O | T | T | O | | | S | I | E | G | E |
| Q | U | I | Z | S | H | O | W | S | C | A | N | D | A | L |
| U | R | G | E | | E | M | E | R | Y | | E | G | I | S |
| A | N | N | E | | R | E | D | I | D | | D | Y | N | E |
Sun 9/11/1994

Teamwork

| | | | | | | | | | | | | | | | | | | | | |
| --- | --- | --- | --- | --- | --- | --- | --- | --- | --- | --- | --- | --- | --- | --- | --- | --- | --- | --- | --- | --- |
| R | A | S | P | | S | T | E | L | A | | | A | S | P | S | | M | A | C | E |
| I | S | E | E | | T | R | I | A | L | | O | C | H | O | A | | A | X | O | N |
| B | I | L | L | B | O | A | R | D | S | | B | R | O | W | N | B | R | E | A | D |
| S | A | L | I | E | N | C | E | | O | V | O | I | D | | D | R | I | L | L | S |
| | | | C | R | E | E | | B | R | A | I | D | | S | T | A | N | | | |
| P | E | C | A | N | S | | C | R | A | S | S | | P | O | R | T | A | B | L | E |
| A | S | O | N | E | | S | A | I | N | T | T | H | O | M | A | S | | E | I | N |
| S | A | W | S | | T | A | R | N | | | | A | S | A | P | | W | A | N | D |
| T | U | B | | E | A | G | L | E | S | C | O | U | T | S | | S | A | R | T | O |
| | | O | O | D | L | E | S | | C | H | I | L | E | | C | H | I | M | E | R |
| | L | Y | R | I | C | | | P | A | I | L | S | | | R | I | V | A | L | |
| C | A | B | A | L | S | | P | E | L | L | E | | A | D | O | R | E | R | | |
| A | T | O | N | E | | J | E | T | A | I | R | P | L | A | N | E | | K | A | Y |
| R | I | O | T | | T | E | A | R | | | | U | G | L | Y | | H | E | R | A |
| E | N | T | | P | A | T | R | I | O | T | S | D | A | Y | | M | O | T | O | R |
| R | O | S | A | R | I | E | S | | P | H | A | G | E | | P | E | R | S | O | N |
| | | | G | A | L | S | | S | E | E | D | Y | | C | A | N | S | | | |
| A | S | S | E | T | S | | A | I | R | E | D | | C | A | S | S | E | T | T | E |
| G | I | A | N | T | P | A | N | D | A | | L | I | O | N | T | A | M | E | R | S |
| E | R | I | C | | I | D | O | L | S | | E | R | R | O | R | | A | R | A | T |
| D | E | N | Y | | N | O | N | E | | | D | A | N | N | Y | | N | O | M | E |
Wed 5/4/1994

| | | | | | | | | | | | | | | |
| --- | --- | --- | --- | --- | --- | --- | --- | --- | --- | --- | --- | --- | --- | --- |
| S | A | P | | S | P | R | I | T | | | G | R | A | M |
| A | L | E | | E | R | A | S | E | | P | R | O | M | O |
| L | I | E | | N | E | I | L | S | | R | A | T | O | N |
| V | E | R | D | I | S | L | A | S | T | O | P | E | R | A |
| O | N | S | A | L | E | | | | A | B | E | | | |
| | | | B | E | N | | S | E | L | L | | D | E | N |
| A | B | A | B | | T | A | P | A | | E | M | I | L | Y |
| G | A | B | L | E | S | L | A | S | T | M | O | V | I | E |
| E | L | L | E | N | | T | R | E | E | | M | E | A | T |
| D | I | E | | D | A | I | S | | N | Y | E | | | |
| | | | A | W | L | | | | T | E | N | A | C | E |
| W | I | L | L | I | A | M | S | L | A | S | T | H | I | T |
| A | L | I | A | S | | A | L | E | C | S | | O | D | A |
| S | K | A | T | E | | T | I | T | L | E | | R | E | P |
| H | A | R | E | | | A | P | S | E | S | | A | R | E |
Sun 4/24/1994

Plugged In

| | | | | | | | | | | | | | | | | | | | | |
| --- | --- | --- | --- | --- | --- | --- | --- | --- | --- | --- | --- | --- | --- | --- | --- | --- | --- | --- | --- | --- |
| | | S | O | R | T | S | | | M | A | D | E | | E | R | E | C | T | S | |
| A | S | T | A | I | R | E | | S | A | B | I | N | | D | E | S | E | R | E | T |
| C | H | A | R | G | E | A | C | C | O | U | N | T | | I | S | O | L | A | T | E |
| T | A | L | | S | A | R | A | H | | T | A | H | I | T | I | | L | I | T | E |
| I | V | E | S | | D | E | T | E | R | | H | U | R | O | N | | B | L | I | P |
| V | E | S | T | S | | D | E | M | O | B | | S | E | R | | A | L | E | N | E |
| E | S | T | A | T | E | | R | E | V | I | S | E | D | | G | E | O | R | G | E |
| | | | N | O | L | A | | | E | N | E | S | | B | R | I | C | | | |
| C | I | R | C | U | I | T | R | I | D | E | R | | C | R | O | O | K | I | N | G |
| A | S | Y | E | T | | L | I | D | | T | A | B | L | E | A | U | | C | O | E |
| R | E | D | S | | M | A | N | I | A | | C | R | O | A | T | | C | H | I | N |
| T | R | E | | G | I | N | G | O | L | D | | E | N | D | | S | H | O | R | T |
| S | E | R | P | E | N | T | S | | O | U | T | L | E | T | S | T | O | R | E | S |
| | | | O | N | E | A | | P | E | E | R | | | H | O | U | R | | | |
| C | R | O | W | E | R | | M | U | S | T | A | R | D | | S | N | A | R | E | D |
| R | E | V | E | S | | S | O | B | | S | P | A | R | K | | G | L | O | V | E |
| A | G | E | R | | S | T | A | L | K | | P | I | A | N | O | | E | M | I | T |
| N | E | R | D | | P | I | N | I | N | G | | N | I | O | B | E | | A | C | E |
| E | N | L | I | V | E | N | | C | U | R | R | E | N | T | E | V | E | N | T | S |
| S | T | A | V | I | N | G | | A | T | O | M | S | | T | S | A | R | I | S | T |
| | S | P | E | E | D | Y | | N | E | W | S | | | S | E | N | N | A | | |
108 pre-Shortz crosswords by Lou Sabin
Sat 11/13/1993

| | | | | | | | | | | | | | | |
| --- | --- | --- | --- | --- | --- | --- | --- | --- | --- | --- | --- | --- | --- | --- |
| E | G | A | D | S | | | L | I | Z | | S | M | O | G |
| P | O | T | A | T | O | | I | O | I | | L | I | N | E |
| I | R | O | N | E | R | | P | U | N | | O | R | A | N |
| C | E | L | A | R | E | T | S | | C | A | B | A | G | E |
| | | | N | E | A | R | | | | B | E | G | E | T |
| T | A | N | G | | D | E | W | | D | U | R | E | R | S |
| O | T | O | | | | V | A | C | A | T | E | | | |
| M | A | R | C | | L | O | R | A | N | | D | O | P | E |
| | | | A | V | E | R | T | S | | | | F | U | D |
| S | P | O | T | E | D | | S | T | Y | | C | A | T | Y |
| E | A | R | L | S | | | | L | E | D | A | | | |
| N | I | N | E | T | Y | | C | E | L | U | L | I | T | E |
| A | R | A | M | | A | L | I | | E | D | I | T | O | R |
| T | E | T | E | | M | E | T | | D | E | C | A | D | E |
| E | D | E | N | | S | K | Y | | | S | O | L | O | S |
Wed 10/6/1993

| | | | | | | | | | | | | | | |
| --- | --- | --- | --- | --- | --- | --- | --- | --- | --- | --- | --- | --- | --- | --- |
| | | S | E | T | U | P | | U | R | B | A | N | | |
| | S | P | A | R | S | E | | M | A | O | R | I | S | |
| F | U | R | R | I | E | R | | P | I | N | T | A | I | L |
| U | B | I | | B | U | M | P | I | N | G | | G | E | E |
| N | U | T | S | | P | E | A | R | Y | | C | A | V | E |
| G | R | E | T | E | | A | P | E | | B | A | R | E | D |
| O | B | S | O | L | E | T | E | | M | O | R | A | S | S |
| | | | P | A | P | E | R | M | O | O | N | | | |
| S | I | E | S | T | A | | M | I | D | L | A | N | D | S |
| A | R | G | U | E | | D | I | D | | A | G | A | I | N |
| G | O | O | P | | S | A | L | T | S | | E | T | N | A |
| A | N | T | | B | A | L | L | O | T | S | | T | A | G |
| S | E | R | P | E | N | T | | W | E | A | V | E | R | S |
| | R | I | A | L | T | O | | N | E | V | E | R | S | |
| | | P | Y | L | O | N | | S | L | E | D | S | | |
Wed 2/10/1993

| | | | | | | | | | | | | | | |
| --- | --- | --- | --- | --- | --- | --- | --- | --- | --- | --- | --- | --- | --- | --- |
| A | R | T | I | S | T | E | | T | O | A | S | T | E | R |
| R | O | O | S | T | E | R | | E | N | D | O | R | S | E |
| M | O | N | T | A | N | A | | M | E | D | I | A | T | E |
| A | M | Y | | M | A | S | T | | H | E | R | D | E | D |
| | | | T | I | N | | I | R | O | N | | E | R | Y |
| P | A | T | E | N | T | | C | A | R | D | S | | | |
| A | R | E | N | A | | S | K | I | S | | E | A | S | T |
| L | E | N | S | | T | H | E | S | E | | E | L | K | O |
| M | A | T | E | | R | A | T | E | | S | T | E | I | N |
| | | | S | H | A | R | I | | A | T | H | E | N | S |
| S | P | A | | O | V | E | N | | B | E | E | | | |
| C | U | T | T | L | E | | G | O | R | E | | F | O | B |
| A | R | M | O | I | R | E | | B | A | L | L | A | D | E |
| D | E | A | R | E | S | T | | I | D | E | A | T | E | S |
| S | E | N | O | R | E | S | | T | E | D | D | E | R | S |
Thu 2/4/1993

| | | | | | | | | | | | | | | |
| --- | --- | --- | --- | --- | --- | --- | --- | --- | --- | --- | --- | --- | --- | --- |
| P | A | R | A | D | I | S | E | | S | L | I | C | E | D |
| A | N | E | M | O | N | E | S | | M | O | R | A | L | E |
| D | E | C | A | D | E | N | T | | I | M | A | R | E | T |
| D | L | I | | O | D | D | | E | L | A | | O | V | O |
| Y | E | T | I | | I | S | T | L | E | | F | L | A | N |
| | D | E | N | E | B | | O | L | D | | R | I | T | A |
| | | | K | A | L | I | N | E | | M | A | N | E | T |
| C | O | D | | R | E | V | E | R | S | A | | E | D | E |
| A | P | E | R | S | | A | S | Y | L | U | M | | | |
| T | E | L | A | | G | N | U | | A | L | O | E | S | |
| A | R | E | S | | R | I | P | E | N | | E | N | O | L |
| L | A | G | | N | A | V | | A | D | E | | R | I | O |
| I | T | A | L | I | C | | E | V | E | R | M | O | R | E |
| N | O | T | I | C | E | | P | E | R | I | C | L | E | S |
| A | R | E | T | E | S | | A | S | S | E | S | S | E | S |
Sat 12/19/1992

| | | | | | | | | | | | | | | |
| --- | --- | --- | --- | --- | --- | --- | --- | --- | --- | --- | --- | --- | --- | --- |
| B | E | R | G | M | A | N | | | B | R | A | C | E | D |
| A | V | E | R | A | G | E | S | | R | A | V | I | N | E |
| T | E | L | E | C | A | S | T | | A | V | E | N | G | E |
| T | R | A | Y | | I | S | O | L | D | E | | D | I | P |
| I | M | P | | | N | E | N | E | S | | B | E | N | E |
| N | O | S | I | R | | N | E | E | | S | I | R | E | N |
| G | R | E | B | E | S | | D | R | A | W | L | | | |
| | E | D | E | N | I | C | | S | T | E | L | L | A | |
| | | | R | E | P | O | T | | O | D | E | O | N | S |
| M | A | R | I | E | | B | O | B | | E | D | I | T | H |
| A | R | I | A | | T | R | O | O | P | | | S | E | I |
| I | R | A | | O | R | A | T | O | R | | A | L | A | N |
| L | I | T | A | N | Y | | E | M | E | N | D | A | T | E |
| E | V | A | D | E | S | | R | E | T | A | I | N | E | R |
| R | E | S | O | R | T | | | R | E | N | T | E | R | S |
Sun 6/21/1992

WIMBLEDONIA

| | | | | | | | | | | | | | | | | | | | | |
| --- | --- | --- | --- | --- | --- | --- | --- | --- | --- | --- | --- | --- | --- | --- | --- | --- | --- | --- | --- | --- |
| J | O | L | T | | R | U | I | N | S | | R | A | G | A | S | | W | H | E | T |
| A | M | A | H | | A | S | C | O | T | | E | X | A | L | T | | R | U | D | E |
| M | A | R | I | A | B | U | E | N | O | | B | O | B | B | Y | R | I | G | G | S |
| S | N | A | C | K | B | A | R | | M | O | A | N | S | | L | O | S | S | E | S |
| | | | K | E | E | L | | D | A | R | T | S | | M | I | N | T | | | |
| | K | N | E | L | T | | S | E | T | A | E | | H | A | N | D | S | P | A | N |
| P | I | E | T | A | | D | O | N | A | L | D | B | U | D | G | E | | A | N | I |
| E | T | A | S | | R | A | N | I | | | | E | R | G | S | | P | U | T | T |
| R | E | L | | J | O | H | N | M | C | E | N | R | O | E | | C | O | L | O | R |
| C | R | E | D | I | B | L | Y | | A | L | I | G | N | | S | H | R | I | N | E |
| | | F | A | M | E | S | | D | R | E | G | S | | S | H | E | E | N | | |
| S | C | R | I | M | S | | D | A | N | C | E | | A | M | A | S | S | E | R | S |
| C | H | A | R | Y | | T | O | N | Y | T | R | A | B | E | R | T | | B | E | E |
| R | O | S | Y | | R | A | G | E | | | | S | N | A | P | | L | E | N | T |
| I | R | E | | B | O | R | I | S | B | E | C | K | E | R | | C | O | T | E | S |
| P | E | R | O | R | A | T | E | | A | S | H | E | R | | P | R | I | Z | E | |
| | | | L | A | D | E | | S | I | T | A | R | | W | O | E | S | | | |
| A | C | C | E | N | T | | V | E | N | O | M | | C | A | S | E | L | O | A | D |
| C | H | R | I | S | E | V | E | R | T | | B | U | D | G | E | P | A | T | T | Y |
| R | A | I | N | | S | I | E | V | E | | E | L | V | E | R | | N | I | N | E |
| E | R | S | E | | T | A | P | E | R | | R | A | I | D | S | | E | S | O | S |
Thu 10/3/1991

| | | | | | | | | | | | | | | |
| --- | --- | --- | --- | --- | --- | --- | --- | --- | --- | --- | --- | --- | --- | --- |
| | C | A | D | | C | A | P | P | | A | S | C | O | T |
| M | U | N | I | | I | D | L | E | | E | T | A | P | E |
| C | R | O | S | S | C | O | U | N | T | R | Y | R | U | N |
| S | T | A | R | T | E | R | S | | R | A | R | E | S | T |
| | | | A | A | R | E | | C | A | T | O | | | |
| M | O | R | E | N | O | | S | E | C | O | N | D | E | R |
| O | R | A | L | S | | D | I | R | E | R | | R | A | E |
| L | A | T | I | | W | A | N | E | R | | R | I | S | E |
| A | T | O | | S | I | N | G | S | | M | E | N | E | S |
| R | E | N | O | U | N | C | E | | T | A | C | K | L | E |
| | | | K | I | T | E | | S | O | R | E | | | |
| I | D | E | A | T | E | | S | P | R | I | N | T | E | R |
| N | E | W | Y | O | R | K | M | A | R | A | T | H | O | N |
| A | M | E | E | R | | P | E | R | I | | L | E | N | A |
| N | E | R | D | S | | S | E | E | D | | Y | E | S | |
Sat 9/28/1991

| | | | | | | | | | | | | | | |
| --- | --- | --- | --- | --- | --- | --- | --- | --- | --- | --- | --- | --- | --- | --- |
| | | J | A | F | F | E | | A | M | E | N | | | |
| | T | U | R | E | E | N | | L | A | N | A | T | E | |
| R | O | D | G | E | R | S | | I | N | S | T | A | N | T |
| A | M | A | | S | M | U | G | G | L | E | | G | A | R |
| J | A | I | L | | I | R | O | N | Y | | B | O | B | O |
| A | T | S | E | A | | I | L | S | | C | A | R | L | Y |
| H | O | M | E | L | A | N | D | | T | H | R | E | E | S |
| | | | W | I | N | G | C | H | A | I | R | | | |
| I | N | T | A | C | T | | O | A | R | D | E | A | L | S |
| D | E | A | R | E | | F | I | R | | E | L | L | E | N |
| L | E | N | D | | S | E | N | A | T | | S | E | V | E |
| E | D | D | | S | T | A | S | S | E | N | | R | E | E |
| S | L | E | E | K | E | R | | S | T | O | U | T | E | R |
| | E | M | P | I | R | E | | E | R | A | S | E | S | |
| | | | A | P | E | D | | S | A | M | A | R | | |
Sat 9/21/1991

| | | | | | | | | | | | | | | |
| --- | --- | --- | --- | --- | --- | --- | --- | --- | --- | --- | --- | --- | --- | --- |
| | | T | O | T | E | S | | F | E | T | I | D | | |
| | P | A | R | E | N | T | | A | B | I | D | E | S | |
| M | A | K | I | N | G | O | N | E | S | P | O | I | N | T |
| O | L | E | O | S | | C | E | R | E | S | | C | A | R |
| D | O | O | N | | S | K | E | I | N | | L | I | K | E |
| E | M | U | | C | H | I | D | E | | W | I | D | E | N |
| M | A | T | E | R | I | E | L | | H | O | N | E | S | T |
| | | | B | A | R | R | E | L | I | N | G | | | |
| A | B | S | E | N | T | | P | O | N | T | O | O | N | S |
| N | O | T | R | E | | D | O | N | T | S | | P | E | W |
| T | R | E | T | | P | R | I | G | S | | S | A | V | E |
| I | R | A | | A | E | O | N | S | | A | L | L | I | E |
| C | O | M | E | S | T | O | T | H | E | P | O | I | N | T |
| | W | E | A | S | E | L | | O | R | S | O | N | S | |
| | | D | R | E | S | S | | T | R | O | P | E | | |
Sat 9/14/1991

| | | | | | | | | | | | | | | |
| --- | --- | --- | --- | --- | --- | --- | --- | --- | --- | --- | --- | --- | --- | --- |
| | T | R | E | E | D | | | D | O | T | E | D | | |
| W | H | E | E | L | I | E | | E | R | O | D | E | D | |
| R | E | A | L | I | S | M | | B | A | R | O | N | E | T |
| I | D | L | E | S | | B | A | R | R | Y | M | O | R | E |
| S | O | I | R | | A | R | N | I | E | | | T | I | X |
| T | O | N | | G | L | A | D | S | | S | N | E | V | A |
| | R | E | P | L | A | C | E | | S | L | I | D | E | S |
| | | | L | A | C | E | R | A | T | E | D | | | |
| A | T | T | A | C | K | | S | N | I | D | E | S | T | |
| C | R | A | N | E | | B | O | N | E | S | | P | O | P |
| T | I | N | | | S | O | N | E | S | | R | A | U | L |
| U | T | T | E | R | M | O | S | T | | K | A | N | G | A |
| P | E | R | T | A | I | N | | T | O | N | I | G | H | T |
| | R | A | T | I | T | E | | E | N | I | S | L | E | S |
| | | S | A | L | E | S | | | S | T | E | E | R | |
Tue 9/3/1991

| | | | | | | | | | | | | | | |
| --- | --- | --- | --- | --- | --- | --- | --- | --- | --- | --- | --- | --- | --- | --- |
| P | I | P | E | | D | E | A | R | | F | E | R | A | L |
| U | N | I | T | | E | L | S | E | | O | G | I | V | E |
| C | A | T | C | H | F | L | A | T | F | O | O | T | E | D |
| E | S | T | H | E | R | | | A | R | T | I | E | R | |
| | | | E | X | A | M | | P | A | L | S | | | |
| R | O | B | S | | Y | A | L | E | | O | T | T | O | S |
| E | R | A | | F | I | D | O | | M | O | S | A | I | C |
| B | A | N | | O | N | E | R | O | U | S | | F | L | O |
| U | N | C | L | O | G | | C | U | R | E | | F | E | N |
| S | T | O | A | T | | T | A | S | K | | T | Y | R | E |
| | | | E | P | H | A | | T | I | R | O | | | |
| | H | O | R | R | O | R | | | N | I | P | S | E | Y |
| F | O | O | T | I | N | G | T | H | E | B | I | L | L | S |
| A | L | L | E | N | | E | R | I | S | | C | O | L | E |
| Y | E | A | S | T | | T | A | S | S | | S | P | A | R |
Thu 8/29/1991

| | | | | | | | | | | | | | | |
| --- | --- | --- | --- | --- | --- | --- | --- | --- | --- | --- | --- | --- | --- | --- |
| C | O | M | I | C | | I | C | E | R | | K | E | A | S |
| A | L | A | M | O | | N | O | D | E | | I | L | L | E |
| D | E | A | R | E | | K | N | O | T | | N | I | T | A |
| S | O | M | E | R | S | E | T | M | A | U | G | H | A | M |
| | | | | C | A | D | E | | I | N | J | U | R | Y |
| O | P | E | N | E | D | | S | A | N | T | A | | | |
| N | E | R | O | | A | N | T | I | | I | M | P | E | L |
| E | R | N | E | S | T | O | | R | E | L | E | A | S | E |
| S | M | E | L | T | | M | A | Y | A | | S | I | T | E |
| | | | C | A | G | E | R | | S | H | I | N | E | R |
| O | R | M | O | L | U | | I | S | E | E | | | | |
| M | A | X | W | E | L | L | A | N | D | E | R | S | O | N |
| A | R | I | A | | L | O | D | E | | H | A | L | V | E |
| H | E | I | R | | A | N | N | A | | A | V | O | I | D |
| A | R | I | D | | H | E | E | D | | W | E | E | D | S |
Tue 8/20/1991

| | | | | | | | | | | | | | | |
| --- | --- | --- | --- | --- | --- | --- | --- | --- | --- | --- | --- | --- | --- | --- |
| A | C | T | S | | T | S | A | R | | S | W | A | M | I |
| B | R | E | L | | E | T | N | A | | E | A | G | E | R |
| A | U | T | U | M | N | I | N | N | E | W | Y | O | R | K |
| B | E | R | R | Y | | F | A | T | T | E | N | | | |
| | T | A | S | S | E | L | S | | I | R | E | N | E | S |
| | | | | T | S | E | | S | O | S | | O | V | I |
| | O | R | N | I | S | | O | I | L | | A | L | E | C |
| U | P | I | N | C | E | N | T | R | A | L | P | A | R | K |
| R | E | V | E | | N | E | T | | T | E | E | N | Y | |
| I | R | A | | S | T | Y | | K | E | G | | | | |
| S | A | L | A | M | I | | D | I | D | E | R | O | T | |
| | | | L | O | A | D | E | D | | N | E | M | E | A |
| B | R | O | O | K | L | Y | N | D | O | D | G | E | R | S |
| I | N | A | N | E | | A | S | I | A | | A | G | R | I |
| B | A | K | E | R | | D | E | E | R | | L | A | Y | S |
Sun 6/9/1991

BIRTHDAY TRIBUTE

| | | | | | | | | | | | | | | | | | | | | |
| --- | --- | --- | --- | --- | --- | --- | --- | --- | --- | --- | --- | --- | --- | --- | --- | --- | --- | --- | --- | --- |
| A | S | P | S | | S | E | R | A | C | | T | H | A | N | E | | S | P | A | |
| B | L | O | W | | P | R | A | D | O | | R | A | V | E | L | | P | E | S | O |
| C | O | L | E | P | O | R | T | E | R | | I | L | O | V | E | P | A | R | I | S |
| S | T | E | E | L | I | E | S | | S | W | O | O | N | | V | I | C | U | N | A |
| | | | T | O | L | D | | F | A | I | L | S | | M | A | N | E | | | |
| I | S | L | E | T | S | | M | A | I | N | E | | N | A | T | U | R | A | L | S |
| T | E | E | N | S | | Y | O | U | R | E | T | H | E | T | O | P | | B | O | A |
| A | G | A | S | | L | E | T | S | | | | A | V | E | R | | P | R | I | G |
| L | U | V | | N | I | G | H | T | A | N | D | D | A | Y | | G | L | A | R | E |
| S | E | E | K | I | N | G | | | M | O | U | E | S | | T | R | A | C | E | R |
| | | I | N | G | E | S | | L | U | T | E | S | | G | H | A | N | A | | |
| L | A | T | E | E | N | | B | E | S | O | T | | | R | O | P | E | D | I | N |
| A | L | T | A | R | | L | O | V | E | F | O | R | S | A | L | E | | A | N | I |
| P | L | O | D | | S | O | N | E | | | | E | A | V | E | | O | B | I | E |
| P | O | M | | I | T | S | D | E | L | O | V | E | L | Y | | D | U | R | O | C |
| S | T | E | A | D | I | E | S | | E | G | A | D | S | | B | U | T | A | N | E |
| | | | D | I | N | S | | M | A | R | I | S | | T | O | O | T | | | |
| S | E | A | D | O | G | | W | I | D | E | N | | A | R | O | M | A | T | I | C |
| K | I | S | S | M | E | K | A | T | E | | E | A | S | Y | T | O | L | O | V | E |
| I | N | T | O | | R | I | D | E | R | | S | W | I | S | H | | K | L | E | E |
| | E | O | N | | S | T | I | R | S | | T | E | S | T | S | | S | A | S | S |
Fri 9/28/1990

| | | | | | | | | | | | | | | |
| --- | --- | --- | --- | --- | --- | --- | --- | --- | --- | --- | --- | --- | --- | --- |
| | S | O | N | O | M | A | | A | R | A | R | A | T | |
| C | A | R | A | M | E | L | | S | U | M | A | T | R | A |
| A | L | A | M | E | D | A | | P | R | E | S | T | O | N |
| R | A | T | | R | I | M | | H | A | N | | R | U | G |
| A | M | O | Y | | C | O | B | O | L | | D | A | N | L |
| F | I | R | E | D | | S | A | D | | B | O | C | C | E |
| E | S | S | A | Y | S | | R | E | L | E | N | T | E | D |
| | | | | N | E | S | T | L | E | S | | | | |
| C | O | R | V | E | T | T | E | | S | E | C | R | E | T |
| A | R | E | A | S | | E | N | D | | T | H | E | M | E |
| L | I | S | T | | M | A | D | A | M | | A | M | I | N |
| L | O | P | | J | I | M | | N | I | E | | U | N | U |
| E | L | E | V | A | T | E | | I | N | V | A | D | E | R |
| D | E | C | I | D | E | R | | S | E | A | L | A | N | E |
| | S | T | E | E | R | S | | H | O | N | E | S | T | |
Sun 9/23/1990

PLUS FACTOR

| | | | | | | | | | | | | | | | | | | | | | | |
| --- | --- | --- | --- | --- | --- | --- | --- | --- | --- | --- | --- | --- | --- | --- | --- | --- | --- | --- | --- | --- | --- | --- |
| | H | A | S | H | | S | C | O | F | F | | | S | O | W | S | | S | T | A | S | H |
| S | E | R | A | I | | H | U | M | O | R | | O | P | A | R | T | | M | A | L | T | A |
| A | L | O | N | G | | I | R | E | N | E | | N | O | R | I | A | | E | L | L | E | N |
| S | L | I | G | H | T | F | I | N | G | E | R | E | D | | G | R | O | W | L | E | R | S |
| H | O | D | | T | O | T | O | | | M | A | N | E | | H | E | W | | S | Y | N | E |
| | | | R | E | L | Y | | A | G | A | T | E | | S | T | R | E | E | T | | | |
| S | O | L | A | C | E | | | P | U | N | T | S | | E | H | S | | F | A | R | O | E |
| K | N | I | G | H | T | M | A | R | E | | A | S | T | R | O | | S | T | R | O | D | E |
| A | I | R | E | | | A | R | I | S | E | N | | E | M | O | T | E | | T | A | E | L |
| T | O | A | D | S | | K | I | L | T | S | | B | R | O | K | E | R | | E | S | T | E |
| E | N | S | | A | L | I | A | S | | T | H | O | R | N | | A | V | I | A | T | O | R |
| | | | B | R | A | N | S | | C | H | O | S | E | | S | W | A | R | M | | | |
| B | A | R | R | I | N | G | | S | H | E | E | T | | N | E | A | L | E | | A | R | C |
| A | G | E | E | | C | U | S | T | E | R | | O | R | A | N | G | | S | A | M | A | R |
| B | E | A | D | | E | P | H | A | S | | S | N | A | P | T | O | | | D | O | N | E |
| A | N | C | H | O | R | | O | R | S | O | N | | B | L | A | N | D | L | O | R | D | S |
| R | A | T | E | R | | M | C | V | | R | E | T | I | E | | | R | A | R | E | S | T |
| | | | R | E | M | A | K | E | | V | E | R | A | S | | M | I | C | E | | | |
| A | L | O | R | | O | R | S | | S | I | Z | E | | | S | I | L | K | | C | P | O |
| D | E | V | I | L | I | S | H | | P | L | E | A | D | I | N | G | L | A | D | I | E | S |
| A | M | I | N | O | | H | O | T | E | L | | T | O | R | A | H | | D | I | V | E | S |
| P | U | N | G | S | | A | P | A | C | E | | E | V | I | C | T | | A | V | I | L | A |
| T | R | E | S | S | | L | S | T | S | | | D | E | S | K | S | | Y | A | L | E | |
Wed 11/29/1989

| | | | | | | | | | | | | | | |
| --- | --- | --- | --- | --- | --- | --- | --- | --- | --- | --- | --- | --- | --- | --- |
| E | T | O | N | | A | R | A | B | S | | D | A | F | T |
| R | A | V | I | | R | E | M | I | T | | A | R | I | A |
| O | L | E | G | | C | L | O | N | E | | Y | E | L | P |
| S | E | T | H | S | | E | N | D | | F | L | A | M | E |
| | R | A | T | A | T | A | T | | A | L | I | | | |
| | | | A | W | A | S | H | | M | A | G | N | E | T |
| S | W | A | T | | R | E | O | | A | T | H | E | N | A |
| E | A | R | T | H | | D | F | C | | S | T | R | I | P |
| A | N | T | H | E | R | | S | A | Y | | S | O | D | A |
| S | T | E | E | L | Y | | U | L | E | M | A | | | |
| | | | O | L | E | | N | I | N | E | V | E | H | |
| Z | E | P | P | O | | O | D | E | | N | I | X | E | D |
| O | R | L | E | | E | V | A | N | S | | N | I | L | E |
| L | I | A | R | | L | E | Y | T | E | | G | L | E | E |
| A | N | N | A | | I | N | S | E | T | | S | E | N | D |
Sun 11/12/1989

LETTER DROP AT THE ZOO

| | | | | | | | | | | | | | | | | | | | | |
| --- | --- | --- | --- | --- | --- | --- | --- | --- | --- | --- | --- | --- | --- | --- | --- | --- | --- | --- | --- | --- |
| | | S | I | D | E | S | | I | R | A | T | E | | A | R | E | T | E | | |
| | T | E | N | A | N | T | | N | A | V | A | L | | S | E | X | I | S | M | |
| B | O | A | S | W | A | I | N | S | M | A | T | E | | S | P | E | C | T | E | R |
| L | A | G | | S | C | R | I | P | | | A | V | A | I | L | | K | O | R | O |
| A | M | I | D | | T | U | L | I | P | | R | A | G | G | Y | | E | R | I | A |
| D | A | R | E | D | | P | E | R | I | L | | T | A | N | | G | R | I | N | S |
| E | N | T | R | E | E | | S | E | N | A | T | O | R | | Z | E | A | L | O | T |
| | | | I | L | L | S | | | T | I | E | R | | D | E | E | P | | | |
| V | A | N | D | Y | K | E | B | E | A | R | S | | T | E | N | S | E | S | U | P |
| A | R | O | E | S | | C | I | V | | S | T | R | A | N | D | | S | A | N | E |
| L | O | O | | | F | E | T | I | D | | Y | A | L | T | A | | | L | I | T |
| I | A | N | A | | A | D | E | L | I | E | | V | I | A | | C | O | A | T | I |
| D | R | E | S | S | I | E | R | | O | X | S | E | A | T | T | I | C | K | E | T |
| | | | P | E | N | D | | D | R | A | T | | | E | A | V | E | | | |
| S | O | R | B | E | T | | M | I | S | M | A | D | E | | W | I | L | T | E | D |
| T | W | E | E | D | | B | A | G | | S | C | O | L | D | | C | O | W | E | R |
| E | N | T | R | | S | A | R | E | E | | Y | O | D | E | L | | T | I | R | O |
| L | E | A | R | | T | R | Y | S | T | | | R | E | M | I | T | | T | I | L |
| A | R | B | I | T | E | R | | T | H | I | R | D | R | A | T | H | O | T | E | L |
| | S | L | E | E | V | E | | E | N | N | U | I | | N | E | A | R | E | R | |
| | | E | S | T | E | R | | D | O | N | N | E | | D | R | I | E | R | | |
Tue 10/10/1989

| | | | | | | | | | | | | | | |
| --- | --- | --- | --- | --- | --- | --- | --- | --- | --- | --- | --- | --- | --- | --- |
| S | E | A | S | O | N | | O | L | A | F | | E | L | F |
| C | A | M | E | R | A | | B | A | B | E | | P | O | E |
| A | M | A | Z | O | N | | O | N | E | R | | I | L | L |
| N | E | Z | | | E | L | E | C | T | R | I | C | A | L |
| T | S | E | | I | T | O | | E | S | E | R | | | |
| | | | | S | T | E | A | D | | T | E | R | S | E |
| W | I | R | E | L | E | S | S | | | | F | A | C | T |
| A | B | O | D | E | | S | T | U | | H | U | M | O | R |
| L | A | N | D | | | | I | N | S | U | L | A | T | E |
| T | R | A | I | T | | O | R | D | E | R | | | | |
| | | | E | R | O | S | | E | N | D | | S | I | S |
| C | O | N | D | U | C | T | O | R | S | | | T | N | T |
| A | P | E | | C | A | L | L | | A | L | L | E | G | E |
| T | A | R | | K | L | E | E | | T | A | I | L | O | R |
| O | L | D | | S | A | R | G | | E | S | T | A | T | E |
Wed 9/6/1989

| | | | | | | | | | | | | | | |
| --- | --- | --- | --- | --- | --- | --- | --- | --- | --- | --- | --- | --- | --- | --- |
| S | H | A | G | | E | V | A | | | H | E | M | A | N |
| H | E | I | R | | N | I | L | S | | A | L | I | N | E |
| E | M | M | A | | D | E | L | E | | R | I | A | T | A |
| D | I | S | N | E | Y | W | O | R | L | D | | M | E | T |
| | | | G | E | M | | T | A | I | P | E | I | | |
| | A | M | E | L | I | A | | | B | U | R | B | L | E |
| | P | A | S | S | O | V | E | R | | T | R | E | E | S |
| T | A | U | | | N | E | X | U | S | | | A | F | T |
| E | R | I | K | A | | R | E | D | I | R | E | C | T | |
| A | T | H | E | N | A | | | E | N | O | C | H | S | |
| | | A | N | O | D | E | S | | A | S | H | | | |
| M | A | W | | S | A | I | N | T | T | H | O | M | A | S |
| A | L | A | R | M | | R | O | A | R | | I | A | G | O |
| C | V | I | I | I | | E | R | I | A | | N | Y | E | T |
| H | A | I | F | A | | | E | L | S | | G | O | D | S |
Thu 8/31/1989

| | | | | | | | | | | | | | | |
| --- | --- | --- | --- | --- | --- | --- | --- | --- | --- | --- | --- | --- | --- | --- |
| L | O | A | D | | S | C | R | A | M | | L | I | N | D |
| E | D | G | E | | T | H | I | N | E | | E | V | E | R |
| F | O | U | R | | R | A | F | T | S | | G | A | R | Y |
| T | R | E | A | S | U | R | E | I | S | L | A | N | D | |
| | | | N | E | T | | | C | H | A | T | | | |
| S | A | R | G | A | S | S | O | | A | N | E | M | I | C |
| A | R | O | E | | | E | N | O | L | A | | E | D | H |
| L | E | T | S | L | I | V | E | A | L | I | T | T | L | E |
| U | N | O | | I | N | E | R | T | | | A | R | E | S |
| T | A | R | M | A | C | | S | H | O | R | T | E | S | T |
| | | | I | N | E | S | | | S | A | T | | | |
| | E | S | C | A | P | E | T | O | T | H | E | S | U | N |
| L | I | A | R | | T | R | I | B | E | | R | O | N | O |
| A | R | G | O | | O | R | L | O | N | | E | D | I | T |
| D | E | A | N | | R | A | T | E | D | | D | A | T | E |
Thu 8/24/1989

| | | | | | | | | | | | | | | |
| --- | --- | --- | --- | --- | --- | --- | --- | --- | --- | --- | --- | --- | --- | --- |
| C | O | L | A | | B | A | L | K | | S | O | W | E | D |
| U | N | I | T | | A | L | E | E | | A | B | I | D | E |
| S | E | A | L | | R | O | A | R | | L | E | N | I | N |
| S | A | R | A | H | B | U | R | N | H | A | R | D | T | |
| | | | N | E | E | D | | | A | D | O | | | |
| T | A | R | T | A | R | | R | O | N | | N | O | M | E |
| A | W | A | I | T | | D | E | A | N | | | C | A | B |
| T | O | R | C | H | E | R | C | H | A | M | B | E | R | S |
| U | K | E | | | T | U | T | U | | I | R | A | T | E |
| M | E | E | T | | A | G | O | | K | E | E | N | A | N |
| | | | R | A | P | | | C | E | N | T | | | |
| | B | O | I | L | E | S | Q | U | E | S | H | O | W | S |
| D | R | I | V | E | | H | U | R | L | | R | O | O | T |
| A | E | S | I | R | | E | A | V | E | | E | Z | R | A |
| G | R | E | A | T | | D | Y | E | R | | N | E | E | R |
Wed 8/16/1989

| | | | | | | | | | | | | | | |
| --- | --- | --- | --- | --- | --- | --- | --- | --- | --- | --- | --- | --- | --- | --- |
| T | A | R | | | A | L | S | O | | P | A | S | S | E |
| A | X | A | R | | R | E | E | S | | A | L | O | H | A |
| M | I | M | I | | I | N | N | S | | P | A | L | E | S |
| P | L | U | G | | S | I | D | E | B | Y | S | I | D | E |
| A | S | S | O | R | T | | I | T | E | R | | | | |
| | | | L | E | A | R | N | | G | I | B | E | R | S |
| A | T | S | E | A | | O | T | T | O | | A | R | E | A |
| L | I | T | T | L | E | W | H | I | T | E | L | I | E | S |
| A | N | E | T | | J | E | E | R | | S | L | E | D | S |
| R | E | P | O | S | E | | C | E | A | S | E | | | |
| | | | | C | C | C | L | | D | E | R | A | I | L |
| S | E | C | R | E | T | L | O | V | E | | I | N | N | O |
| P | E | R | O | N | | O | W | E | S | | N | E | A | R |
| E | L | O | P | E | | S | N | I | T | | A | N | N | A |
| T | Y | P | E | S | | E | S | N | E | | | T | E | N |
Wed 7/19/1989

| | | | | | | | | | | | | | | |
| --- | --- | --- | --- | --- | --- | --- | --- | --- | --- | --- | --- | --- | --- | --- |
| I | S | L | A | M | | C | H | I | | | S | T | I | R |
| C | H | I | L | E | | H | O | T | P | O | T | A | T | O |
| E | A | G | L | E | | O | V | E | R | B | A | K | E | S |
| | | H | A | T | T | I | E | | O | A | T | E | R | S |
| A | C | T | H | | A | C | R | E | | N | E | S | S | |
| D | A | S | | P | R | E | S | T | O | | | | | |
| D | R | O | M | E | | | | C | R | E | A | S | E | S |
| E | L | U | D | E | R | S | | H | E | A | D | M | A | N |
| R | E | T | I | R | E | E | | | | S | M | O | T | E |
| | | | | | C | R | A | D | L | E | | K | E | R |
| | S | A | H | L | | A | R | E | A | | T | E | N | D |
| R | E | R | E | A | D | | A | L | B | E | R | T | | |
| O | P | E | N | S | F | I | R | E | | M | A | R | G | E |
| M | A | T | C | H | C | O | A | T | | I | D | E | A | L |
| A | L | E | E | | | U | T | E | | R | E | E | D | Y |
Thu 7/6/1989

| | | | | | | | | | | | | | | |
| --- | --- | --- | --- | --- | --- | --- | --- | --- | --- | --- | --- | --- | --- | --- |
| | C | A | R | A | T | S | | | A | S | S | A | D | |
| S | O | L | E | N | O | I | D | | L | E | A | P | E | R |
| L | U | M | I | N | A | R | Y | | T | E | M | P | L | E |
| A | S | O | N | E | | E | N | D | O | R | | E | E | L |
| T | I | N | S | | A | N | A | I | S | | S | A | G | A |
| E | N | D | | W | R | I | S | T | | H | A | S | A | T |
| | | | B | E | G | A | T | | D | E | L | E | T | E |
| | P | A | R | T | O | N | | G | A | L | O | R | E | |
| A | R | I | E | L | S | | S | E | V | E | N | | | |
| P | A | R | T | Y | | T | E | N | O | N | | D | E | W |
| L | I | S | T | | B | O | R | E | S | | C | O | L | A |
| O | R | T | | A | R | O | A | R | | L | E | N | I | N |
| M | I | R | A | G | E | | P | A | L | I | S | A | D | E |
| B | E | I | G | E | S | | E | L | E | V | A | T | E | D |
| | S | P | O | R | T | | | S | E | E | R | E | D | |
Wed 6/21/1989

| | | | | | | | | | | | | | | |
| --- | --- | --- | --- | --- | --- | --- | --- | --- | --- | --- | --- | --- | --- | --- |
| C | O | D | A | | H | O | N | O | R | | N | E | L | L |
| A | M | I | S | | I | N | U | R | E | | O | T | O | E |
| P | A | N | S | | L | U | N | C | H | H | O | U | R | S |
| E | R | N | E | S | T | S | | S | E | A | S | I | D | E |
| | | E | S | T | O | | | | A | D | E | | | |
| P | A | R | S | I | N | G | | P | R | E | S | S | E | R |
| A | D | D | E | R | | A | M | A | S | S | | N | E | O |
| G | L | A | D | | U | T | I | L | E | | C | A | R | P |
| E | A | T | | K | N | E | L | L | | F | A | C | I | E |
| T | I | E | R | O | D | S | | S | P | A | R | K | E | D |
| | | | A | P | E | | | | R | I | O | T | | |
| R | E | N | D | E | R | S | | A | I | R | L | I | F | T |
| B | R | E | A | K | F | A | S | T | S | | I | M | A | M |
| I | G | O | R | | E | R | A | T | O | | N | E | N | E |
| S | O | N | S | | D | A | Y | A | N | | A | S | S | N |
Thu 6/15/1989

| | | | | | | | | | | | | | | |
| --- | --- | --- | --- | --- | --- | --- | --- | --- | --- | --- | --- | --- | --- | --- |
| | | S | P | O | R | E | | | A | R | L | E | S | |
| | S | H | O | R | E | S | | C | R | E | A | M | E | D |
| P | E | R | T | E | S | T | | O | F | F | S | I | D | E |
| A | M | I | R | | T | E | R | N | | S | E | R | A | I |
| N | I | N | O | | E | R | E | C | T | | R | A | T | S |
| S | T | E | A | D | | S | N | E | R | D | | T | E | T |
| Y | E | S | S | I | R | | D | R | E | A | M | E | D | |
| | | | T | E | A | K | E | T | T | L | E | | | |
| | R | U | S | T | L | E | R | | S | E | A | M | A | N |
| L | E | T | | S | P | R | E | E | | S | T | A | R | E |
| I | S | T | S | | H | A | R | T | E | | E | N | N | A |
| S | T | E | E | R | | T | S | A | R | | A | G | E | R |
| T | A | R | T | I | N | I | | P | O | E | T | E | S | S |
| S | T | E | T | S | O | N | | E | S | K | E | R | S | |
| | E | D | S | E | L | | | S | E | E | R | S | | |
Mon 6/5/1989

| | | | | | | | | | | | | | | |
| --- | --- | --- | --- | --- | --- | --- | --- | --- | --- | --- | --- | --- | --- | --- |
| C | A | S | S | | E | M | I | R | S | | M | E | A | T |
| O | C | H | O | | M | O | N | E | T | | O | L | G | A |
| B | R | O | W | N | S | U | G | A | R | | L | I | A | R |
| B | E | E | B | E | | R | E | S | I | S | T | E | R | |
| | | | E | A | R | N | | S | N | E | E | | | |
| | H | E | L | L | O | S | | U | G | A | N | D | A | N |
| D | U | L | L | E | A | | O | R | B | S | | R | E | E |
| O | N | L | Y | | S | P | R | E | E | | S | I | D | S |
| C | C | I | | S | T | A | Y | | A | P | P | L | E | S |
| S | H | E | B | A | T | S | | S | N | A | R | L | S | |
| | | | O | N | U | S | | E | S | N | E | | | |
| | C | O | V | E | R | L | E | T | | S | A | V | E | S |
| J | A | V | A | | K | I | D | N | E | Y | D | E | S | K |
| I | T | E | R | | E | N | D | U | E | | E | T | T | A |
| B | O | N | Y | | Y | E | A | T | S | | R | O | O | T |
Tue 5/30/1989

| | | | | | | | | | | | | | | |
| --- | --- | --- | --- | --- | --- | --- | --- | --- | --- | --- | --- | --- | --- | --- |
| P | A | R | C | | E | R | A | S | E | | E | P | O | S |
| I | D | E | A | | A | O | R | T | A | | A | R | A | L |
| T | E | N | N | I | S | P | R | O | S | | R | O | T | E |
| A | N | D | A | N | T | E | | W | E | A | L | T | H | Y |
| | | | S | T | E | | | | F | L | E | E | | |
| C | A | P | T | O | R | S | | G | U | E | S | S | E | S |
| A | U | R | A | | N | O | B | E | L | | S | T | E | P |
| I | D | O | | | | N | E | T | | | | A | R | A |
| R | I | B | S | | T | A | T | U | M | | S | N | I | T |
| N | O | R | T | H | E | R | | P | A | L | A | T | E | S |
| | | I | R | A | N | | | | T | A | R | | | |
| M | A | T | I | S | S | E | | T | I | R | A | D | E | S |
| A | S | I | A | | P | R | O | A | N | D | C | O | N | S |
| M | I | S | T | | O | S | A | G | E | | E | D | I | T |
| A | S | H | E | | T | E | R | S | E | | N | O | D | S |
Mon 5/1/1989

| | | | | | | | | | | | | | | |
| --- | --- | --- | --- | --- | --- | --- | --- | --- | --- | --- | --- | --- | --- | --- |
| E | R | O | S | | H | E | L | M | | A | R | I | S | E |
| N | E | V | A | | A | R | I | A | | M | E | L | E | E |
| D | E | E | M | | M | I | N | D | | A | B | L | E | R |
| | D | R | O | P | P | E | D | A | S | L | E | E | P | |
| | | | A | L | E | | | M | A | I | L | | | |
| E | A | U | | U | R | D | U | | H | E | L | L | A | S |
| A | S | S | A | M | | A | L | A | I | | I | A | N | A |
| S | T | U | M | B | L | I | N | G | B | L | O | C | K | S |
| E | I | R | E | | E | S | A | U | | A | N | E | L | E |
| D | R | Y | R | O | T | | E | E | R | Y | | D | E | S |
| | | | I | M | A | M | | | E | E | K | | | |
| | V | A | C | A | T | I | O | N | T | R | I | P | S | |
| S | E | L | A | H | | A | D | I | T | | L | A | K | E |
| A | R | E | N | A | | M | O | T | O | | E | V | I | L |
| L | O | E | S | S | | I | R | A | N | | Y | E | T | I |
Sun 3/26/1989

FILMFEST

| | | | | | | | | | | | | | | | | | | | | |
| --- | --- | --- | --- | --- | --- | --- | --- | --- | --- | --- | --- | --- | --- | --- | --- | --- | --- | --- | --- | --- |
| | | T | E | S | T | | G | A | T | T | I | | S | A | F | E | S | T | | |
| | T | H | R | O | W | | O | B | O | E | S | | P | R | I | N | T | E | R | |
| T | H | E | G | O | O | D | E | A | R | T | H | | I | N | F | O | R | M | E | R |
| I | R | A | | | W | A | S | T | E | | E | R | N | I | E | S | | P | A | U |
| P | E | P | | D | O | G | I | E | | C | R | U | D | E | R | | K | E | L | L |
| S | E | A | L | E | M | O | N | | D | O | W | E | L | S | | S | A | R | E | E |
| | | R | I | P | E | N | | G | A | L | O | R | E | | R | A | R | E | S | T |
| P | A | T | T | O | N | | C | O | N | D | O | S | | C | A | T | E | R | T | O |
| A | R | M | E | T | | P | R | A | T | E | D | | M | O | V | I | E | | | |
| N | E | E | R | | B | E | A | T | E | R | | P | A | P | E | R | M | O | O | N |
| I | N | N | | B | A | R | N | E | S | | S | E | R | I | N | E | | N | B | A |
| C | A | T | H | E | R | I | N | E | | A | P | E | X | E | S | | A | G | E | D |
| | | | E | A | R | L | Y | | A | M | O | L | E | S | | C | L | O | S | E |
| R | E | D | A | R | E | S | | S | N | A | K | E | S | | C | U | T | L | E | R |
| O | L | I | V | E | R | | D | E | A | L | E | R | | S | A | L | A | D | | |
| B | A | S | E | R | | L | E | T | S | I | N | | C | U | R | L | I | E | S | T |
| B | I | R | D | | S | E | N | A | T | E | | C | A | S | E | S | | N | W | I |
| E | N | A | | R | E | D | S | E | A | | G | O | T | H | E | | | P | A | N |
| R | E | E | M | E | R | G | E | | S | U | N | S | H | I | N | E | B | O | Y | S |
| | S | L | E | D | G | E | S | | I | R | A | T | E | | E | V | E | N | S | |
| | | I | N | S | E | R | T | | A | N | W | A | R | | D | E | E | D | | |
Tue 11/8/1988

| | | | | | | | | | | | | | | |
| --- | --- | --- | --- | --- | --- | --- | --- | --- | --- | --- | --- | --- | --- | --- |
| B | O | S | S | | R | A | D | A | R | | A | L | A | N |
| A | B | U | T | | E | V | A | D | E | | C | O | L | E |
| S | O | F | A | | V | O | T | E | G | E | T | T | E | R |
| H | E | F | T | | E | W | E | | R | A | I | S | E | D |
| | | R | E | A | R | S | | B | E | S | | | | |
| F | E | A | S | T | S | | B | U | T | T | R | E | S | S |
| E | R | G | | E | A | M | E | S | | S | A | L | T | Y |
| V | O | I | D | | L | E | A | S | E | | J | E | A | N |
| E | D | S | E | L | | A | R | E | N | A | | C | R | O |
| R | E | T | R | A | C | T | S | | D | I | E | T | E | D |
| | | | | N | A | Y | | S | O | L | D | O | | |
| A | P | P | E | A | L | | S | I | R | | I | R | A | N |
| C | A | N | D | I | D | A | T | E | S | | T | A | L | E |
| E | R | I | N | | E | L | I | T | E | | O | T | O | E |
| D | A | N | A | | R | A | R | E | R | | R | E | E | D |
Thu 9/8/1988

| | | | | | | | | | | | | | | |
| --- | --- | --- | --- | --- | --- | --- | --- | --- | --- | --- | --- | --- | --- | --- |
| | F | E | T | E | S | | | | D | I | N | A | R | |
| D | E | V | I | L | E | D | | S | A | T | I | N | E | T |
| E | M | I | R | A | T | E | | P | R | E | L | A | T | E |
| C | A | D | | M | U | L | L | I | N | S | | T | A | P |
| A | L | E | S | | P | A | I | R | S | | P | O | R | E |
| L | E | N | T | O | | Y | E | E | | W | I | L | D | E |
| | S | T | A | C | K | S | | S | P | A | R | E | S | |
| | | | S | H | E | | | | E | R | A | | | |
| | A | T | H | E | N | S | | C | A | N | T | E | R | |
| S | N | E | E | R | | T | E | A | | S | E | R | E | S |
| T | E | N | D | | C | A | R | V | E | | D | A | T | A |
| E | S | T | | T | U | R | N | I | P | S | | S | I | B |
| E | T | A | G | E | R | E | | L | E | I | S | U | R | E |
| N | O | G | A | L | E | S | | S | E | V | E | R | E | R |
| | F | E | L | L | S | | | | S | A | W | E | D | |
Mon 3/7/1988

| | | | | | | | | | | | | | | |
| --- | --- | --- | --- | --- | --- | --- | --- | --- | --- | --- | --- | --- | --- | --- |
| M | E | S | S | A | G | E | S | | S | T | E | E | R | S |
| I | N | T | E | R | N | A | L | | P | O | S | S | E | T |
| T | E | R | T | I | A | R | Y | | L | A | S | C | A | R |
| E | R | A | | A | W | L | | R | I | D | | A | L | I |
| R | O | D | E | | E | S | S | E | N | | S | L | I | D |
| | S | A | L | A | D | | A | C | T | | P | A | N | E |
| | | | S | H | A | S | T | A | | O | A | T | E | N |
| A | M | P | | A | T | T | E | N | D | S | | E | S | T |
| G | O | R | E | S | | R | E | T | E | S | T | | | |
| I | R | E | D | | S | E | N | | C | A | I | R | O | |
| T | A | S | S | | H | E | S | S | E | | P | A | N | S |
| A | L | E | | M | O | T | | N | I | P | | V | A | L |
| T | I | N | D | E | R | | L | E | V | E | R | A | G | E |
| E | S | C | O | R | T | | A | V | E | R | A | G | E | D |
| S | T | E | E | L | Y | | P | A | R | T | N | E | R | S |
Sun 12/13/1987

SECOND OPINIONS

| | | | | | | | | | | | | | | | | | | | | |
| --- | --- | --- | --- | --- | --- | --- | --- | --- | --- | --- | --- | --- | --- | --- | --- | --- | --- | --- | --- | --- |
| P | O | R | E | | S | T | A | T | E | | S | A | P | O | R | | T | A | C | K |
| E | R | I | N | | E | A | M | E | S | | E | V | A | D | E | | A | U | R | A |
| C | A | N | D | L | E | P | I | N | S | | R | O | S | E | G | A | R | D | E | N |
| O | L | D | T | I | M | E | R | | E | L | V | I | S | | I | N | T | I | M | E |
| S | E | S | A | M | E | S | | S | N | E | A | D | | E | S | T | A | T | E | S |
| | | | B | E | D | | M | A | C | O | N | | A | L | T | E | R | | | |
| A | P | T | L | Y | | C | A | S | E | S | T | U | D | I | E | S | | O | B | I |
| P | A | R | E | | C | O | N | S | | | | S | O | A | R | | O | V | E | N |
| E | R | A | | J | O | L | L | Y | R | O | G | E | R | S | | S | L | E | E | K |
| D | R | I | V | E | W | A | Y | | I | N | U | R | E | | S | T | A | R | R | Y |
| | | N | I | N | E | S | | E | S | S | E | S | | S | C | A | N | T | | |
| I | N | L | A | N | D | | F | L | E | E | S | | O | P | E | N | D | A | T | E |
| R | A | I | N | Y | | H | E | A | R | T | S | T | R | I | N | G | | K | A | Y |
| M | I | N | D | | T | E | N | T | | | | R | I | L | E | | M | E | T | E |
| A | L | E | | G | R | A | D | E | S | C | H | O | O | L | | N | O | S | I | R |
| | | | S | L | A | V | S | | C | R | O | O | N | | C | A | L | | | |
| R | E | S | T | I | V | E | | C | R | A | M | P | | R | A | D | A | M | E | S |
| A | R | C | A | D | E | | S | H | A | M | E | | F | I | R | E | S | A | L | E |
| B | A | R | B | E | R | S | H | O | P | | R | E | A | D | E | R | S | H | I | P |
| I | T | A | L | | S | P | O | R | E | | U | N | L | E | T | | E | R | D | A |
| D | O | M | E | | E | A | T | E | R | | N | E | A | R | S | | S | E | E | L |
Tue 10/27/1987

| | | | | | | | | | | | | | | |
| --- | --- | --- | --- | --- | --- | --- | --- | --- | --- | --- | --- | --- | --- | --- |
| S | H | A | R | P | | F | O | L | D | | S | T | A | R |
| E | A | G | E | R | | O | B | I | E | | E | R | I | E |
| T | R | A | P | E | Z | O | I | D | S | | G | E | N | T |
| S | P | Y | | J | O | L | T | | E | Q | U | A | T | E |
| | | | P | U | N | S | | T | R | U | E | D | | |
| A | R | C | A | D | E | | N | O | V | A | | M | A | T |
| T | H | O | N | G | | G | O | R | E | N | | I | S | H |
| T | O | T | E | M | | U | T | E | | T | U | L | S | A |
| A | N | T | | E | B | S | E | N | | I | N | L | A | W |
| R | E | E | | N | E | T | S | | S | T | A | S | I | S |
| | | R | A | T | S | O | | A | L | A | S | | | |
| A | P | P | O | S | E | | U | N | I | T | | B | O | A |
| L | A | I | R | | E | X | P | E | D | I | T | I | N | G |
| T | I | N | T | | C | I | O | N | | V | I | N | C | E |
| E | L | S | A | | H | I | N | T | | E | N | D | E | D |
Thu 7/23/1987

| | | | | | | | | | | | | | | |
| --- | --- | --- | --- | --- | --- | --- | --- | --- | --- | --- | --- | --- | --- | --- |
| M | A | L | T | A | | | D | I | P | | P | O | O | R |
| A | L | I | E | N | | S | A | R | I | | I | M | R | E |
| S | T | A | N | G | | O | V | A | L | | C | A | D | S |
| H | O | R | S | E | T | H | I | E | F | | K | N | E | E |
| | | | | L | E | O | N | | E | M | P | I | R | E |
| P | R | I | S | O | N | | C | U | R | I | O | | | |
| A | H | O | T | | E | R | I | C | | S | C | A | M | |
| D | E | L | I | C | T | I | | L | O | C | K | S | U | P |
| | E | A | C | H | | S | P | A | N | | E | T | S | I |
| | | | K | O | R | E | A | | E | S | T | A | T | E |
| S | E | D | U | C | E | | T | E | A | K | | | | |
| T | R | I | P | | B | U | R | G | L | A | R | I | E | S |
| R | O | O | M | | A | R | O | A | | T | O | R | S | O |
| E | D | D | A | | T | A | L | L | | E | L | A | N | D |
| P | E | E | N | | E | L | S | | | R | E | N | E | S |
Sun 7/12/1987

WORD PLAY

| | | | | | | | | | | | | | | | | | | | | |
| --- | --- | --- | --- | --- | --- | --- | --- | --- | --- | --- | --- | --- | --- | --- | --- | --- | --- | --- | --- | --- |
| G | A | R | P | | A | D | R | E | M | | R | A | V | E | D | | G | A | M | S |
| A | L | E | E | | S | U | A | V | E | | E | D | I | L | E | | A | R | O | E |
| T | I | M | E | P | I | E | C | E | S | | B | A | C | K | G | A | M | M | O | N |
| O | V | E | R | R | A | T | E | | S | P | I | N | E | | R | I | B | E | R | A |
| R | E | T | A | I | N | S | | T | I | A | R | A | | B | A | R | O | N | E | T |
| | | | G | A | S | | G | I | A | N | T | | M | O | D | E | L | | | |
| P | R | O | E | M | | L | I | G | H | T | H | E | A | D | E | D | | F | O | P |
| R | E | L | S | | S | A | V | E | | | | A | G | E | D | | C | A | S | E |
| O | D | D | | U | N | D | E | R | S | T | A | T | E | D | | F | O | S | S | E |
| D | O | M | I | N | O | E | S | | T | A | L | E | S | | S | U | N | T | A | N |
| | | A | D | I | O | S | | S | E | R | I | N | | M | E | R | I | T | | |
| H | E | S | I | O | D | | T | E | R | S | E | | A | U | T | O | C | R | A | T |
| E | L | T | O | N | | M | O | R | N | I | N | G | S | T | A | R | | A | G | O |
| A | B | E | T | | R | I | N | G | | | | R | I | T | E | | S | C | U | D |
| P | A | R | | L | E | T | T | E | R | H | E | A | D | S | | B | A | K | E | D |
| | | | R | O | D | E | O | | E | E | R | I | E | | V | A | T | | | |
| S | I | D | E | B | A | R | | S | P | A | I | N | | B | E | N | I | S | O | N |
| A | T | O | N | A | L | | H | E | A | R | T | | F | A | N | D | A | N | C | E |
| P | A | P | E | R | G | O | O | D | S | | R | E | A | L | E | S | T | A | T | E |
| O | L | E | G | | A | T | B | A | T | | E | L | I | T | E | | E | K | E | D |
| R | O | S | E | | E | T | O | N | S | | A | S | T | O | R | | S | E | T | S |
Mon 7/6/1987

| | | | | | | | | | | | | | | |
| --- | --- | --- | --- | --- | --- | --- | --- | --- | --- | --- | --- | --- | --- | --- |
| P | O | R | C | H | | A | G | R | A | | R | A | S | P |
| O | H | A | R | A | | P | A | A | R | | E | V | O | E |
| O | R | N | I | S | | P | R | I | M | E | T | I | M | E |
| R | E | D | S | T | A | R | | D | E | L | I | V | E | R |
| | | | P | E | R | I | M | E | T | E | R | | | |
| S | P | R | Y | | T | S | A | R | | C | E | D | A | R |
| H | U | H | | M | E | E | T | | | T | E | A | S | E |
| A | T | O | N | E | | D | I | S | | O | S | T | I | A |
| H | O | N | E | D | | | S | A | A | R | | E | D | D |
| S | N | E | A | D | | I | S | L | A | | P | R | E | Y |
| | | | P | L | A | N | E | T | R | E | E | | | |
| W | A | I | T | E | R | S | | A | E | R | A | T | E | D |
| I | N | S | I | D | E | O | U | T | | A | L | A | T | E |
| C | O | E | D | | A | L | T | E | | S | E | N | N | A |
| K | N | E | E | | S | E | E | D | | E | D | G | A | R |
Mon 4/13/1987

| | | | | | | | | | | | | | | |
| --- | --- | --- | --- | --- | --- | --- | --- | --- | --- | --- | --- | --- | --- | --- |
| R | O | B | E | | A | P | A | R | T | | R | O | O | F |
| A | R | A | L | | C | E | S | A | R | | E | L | M | O |
| C | A | L | I | F | O | R | N | I | A | A | N | G | E | L |
| E | N | D | | A | R | C | E | D | | B | E | A | R | D |
| | | E | A | R | N | E | R | | G | A | G | | | |
| A | L | A | R | M | S | | | B | A | S | E | M | A | N |
| S | I | G | N | | | T | O | R | R | E | | A | G | O |
| S | T | L | O | U | I | S | C | A | R | D | I | N | A | L |
| A | R | E | | G | R | A | S | S | | | S | N | I | T |
| D | E | S | P | A | I | R | | | A | R | L | E | N | E |
| | | | A | N | D | | C | A | R | E | E | R | | |
| A | W | A | R | D | | P | O | S | T | S | | I | D | A |
| C | H | I | C | A | G | O | W | H | I | T | E | S | O | X |
| R | I | D | E | | A | G | E | E | S | | M | M | L | I |
| E | T | A | L | | W | O | R | S | T | | U | S | E | S |
Tue 3/24/1987

| | | | | | | | | | | | | | | |
| --- | --- | --- | --- | --- | --- | --- | --- | --- | --- | --- | --- | --- | --- | --- |
| P | A | P | A | | | B | E | R | G | | C | L | A | M |
| I | G | O | R | | S | O | L | A | R | | R | A | G | E |
| L | O | G | E | | P | L | A | N | E | | I | M | R | E |
| E | G | O | | A | L | U | M | I | N | U | M | B | A | T |
| | | S | A | L | A | S | | | A | V | E | | | |
| R | A | T | I | F | Y | | M | A | D | E | A | H | I | T |
| A | C | I | D | S | | C | A | N | E | A | | A | D | A |
| D | O | C | S | | S | O | R | T | S | | M | M | L | I |
| I | R | K | | A | T | O | N | E | | W | O | M | E | N |
| O | N | S | T | R | I | K | E | | C | O | V | E | R | T |
| | | | E | L | F | | | R | A | W | E | R | | |
| F | I | V | E | O | F | C | L | U | B | S | | H | E | M |
| A | D | A | M | | E | R | O | D | E | | D | E | L | I |
| N | O | N | E | | N | E | V | E | R | | E | A | S | E |
| S | L | E | D | | S | E | E | R | | | E | D | E | N |
Tue 9/30/1986

| | | | | | | | | | | | | | | |
| --- | --- | --- | --- | --- | --- | --- | --- | --- | --- | --- | --- | --- | --- | --- |
| G | A | S | P | S | | C | H | A | S | | P | S | I | S |
| A | L | E | U | T | | R | E | N | T | | A | C | C | T |
| R | O | L | F | E | | O | R | D | O | | R | H | E | A |
| B | U | F | F | A | L | O | B | I | L | L | C | O | D | Y |
| | | | E | L | O | N | | | E | C | H | O | | |
| M | E | T | R | E | S | | C | A | S | T | I | L | L | A |
| A | G | H | | R | E | F | E | R | | | S | M | E | E |
| I | R | E | S | | S | A | D | A | T | | I | A | G | O |
| N | E | W | T | | | R | E | B | E | C | | R | U | N |
| S | T | A | R | T | L | E | S | | S | L | U | M | P | S |
| | | R | E | A | L | | | A | L | A | R | | | |
| H | O | P | A | L | O | N | G | C | A | S | S | I | D | Y |
| E | L | A | M | | Y | E | A | R | | P | U | M | A | S |
| A | L | T | E | | D | A | L | I | | E | L | I | D | E |
| L | A | H | R | | S | P | A | D | | D | A | T | E | R |
Wed 8/27/1986

| | | | | | | | | | | | | | | |
| --- | --- | --- | --- | --- | --- | --- | --- | --- | --- | --- | --- | --- | --- | --- |
| S | P | A | R | | T | A | F | T | | S | A | M | O | S |
| P | E | R | I | | A | N | O | A | | E | L | I | D | E |
| A | L | E | G | | S | C | O | T | | R | E | L | E | E |
| N | E | T | H | | S | E | T | A | R | E | C | O | R | D |
| S | E | E | T | H | E | | B | R | A | N | | | | |
| | | | F | E | L | L | A | | V | E | R | G | E | R |
| | F | A | I | R | | A | L | E | E | | A | L | A | E |
| B | A | S | E | B | A | L | L | P | L | A | Y | E | R | S |
| A | R | I | L | | E | A | S | E | | G | L | E | N | |
| R | E | A | D | E | R | | T | E | P | E | E | | | |
| | | | | N | I | P | A | | A | R | O | M | A | S |
| O | U | T | F | I | E | L | D | E | R | | N | A | D | A |
| O | R | A | L | S | | A | I | R | S | | A | N | E | W |
| P | A | N | E | L | | T | U | N | E | | R | O | L | E |
| S | L | A | D | E | | A | M | E | S | | D | R | E | D |
Sun 8/10/1986

PARTICIPIAL PUNS

| | | | | | | | | | | | | | | | | | | | | |
| --- | --- | --- | --- | --- | --- | --- | --- | --- | --- | --- | --- | --- | --- | --- | --- | --- | --- | --- | --- | --- |
| L | I | B | | | G | A | P | E | R | | S | P | A | D | | | U | S | E | S |
| I | S | L | E | | O | R | O | N | O | | H | A | N | D | | E | N | T | R | E |
| S | T | U | M | B | L | I | N | G | B | L | O | C | K | S | | D | R | A | I | N |
| P | L | E | I | A | D | E | S | | B | E | R | T | H | | T | E | E | M | E | D |
| S | E | T | T | L | E | S | | B | E | N | T | S | | R | E | M | A | P | | |
| | | | T | E | N | | | E | R | N | E | | C | A | N | A | D | I | A | N |
| A | S | H | E | R | | | F | L | Y | I | N | G | A | N | T | | | N | R | A |
| H | O | O | D | S | | C | A | L | | | | O | N | U | S | | A | G | E | R |
| E | L | L | | | R | I | D | I | N | G | C | R | O | P | | S | I | G | N | E |
| M | O | D | E | R | A | T | E | | A | R | L | E | N | | M | A | D | R | A | S |
| | | I | M | A | G | E | | P | L | A | I | N | | C | A | M | E | O | | |
| P | A | N | I | C | S | | H | A | D | I | N | | L | A | M | E | D | U | C | K |
| A | N | G | L | E | | D | A | T | I | N | G | G | A | M | E | | | N | E | A |
| Y | I | P | E | | C | O | L | T | | | | A | M | P | | S | E | D | E | R |
| U | S | A | | | L | O | V | I | N | G | C | U | P | | | T | A | S | S | O |
| P | E | T | S | T | O | R | E | | A | L | A | N | | | M | A | R | | | |
| | | T | E | E | N | S | | O | D | I | S | T | | T | U | R | N | E | S | A |
| A | V | E | R | S | E | | F | L | I | N | T | | A | I | R | V | E | N | T | S |
| B | E | R | E | T | | P | R | I | N | T | I | N | G | P | R | E | S | S | E | S |
| L | A | N | N | Y | | E | A | V | E | | N | O | R | S | E | | T | U | L | E |
| E | L | S | E | | | W | Y | E | S | | G | R | A | Y | S | | | E | A | T |
Thu 7/17/1986

| | | | | | | | | | | | | | | |
| --- | --- | --- | --- | --- | --- | --- | --- | --- | --- | --- | --- | --- | --- | --- |
| R | E | T | R | A | C | T | O | R | S | | S | I | C | A |
| A | B | H | O | R | R | E | N | C | E | | E | D | A | M |
| C | R | U | S | T | A | C | E | A | N | | C | E | R | E |
| E | O | N | S | | W | H | O | | D | E | T | A | I | N |
| | | D | I | B | | N | U | B | | D | A | T | E | D |
| C | H | E | | E | L | I | T | E | | I | R | E | S | |
| H | E | R | E | T | I | C | | L | O | T | I | | | |
| I | N | S | U | R | E | | | | M | I | A | M | I | S |
| | | | R | A | N | T | | N | E | O | N | A | T | E |
| | P | L | O | Y | | A | C | O | R | N | | N | O | W |
| S | H | A | P | E | | B | A | T | | S | O | D | | |
| C | A | M | E | R | A | | R | E | T | | T | O | E | S |
| A | S | I | A | | C | A | M | P | A | N | E | L | L | A |
| P | E | N | N | | T | R | E | A | S | U | R | I | E | S |
| E | R | A | S | | S | A | N | D | S | T | O | N | E | S |
Wed 5/14/1986

| | | | | | | | | | | | | | | |
| --- | --- | --- | --- | --- | --- | --- | --- | --- | --- | --- | --- | --- | --- | --- |
| A | L | A | S | | E | D | D | A | | L | O | E | S | S |
| P | A | P | A | | I | R | A | N | | A | S | S | E | T |
| S | T | A | T | | T | A | R | T | | S | A | C | R | E |
| E | H | R | I | C | H | W | E | I | S | S | | A | F | T |
| | S | T | A | R | E | S | | | H | E | A | P | | |
| | | | T | A | R | | S | T | E | R | N | E | S | T |
| A | S | H | E | S | | M | I | R | E | | T | A | C | O |
| B | E | A | | H | O | U | D | I | N | I | | C | A | N |
| O | W | N | S | | S | T | E | P | | N | I | T | R | E |
| U | N | D | U | S | T | E | D | | A | N | N | | | |
| | | C | I | I | I | | | S | T | E | N | O | S | |
| S | T | U | | M | A | G | I | C | T | R | I | C | K | S |
| M | O | F | F | O | | A | L | O | E | | N | E | A | P |
| E | L | F | I | N | | S | I | R | S | | G | A | T | E |
| W | E | S | T | S | | P | A | N | T | | S | N | E | E |
Wed 3/19/1986

| | | | | | | | | | | | | | | |
| --- | --- | --- | --- | --- | --- | --- | --- | --- | --- | --- | --- | --- | --- | --- |
| S | N | A | G | | S | L | U | M | P | | R | A | S | H |
| T | I | N | A | | T | I | G | E | R | | A | L | L | O |
| O | N | E | T | W | O | T | H | R | E | E | F | O | U | R |
| P | O | T | H | O | L | E | S | | S | A | T | U | R | N |
| | | | E | V | E | R | | L | U | G | E | | | |
| B | A | R | R | E | N | | N | U | M | E | R | A | L | S |
| A | L | I | E | N | | R | A | T | E | R | | G | O | P |
| T | S | A | R | | S | I | D | E | D | | H | O | W | E |
| H | O | T | | A | I | D | E | S | | P | U | R | E | E |
| S | P | A | R | K | L | E | R | | C | A | N | A | R | D |
| | | | A | R | E | S | | S | A | N | D | | | |
| O | B | E | R | O | N | | E | N | T | E | R | E | R | S |
| S | E | V | E | N | C | O | M | E | E | L | E | V | E | N |
| S | A | I | L | | E | L | M | E | R | | D | O | N | A |
| O | N | L | Y | | R | E | A | R | S | | S | E | E | P |
Fri 12/20/1985

| | | | | | | | | | | | | | | |
| --- | --- | --- | --- | --- | --- | --- | --- | --- | --- | --- | --- | --- | --- | --- |
| B | A | S | S | | M | A | S | H | | C | A | R | R | |
| O | R | L | E | | A | R | E | A | | O | L | E | O | |
| G | R | A | N | D | S | T | A | N | D | P | L | A | Y | |
| | A | S | T | U | T | E | | D | O | T | | S | A | W |
| | S | H | I | N | E | | E | S | T | E | | C | L | I |
| | | | N | O | R | | S | T | A | R | | E | M | S |
| | A | S | E | R | | S | P | A | R | | | N | A | P |
| | G | O | L | D | S | T | A | N | D | A | R | D | S | |
| N | G | U | | | C | A | R | D | | V | A | S | T | |
| O | R | B | | C | A | N | T | | S | E | T | | | |
| P | E | R | | A | L | D | O | | T | R | A | M | P | |
| E | S | E | | N | E | B | | E | A | S | T | E | R | |
| | S | T | A | N | D | A | R | D | B | E | A | R | E | R |
| | O | T | H | O | | C | O | I | L | | T | I | T | I |
| | R | E | S | T | | K | N | E | E | | S | T | E | P |
Sun 12/8/1985

DOUBLES, ANYONE?

| | | | | | | | | | | | | | | | | | | | | |
| --- | --- | --- | --- | --- | --- | --- | --- | --- | --- | --- | --- | --- | --- | --- | --- | --- | --- | --- | --- | --- |
| M | A | P | S | | A | C | O | R | N | | A | S | T | E | R | | B | A | T | H |
| A | C | L | U | | R | A | R | E | E | | S | H | A | R | E | | O | N | E | A |
| S | T | A | B | L | E | M | A | T | E | | C | O | R | N | F | L | O | W | E | R |
| S | E | N | T | I | N | E | L | | D | A | R | E | | | E | A | T | A | N | D |
| E | S | T | I | V | A | L | | C | L | U | E | D | | A | R | T | E | R | Y | |
| | | | T | R | S | | P | L | E | N | A | | E | R | R | E | D | | | |
| B | A | S | L | E | | T | O | A | S | T | M | A | S | T | E | R | | D | U | D |
| O | S | T | E | | F | I | R | M | | | | S | T | U | D | | | A | R | I |
| S | T | A | | S | L | E | E | P | W | A | L | K | E | R | | M | U | N | G | O |
| N | I | G | H | T | A | N | D | | A | R | O | E | S | | F | E | N | C | E | R |
| | | P | A | R | I | S | | S | N | O | O | D | | O | L | D | I | E | | |
| D | E | A | L | E | R | | F | E | E | L | S | | S | W | E | A | T | B | O | X |
| A | R | R | O | W | | P | A | D | D | L | E | W | H | E | E | L | | A | G | A |
| W | I | T | | | N | I | K | E | | | | H | I | N | T | | A | N | E | T |
| N | E | Y | | P | A | P | E | R | T | I | G | E | R | S | | R | I | D | E | S |
| | | | L | A | M | E | R | | O | R | A | R | E | | N | E | R | | | |
| | T | R | A | C | E | R | | S | W | A | L | E | | C | O | M | P | O | S | T |
| L | O | A | V | E | S | | | T | A | N | A | | S | I | D | E | L | I | N | E |
| A | N | T | I | M | A | T | T | E | R | | T | E | E | T | O | T | A | L | E | R |
| I | T | E | S | | K | E | Y | E | D | | E | D | G | E | S | | N | E | A | R |
| N | O | S | H | | E | Y | E | R | S | | A | D | O | R | E | | E | D | D | Y |
Fri 10/18/1985

| | | | | | | | | | | | | | | |
| --- | --- | --- | --- | --- | --- | --- | --- | --- | --- | --- | --- | --- | --- | --- |
| | D | O | M | E | D | | F | A | R | R | A | H | | |
| D | E | R | I | D | E | | I | C | H | A | B | O | D | |
| R | A | I | S | E | R | | T | H | E | L | I | M | I | T |
| O | R | B | S | | | | S | I | T | E | | E | V | E |
| L | I | I | I | | A | V | A | N | T | | S | L | O | P |
| L | E | S | S | E | N | I | N | G | | A | C | A | R | E |
| | | | S | A | T | E | D | | F | R | A | N | C | E |
| R | E | V | I | S | E | D | | B | L | O | N | D | E | S |
| E | L | O | P | E | D | | B | R | O | A | D | | | |
| H | E | L | P | S | | R | I | O | G | R | A | N | D | E |
| A | C | T | I | | N | E | R | D | S | | L | O | O | S |
| S | T | A | | A | I | R | E | | | | I | M | I | T |
| H | E | I | R | L | O | O | M | | R | E | Z | O | N | E |
| | D | R | I | B | B | L | E | | E | M | E | R | G | E |
| | | E | D | S | E | L | S | | F | U | S | E | S | |
Thu 9/26/1985

| | | | | | | | | | | | | | | |
| --- | --- | --- | --- | --- | --- | --- | --- | --- | --- | --- | --- | --- | --- | --- |
| O | V | E | R | A | T | E | | | K | A | I | S | E | R |
| R | E | N | E | G | A | D | E | | A | L | B | I | N | O |
| A | N | T | E | A | T | E | R | | N | E | A | R | T | O |
| T | E | E | D | | E | N | R | A | G | E | | E | R | N |
| O | R | N | | | R | I | A | T | A | | K | N | E | E |
| R | A | T | E | R | | C | T | S | | C | A | S | E | Y |
| S | T | E | N | O | S | | A | E | S | I | R | | | |
| | E | S | C | O | R | T | | A | T | T | E | S | T | |
| | | | A | D | I | O | S | | S | E | E | P | E | D |
| S | N | A | G | S | | T | A | R | | S | M | I | L | E |
| P | A | V | E | | M | A | L | E | S | | | R | E | C |
| U | T | E | | C | O | L | A | D | A | | L | A | V | A |
| R | U | N | Y | O | N | | M | A | N | D | O | L | I | N |
| T | R | U | E | S | T | | I | N | T | E | R | E | S | T |
| S | E | E | T | H | E | | | S | E | C | E | D | E | S |
Thu 8/29/1985

| | | | | | | | | | | | | | | |
| --- | --- | --- | --- | --- | --- | --- | --- | --- | --- | --- | --- | --- | --- | --- |
| B | A | T | S | | R | A | T | E | D | | T | S | K | S |
| A | L | O | P | | I | R | A | D | E | | R | E | N | O |
| F | O | U | R | B | A | G | G | E | R | | A | C | E | Y |
| F | U | R | I | L | L | O | | M | E | L | L | O | W | |
| | | | N | A | T | | | A | L | I | E | N | | |
| S | T | A | T | I | O | N | S | | I | C | E | D | U | P |
| O | I | L | E | R | | O | U | N | C | E | | T | K | O |
| B | A | L | D | | M | E | R | I | T | | S | E | A | R |
| E | R | A | | H | E | L | E | N | | C | H | A | S | E |
| R | A | M | P | E | D | | R | E | F | O | R | M | E | R |
| | | E | L | L | A | S | | | O | R | E | | | |
| | T | R | I | P | L | E | | T | R | A | D | U | C | E |
| M | A | I | N | | I | N | F | I | E | L | D | E | R | S |
| A | C | C | T | | S | O | L | E | S | | E | N | O | S |
| N | O | A | H | | T | R | Y | S | T | | R | O | P | E |
Fri 7/5/1985

| | | | | | | | | | | | | | | |
| --- | --- | --- | --- | --- | --- | --- | --- | --- | --- | --- | --- | --- | --- | --- |
| | A | S | P | | | | O | S | T | L | E | R | | |
| I | N | E | R | T | | | M | A | R | I | N | E | R | |
| D | O | N | O | R | | R | E | L | O | C | A | T | E | S |
| E | L | O | P | E | | A | L | A | T | E | | R | A | H |
| S | E | R | E | N | A | D | E | R | S | | | I | C | Y |
| | S | A | N | C | T | I | T | Y | | P | R | E | T | E |
| | | | S | H | O | O | S | | S | O | E | V | E | R |
| | S | P | I | E | L | S | | M | I | L | L | E | D | |
| S | A | R | T | R | E | | C | O | R | I | A | | | |
| O | B | E | Y | S | | P | O | L | E | S | T | A | R | |
| L | I | C | | | S | H | O | E | S | H | I | N | E | S |
| A | N | E | | C | H | O | P | S | | E | V | O | R | A |
| R | E | D | P | L | A | N | E | T | | R | I | M | E | S |
| | S | E | R | E | N | E | R | | | S | T | I | E | S |
| | | D | O | M | E | T | S | | | | Y | E | S | |
Sun 6/23/1985

SPACES AND PLACES

| | | | | | | | | | | | | | | | | | | | | |
| --- | --- | --- | --- | --- | --- | --- | --- | --- | --- | --- | --- | --- | --- | --- | --- | --- | --- | --- | --- | --- |
| T | H | E | B | E | A | M | | F | A | T | H | A | | | P | A | U | P | E | R |
| R | A | T | R | A | C | E | | I | T | H | A | C | A | | A | B | R | A | D | E |
| E | S | T | A | T | E | S | | N | O | R | T | H | A | T | L | A | N | T | I | C |
| T | H | E | | E | T | A | | A | N | E | S | | R | I | M | S | | A | T | E |
| | | | P | R | O | V | E | N | C | E | | L | O | L | A | | A | G | O | N |
| P | U | M | A | S | | E | C | C | E | | D | A | N | E | | S | N | O | R | T |
| A | X | I | L | | A | R | T | E | | H | U | N | S | | B | O | O | N | | |
| C | O | L | O | R | A | D | O | | P | A | R | D | | U | R | A | N | I | U | M |
| A | R | D | M | O | R | E | | P | A | R | A | M | E | T | E | R | | A | N | A |
| | | | I | D | E | | G | O | L | D | M | I | N | E | R | | K | N | I | T |
| P | A | N | N | E | | M | I | L | I | T | A | N | T | S | | F | E | S | T | E |
| A | R | E | O | | P | A | R | A | S | I | T | E | S | | F | I | N | | | |
| L | E | W | | L | A | S | T | N | A | M | E | S | | P | O | L | T | A | V | A |
| P | A | Y | B | A | C | K | | E | D | E | R | | F | O | R | M | U | L | A | E |
| | | D | O | Z | E | | A | G | E | S | | M | A | M | E | | C | E | R | O |
| D | E | R | B | Y | | C | O | R | D | | L | A | C | E | | S | K | E | I | N |
| E | L | K | O | | S | O | R | I | | L | I | T | E | R | A | C | Y | | | |
| M | A | C | | K | E | N | T | | L | O | N | I | | A | X | E | | Y | M | A |
| U | N | I | T | E | D | N | A | T | I | O | N | S | | N | O | N | C | O | M | S |
| R | E | T | I | N | A | | E | R | A | S | E | S | | I | N | T | R | U | D | E |
| E | T | Y | M | O | N | | | A | R | E | T | E | | A | S | S | Y | R | I | A |
Tue 4/16/1985

| | | | | | | | | | | | | | | |
| --- | --- | --- | --- | --- | --- | --- | --- | --- | --- | --- | --- | --- | --- | --- |
| | N | O | M | S | | F | L | A | P | | T | S | E | |
| L | O | P | A | T | | L | A | S | H | | H | I | T | E |
| C | H | I | C | A | G | O | W | H | I | T | E | S | O | X |
| T | I | N | | D | A | W | N | | L | A | R | I | N | E |
| S | T | E | P | I | N | S | | A | L | S | O | | | |
| | | | R | U | G | | G | R | I | S | S | O | M | S |
| B | R | O | O | M | | R | O | L | E | | E | R | A | T |
| E | A | R | | S | P | A | R | E | S | T | | A | M | A |
| S | M | E | W | | I | R | E | S | | R | E | L | A | Y |
| S | P | L | A | T | T | E | R | | S | I | R | | | |
| | | | L | U | C | E | | S | T | A | R | T | E | D |
| H | E | A | L | T | H | | S | T | A | N | | E | V | E |
| S | T | L | O | U | I | S | C | A | R | D | I | N | A | L |
| T | R | A | P | | N | E | A | R | | O | V | E | N | S |
| | E | N | S | | G | E | N | E | | S | E | T | S | |
Mon 12/24/1984

| | | | | | | | | | | | | | | |
| --- | --- | --- | --- | --- | --- | --- | --- | --- | --- | --- | --- | --- | --- | --- |
| W | E | A | R | | I | R | O | N | Y | | T | O | M | E |
| A | C | H | E | | N | E | V | E | R | | E | R | A | L |
| T | H | E | B | A | D | N | E | W | S | B | E | A | R | S |
| T | O | M | | R | I | A | N | T | | A | P | N | E | A |
| | | | A | G | A | R | | | E | T | E | | | |
| E | V | I | L | U | N | D | E | R | T | H | E | S | U | N |
| K | I | T | E | S | | | W | A | N | E | | A | T | O |
| I | R | A | S | | C | H | I | N | A | | A | V | I | V |
| N | E | G | | I | R | A | N | | | P | I | E | C | E |
| G | O | O | D | N | E | I | G | H | B | O | R | S | A | M |
| | | | I | T | E | | | A | R | R | S | | | |
| S | O | B | E | R | | S | P | R | I | T | | L | O | T |
| W | H | A | T | A | G | O | O | D | B | O | Y | A | M | I |
| A | I | R | E | | A | M | O | L | E | | A | M | E | N |
| B | O | N | D | | P | E | P | Y | S | | M | A | N | Y |
Tue 12/18/1984

| | | | | | | | | | | | | | | |
| --- | --- | --- | --- | --- | --- | --- | --- | --- | --- | --- | --- | --- | --- | --- |
| S | E | T | H | | | O | R | T | S | | E | M | M | A |
| T | A | R | E | | A | M | O | R | E | | W | E | A | N |
| A | M | A | N | | B | A | S | I | E | | E | S | P | Y |
| G | O | I | N | G | C | R | A | C | K | E | R | S | | |
| E | N | L | A | I | | | S | K | E | G | | I | S | M |
| | | | | G | A | R | | S | R | A | | A | P | E |
| S | A | S | S | | V | E | S | T | | D | O | N | A | T |
| N | U | T | C | R | A | C | K | E | R | S | U | I | T | E |
| A | E | R | I | E | | H | I | R | E | | I | C | E | R |
| I | R | E | | A | D | E | | S | O | L | | | | |
| L | S | T | | T | A | C | T | | | E | T | A | P | E |
| | | C | R | A | C | K | E | D | D | O | W | N | O | N |
| H | A | H | A | | H | I | N | E | S | | I | N | I | T |
| E | D | E | N | | A | N | E | N | T | | N | O | S | E |
| P | O | R | T | | S | G | T | S | | | E | Y | E | R |
Tue 12/11/1984

| | | | | | | | | | | | | | | |
| --- | --- | --- | --- | --- | --- | --- | --- | --- | --- | --- | --- | --- | --- | --- |
| L | I | L | I | | S | O | L | F | A | | B | A | R | K |
| E | D | E | N | | A | L | O | E | S | | A | R | I | L |
| W | E | T | S | O | N | E | S | W | H | I | S | T | L | E |
| D | A | S | H | I | K | I | S | | | L | I | S | L | E |
| | | | A | S | I | N | | F | U | L | L | | | |
| G | A | R | D | E | N | | A | L | T | I | | M | O | A |
| A | R | O | O | | | G | R | O | A | N | | O | R | G |
| B | L | O | W | S | T | H | E | W | H | I | S | T | L | E |
| L | E | S | | I | R | O | N | S | | | E | T | O | N |
| E | N | T | | L | I | S | A | | P | O | M | O | N | A |
| | | | W | E | P | T | | B | A | L | E | | | |
| O | C | E | A | N | | | P | A | L | I | S | A | D | E |
| W | H | I | S | T | L | E | R | S | M | O | T | H | E | R |
| L | I | N | T | | A | G | A | T | E | | E | M | M | A |
| S | P | E | E | | B | O | Y | E | R | | R | E | E | L |
Mon 11/12/1984

| | | | | | | | | | | | | | | |
| --- | --- | --- | --- | --- | --- | --- | --- | --- | --- | --- | --- | --- | --- | --- |
| E | L | L | A | | S | G | T | S | | | L | A | R | D |
| L | E | A | R | | H | E | A | R | | M | I | L | E | R |
| S | T | V | A | L | E | N | T | I | N | E | S | D | A | Y |
| A | T | E | L | I | E | R | S | | O | C | T | A | D | |
| | | | | N | N | E | | A | R | C | S | | | |
| S | T | A | G | E | S | | E | M | M | A | | G | A | L |
| P | O | I | L | U | | A | L | B | A | | S | O | D | A |
| I | N | D | E | P | E | N | D | E | N | C | E | D | A | Y |
| K | E | E | N | | O | N | E | R | | A | T | O | N | E |
| E | D | D | | Y | S | E | R | | A | V | A | T | A | R |
| | | | P | R | I | X | | R | E | E | | | | |
| | A | L | I | E | N | | A | I | R | R | A | I | D | S |
| T | H | A | N | K | S | G | I | V | I | N | G | D | A | Y |
| R | E | N | T | A | | A | R | E | A | | R | E | I | N |
| A | M | E | S | | | M | E | R | L | | A | S | S | E |
Fri 4/13/1984

| | | | | | | | | | | | | | | |
| --- | --- | --- | --- | --- | --- | --- | --- | --- | --- | --- | --- | --- | --- | --- |
| T | O | T | O | | U | S | T | E | D | | | F | A | R |
| O | A | H | U | | S | H | U | T | E | | P | A | G | E |
| T | R | E | T | | H | I | G | H | S | I | E | R | R | A |
| | S | T | R | E | E | P | | | I | N | R | O | A | D |
| | | H | A | I | R | S | | W | R | I | T | | | |
| A | L | I | G | N | S | | T | H | E | T | H | I | E | F |
| R | A | N | E | E | | S | H | I | E | S | | N | M | I |
| M | U | M | | | | P | E | N | | | | T | E | X |
| O | R | A | | H | A | R | D | Y | | S | C | E | N | E |
| F | A | N | T | A | S | I | A | | C | H | O | R | D | S |
| | | | R | I | T | T | | C | H | E | L | M | | |
| S | O | W | E | T | O | | | H | A | M | L | E | T | |
| T | H | E | K | I | L | L | E | R | S | | E | Z | R | A |
| O | I | L | S | | A | E | R | I | E | | C | Z | A | R |
| W | O | K | | | T | R | E | S | S | | T | O | M | E |
Sat 3/17/1984

| | | | | | | | | | | | | | | |
| --- | --- | --- | --- | --- | --- | --- | --- | --- | --- | --- | --- | --- | --- | --- |
| P | A | I | R | S | | B | E | L | T | | M | A | R | M |
| E | R | R | O | L | | E | V | O | E | | O | T | O | E |
| G | L | I | D | E | | H | I | B | E | R | N | I | A | N |
| S | O | S | | E | R | A | T | O | | I | D | O | L | S |
| | | H | A | V | A | N | A | | U | G | A | N | D | A |
| C | A | S | H | E | W | | | T | R | O | Y | | | |
| A | C | T | A | | | W | I | R | E | R | | W | A | Y |
| T | H | E | B | L | A | R | N | E | Y | S | T | O | N | E |
| S | E | W | | A | G | E | N | T | | | A | L | T | A |
| | | | O | V | E | N | | | S | U | R | F | E | R |
| C | A | D | D | I | E | | P | L | I | N | T | H | | |
| H | I | R | E | S | | L | A | I | R | D | | O | F | F |
| I | R | I | S | H | L | A | C | E | | O | V | U | L | E |
| L | E | E | S | | O | L | E | G | | N | I | N | E | R |
| E | D | D | A | | G | O | R | E | | E | M | D | E | N |
Wed 12/21/1983

| | | | | | | | | | | | | | | |
| --- | --- | --- | --- | --- | --- | --- | --- | --- | --- | --- | --- | --- | --- | --- |
| S | I | L | A | S | | H | A | R | P | | | W | H | O |
| E | R | U | P | T | | O | N | O | R | | G | E | A | R |
| T | A | L | I | A | | O | T | T | O | | L | A | V | A |
| S | Q | U | A | R | E | R | O | O | T | | O | V | E | R |
| | | | N | O | L | A | N | | E | S | S | E | N | E |
| S | H | E | | F | L | Y | | E | S | Q | S | | | |
| P | A | G | O | D | A | | S | I | T | U | A | T | E | D |
| A | M | A | P | A | | R | A | N | | A | R | E | T | E |
| R | E | L | E | V | A | N | T | | A | R | Y | A | N | S |
| | | | N | I | B | S | | E | R | E | | L | A | K |
| F | I | E | L | D | S | | A | S | I | D | E | | | |
| A | N | T | I | | C | I | R | C | L | E | B | A | C | K |
| R | O | A | N | | O | D | E | A | | A | S | U | R | E |
| A | N | T | E | | N | E | A | P | | L | E | R | O | Y |
| D | E | S | | | D | A | L | E | | S | N | A | P | S |
Wed 8/24/1983

| | | | | | | | | | | | | | | |
| --- | --- | --- | --- | --- | --- | --- | --- | --- | --- | --- | --- | --- | --- | --- |
| G | O | A | D | | C | A | M | P | S | | N | T | H | |
| I | D | L | E | | O | D | E | O | N | | O | H | O | H |
| L | O | V | E | M | E | O | R | L | E | A | V | E | M | E |
| D | R | A | P | E | R | | G | L | E | N | | L | E | W |
| | | | E | M | C | E | E | | R | I | G | O | R | S |
| A | N | D | R | O | I | D | | | S | L | A | V | | |
| P | E | R | | S | O | N | O | F | | E | L | E | C | T |
| A | M | E | S | | N | A | D | I | R | | A | B | I | E |
| L | O | A | T | H | | S | E | R | E | S | | U | T | E |
| | | M | O | O | S | | | S | L | E | D | G | E | D |
| P | A | L | A | T | E | | S | T | A | R | R | | | |
| E | G | O | | E | X | I | T | | P | I | A | Z | Z | A |
| L | O | V | E | L | I | N | E | S | S | O | F | Y | O | U |
| T | R | E | E | | S | C | A | P | E | | T | M | A | N |
| | A | R | K | | M | A | M | A | S | | S | E | N | T |
Mon 7/4/1983

| | | | | | | | | | | | | | | |
| --- | --- | --- | --- | --- | --- | --- | --- | --- | --- | --- | --- | --- | --- | --- |
| J | A | B | S | | | B | A | C | H | | D | O | F | F |
| O | L | E | O | | P | A | S | H | A | | A | B | L | E |
| J | O | H | N | W | I | T | H | E | R | S | P | O | O | N |
| O | W | N | | A | L | E | E | | R | U | P | E | E | |
| | | | P | R | O | D | | C | I | T | E | | | |
| P | E | D | A | N | T | | P | O | S | T | R | O | A | D |
| A | L | I | T | | | A | S | H | O | E | | I | R | R |
| R | I | C | H | A | R | D | H | E | N | R | Y | L | E | E |
| T | O | T | | R | E | D | A | N | | | M | E | T | S |
| S | T | A | T | E | L | A | W | | G | L | I | D | E | S |
| | | | H | O | A | X | | F | A | I | R | | | |
| | W | H | E | L | P | | R | I | F | F | | A | T | E |
| T | H | O | M | A | S | J | E | F | F | E | R | S | O | N |
| R | I | P | E | | E | A | V | E | S | | E | E | R | O |
| A | G | E | S | | D | Y | E | R | | | M | A | Y | S |
Tue 6/28/1983

| | | | | | | | | | | | | | | |
| --- | --- | --- | --- | --- | --- | --- | --- | --- | --- | --- | --- | --- | --- | --- |
| H | E | A | P | | O | K | I | E | | M | A | D | A | M |
| E | R | L | E | | P | L | E | A | | A | B | O | D | E |
| L | I | A | R | | P | E | R | R | Y | M | A | S | O | N |
| P | E | R | I | Q | U | E | | L | E | M | | E | R | E |
| | | | P | U | G | S | | | L | A | P | S | E | S |
| A | T | T | A | I | N | | H | A | L | L | E | | | |
| R | A | I | T | T | | S | O | L | O | | R | E | D | S |
| A | B | L | E | | R | E | N | E | W | | R | Y | O | T |
| B | U | T | T | | E | T | E | S | | H | Y | E | N | A |
| | | | I | T | C | H | Y | | P | O | W | D | E | R |
| A | P | A | C | H | E | | | P | E | R | I | | | |
| P | I | P | | A | D | S | | O | R | A | N | G | E | S |
| P | E | R | I | M | E | T | E | R | S | | K | O | L | A |
| A | T | O | N | E | | A | L | T | O | | L | O | K | I |
| L | A | N | E | S | | G | L | E | N | | E | D | E | N |
Sun 2/13/1983

OF CLOCKS AND CALENDARS

| | | | | | | | | | | | | | | | | | | | | |
| --- | --- | --- | --- | --- | --- | --- | --- | --- | --- | --- | --- | --- | --- | --- | --- | --- | --- | --- | --- | --- |
| A | S | I | A | | A | C | T | O | R | | | G | R | U | B | | A | B | E | L |
| G | E | N | S | | T | H | A | N | E | | B | L | U | T | O | | R | O | V | E |
| N | I | G | H | T | H | A | S | A | T | H | O | U | S | A | N | D | E | Y | E | S |
| U | N | L | E | A | R | N | S | | R | E | V | E | T | | F | U | N | D | S | |
| S | E | E | | B | E | T | | D | E | N | I | S | | | I | R | A | | | |
| | | | A | L | A | | | E | A | R | N | | T | A | R | A | | P | T | A |
| O | N | T | H | E | T | W | E | N | T | I | E | T | H | C | E | N | T | U | R | Y |
| R | O | U | E | | | A | R | I | | | | H | O | C | | | A | R | O | E |
| S | U | M | M | E | R | T | I | M | E | | W | I | N | T | E | R | S | E | T | |
| O | N | S | | S | E | T | S | | S | T | I | N | G | | L | O | S | E | S | |
| | | | R | T | E | S | | | T | I | N | | | S | L | U | E | | | |
| | B | R | O | O | D | | S | T | E | E | D | | A | T | E | N | | M | A | A |
| | L | E | A | P | Y | E | A | R | S | | S | E | C | O | N | D | H | A | N | D |
| E | O | N | S | | | P | L | O | | | | G | A | R | | | A | R | O | O |
| G | O | T | T | O | G | E | T | U | P | T | H | I | S | M | O | R | N | I | N | G |
| O | P | S | | H | I | E | S | | R | E | E | S | E | | B | A | G | | | |
| | | | L | A | D | | | S | I | K | A | | | A | T | T | | L | G | E |
| | H | E | A | R | D | | T | A | M | E | R | | C | H | R | E | T | I | E | N |
| S | I | X | D | A | Y | S | S | H | A | L | T | T | H | O | U | L | A | B | O | R |
| O | V | A | L | | A | T | A | L | L | | H | O | A | R | D | | O | R | D | O |
| D | E | M | E | | P | A | R | S | | | S | E | T | A | E | | S | E | E | L |
Thu 8/26/1982

| | | | | | | | | | | | | | | |
| --- | --- | --- | --- | --- | --- | --- | --- | --- | --- | --- | --- | --- | --- | --- |
| | S | C | A | T | | D | O | Z | E | | T | S | A | R |
| E | C | O | L | E | | U | B | E | R | | H | E | X | A |
| M | U | H | L | E | N | B | E | R | G | | E | T | O | N |
| E | L | A | I | N | E | | R | O | S | E | M | O | N | T |
| U | L | N | A | | O | W | L | S | | L | E | N | | |
| | | | N | I | S | E | I | | R | U | S | H | E | S |
| B | A | N | C | S | | A | N | D | E | S | | A | S | P |
| S | T | E | E | L | E | R | | A | X | I | L | L | A | E |
| C | O | W | | A | N | S | O | N | | V | A | L | U | E |
| S | P | Y | I | N | G | | R | E | N | E | W | | | |
| | | O | D | D | | S | I | S | I | | R | O | I | L |
| F | I | R | E | S | A | L | E | | S | I | E | N | N | A |
| A | N | K | A | | C | I | N | C | I | N | N | A | T | I |
| S | T | E | T | | A | C | T | A | | I | C | I | E | R |
| T | O | R | E | | D | E | E | M | | T | E | R | R | |
Fri 11/6/1981

| | | | | | | | | | | | | | | |
| --- | --- | --- | --- | --- | --- | --- | --- | --- | --- | --- | --- | --- | --- | --- |
| H | I | N | T | | A | S | I | S | | A | F | R | E | E |
| A | S | E | A | | H | O | W | E | | R | O | O | S | T |
| N | E | W | T | | A | J | A | R | | T | R | U | T | H |
| D | R | E | A | M | | O | N | E | R | | E | T | E | S |
| S | E | L | M | A | | U | T | T | E | R | S | | | |
| | | | I | N | E | R | T | | B | E | A | T | L | E |
| S | O | B | | T | E | N | O | N | | V | I | R | A | L |
| P | R | O | F | I | L | E | | A | M | E | L | I | T | A |
| A | T | O | L | L | | R | A | T | E | R | | G | E | M |
| T | A | M | A | L | E | | U | T | H | E | R | | | |
| | | | X | A | N | A | D | U | | N | E | V | E | R |
| A | C | T | S | | S | T | I | R | | D | E | E | R | E |
| C | R | I | E | R | | A | T | N | O | | F | R | O | G |
| H | A | L | E | Y | | L | O | E | W | | E | D | D | A |
| S | W | E | D | E | | E | R | R | S | | R | I | E | N |
Thu 9/3/1981

| | | | | | | | | | | | | | | |
| --- | --- | --- | --- | --- | --- | --- | --- | --- | --- | --- | --- | --- | --- | --- |
| A | L | B | S | | D | U | M | A | S | | C | H | A | P |
| M | E | O | W | | I | N | A | N | E | | H | A | L | O |
| B | A | B | E | | O | M | I | N | A | | I | S | E | E |
| I | N | F | E | R | N | A | L | | W | A | M | P | U | M |
| | | E | T | O | N | S | | P | A | L | E | S | T | |
| W | I | L | L | I | E | K | E | E | L | E | R | | | |
| H | O | L | Y | | | | W | E | L | F | A | R | E | S |
| A | T | E | | | S | T | I | R | S | | | E | T | H |
| M | A | R | A | T | H | O | N | | | | A | F | R | O |
| | | | G | E | O | R | G | E | S | I | S | L | E | R |
| | S | T | A | R | R | Y | | R | E | E | S | E | | |
| S | P | R | I | N | T | | C | O | R | S | I | C | A | N |
| I | R | O | N | | A | M | A | T | I | | S | T | L | O |
| G | E | T | S | | G | E | N | I | E | | T | O | I | L |
| N | E | S | T | | E | X | E | C | S | | S | R | T | A |
Wed 8/19/1981

| | | | | | | | | | | | | | | |
| --- | --- | --- | --- | --- | --- | --- | --- | --- | --- | --- | --- | --- | --- | --- |
| B | A | J | A | | D | A | M | P | S | | C | O | A | L |
| E | V | E | N | | E | N | E | R | O | | O | R | L | Y |
| S | E | R | E | | C | O | L | E | P | O | R | T | E | R |
| T | R | O | M | B | O | N | E | S | | B | O | S | S | A |
| | | M | O | L | D | | E | S | S | E | N | | | |
| A | V | E | N | U | E | S | | R | E | S | A | L | E | S |
| B | I | K | E | R | | T | H | O | L | E | | O | L | E |
| E | T | E | S | | P | R | O | O | F | | F | R | E | E |
| A | R | R | | P | R | I | S | M | | F | L | E | C | K |
| M | O | N | S | O | O | N | | S | I | L | E | N | T | S |
| | | | C | R | A | G | S | | R | I | T | Z | | |
| S | T | E | A | K | | B | E | W | I | T | C | H | E | D |
| S | A | M | M | Y | D | A | V | I | S | | H | A | L | O |
| G | R | I | P | | I | S | E | R | E | | E | R | S | E |
| T | O | T | S | | E | S | N | E | S | | R | T | E | S |
Wed 8/5/1981

| | | | | | | | | | | | | | | |
| --- | --- | --- | --- | --- | --- | --- | --- | --- | --- | --- | --- | --- | --- | --- |
| B | I | L | L | | S | O | F | A | S | | S | O | L | O |
| A | G | I | O | | C | L | A | I | M | | P | R | I | G |
| S | O | M | E | B | O | D | Y | L | O | V | E | S | M | E |
| E | R | A | S | U | R | E | S | | O | E | N | O | N | E |
| | | | S | T | E | N | | S | T | A | S | | | |
| P | A | N | E | L | S | | A | T | H | L | E | T | E | S |
| A | F | I | R | E | | P | Y | R | E | | R | A | R | E |
| L | O | T | | R | O | A | R | E | R | S | | R | O | W |
| L | O | R | D | | V | I | E | W | | T | E | N | S | E |
| S | T | E | E | L | E | R | S | | D | E | N | S | E | R |
| | | | C | A | R | S | | C | A | P | T | | | |
| S | E | A | R | C | H | | S | U | S | P | E | N | S | E |
| S | T | R | I | K | E | U | P | T | H | E | B | A | N | D |
| T | R | E | E | | A | N | I | S | E | | B | I | O | G |
| S | E | A | S | | D | I | N | A | R | | E | L | B | E |
Wed 7/22/1981

| | | | | | | | | | | | | | | |
| --- | --- | --- | --- | --- | --- | --- | --- | --- | --- | --- | --- | --- | --- | --- |
| A | D | D | | | L | A | G | E | R | | L | I | S | T |
| T | R | I | M | | E | M | I | L | E | | U | N | T | O |
| L | E | V | I | | S | A | L | S | A | | P | U | C | E |
| | W | E | S | T | S | I | D | E | S | T | O | R | Y | |
| | | | S | O | O | N | | | S | A | N | E | R | |
| G | A | S | T | O | N | | B | E | I | G | E | | | |
| O | C | T | E | T | | S | A | N | G | | | S | T | A |
| S | T | E | P | H | E | N | S | O | N | D | H | E | I | M |
| H | E | M | | | L | I | E | S | | I | A | T | R | O |
| | | | A | B | E | T | S | | R | A | S | H | E | R |
| | A | S | S | A | M | | | S | O | N | S | | | |
| | D | O | I | H | E | A | R | A | W | A | L | T | Z | |
| S | O | F | A | | N | I | O | B | E | | E | W | E | R |
| E | R | I | N | | T | R | A | I | N | | D | A | R | E |
| T | E | A | S | | S | E | N | N | A | | | S | O | X |
Mon 7/14/1980

| | | | | | | | | | | | | | | |
| --- | --- | --- | --- | --- | --- | --- | --- | --- | --- | --- | --- | --- | --- | --- |
| A | M | P | S | | C | A | D | E | T | | | C | R | I |
| M | O | R | T | | A | L | A | M | O | | F | O | E | S |
| B | R | O | A | D | W | A | Y | M | U | S | I | C | A | L |
| O | N | A | I | R | | | S | E | R | E | N | A | D | E |
| | | | D | E | B | T | | T | E | E | N | | | |
| R | E | F | | N | O | R | M | | D | R | I | V | E | R |
| U | S | E | | C | L | A | U | S | | | S | I | L | O |
| S | T | E | P | H | E | N | S | O | N | D | H | E | I | M |
| T | O | L | E | | | S | I | N | A | I | | W | H | A |
| S | P | A | R | S | E | | C | A | P | E | | S | U | N |
| | | | V | I | L | E | | R | A | S | P | | | |
| P | H | E | A | S | A | N | T | | | E | R | A | S | E |
| S | E | N | D | I | N | T | H | E | C | L | O | W | N | S |
| T | I | D | E | | D | R | A | K | E | | B | E | A | T |
| S | R | S | | | S | Y | N | G | E | | E | D | G | E |
Mon 6/30/1980

| | | | | | | | | | | | | | | |
| --- | --- | --- | --- | --- | --- | --- | --- | --- | --- | --- | --- | --- | --- | --- |
| A | G | I | O | | S | T | R | O | P | | C | H | O | W |
| C | O | R | D | | H | E | A | V | E | | H | A | L | O |
| H | E | A | D | H | U | N | T | E | R | | A | M | E | N |
| E | S | Q | | E | N | T | E | R | | | S | M | O | G |
| | | | P | A | T | S | | H | O | M | M | E | | |
| A | P | H | I | D | S | | W | A | C | O | | R | O | B |
| C | H | E | E | R | | B | A | N | T | U | | H | U | R |
| T | E | A | S | E | | R | I | D | | T | H | E | T | A |
| E | N | D | | S | P | A | T | S | | H | O | A | R | Y |
| D | O | S | | T | O | S | S | | S | W | E | D | E | S |
| | | T | E | S | T | S | | L | E | A | D | | | |
| T | E | A | S | | | I | M | A | M | S | | S | P | Y |
| E | R | R | S | | H | E | A | D | P | H | O | N | E | S |
| R | I | T | E | | I | S | T | L | E | | R | O | L | E |
| M | E | S | S | | S | T | E | E | R | | E | W | E | R |
Fri 6/27/1980

| | | | | | | | | | | | | | | |
| --- | --- | --- | --- | --- | --- | --- | --- | --- | --- | --- | --- | --- | --- | --- |
| T | A | M | P | | | D | A | M | E | | M | A | T | A |
| O | L | I | O | | R | E | S | I | N | | E | X | I | T |
| M | I | L | L | | A | L | O | N | G | | L | I | N | E |
| B | A | T | O | U | T | O | F | H | A | D | E | S | | |
| | | | P | R | E | S | | | R | U | E | | | |
| S | P | O | O | N | S | | H | A | D | E | S | M | A | N |
| M | O | I | N | S | | S | A | V | E | S | | O | R | E |
| I | D | L | Y | | H | A | D | E | S | | S | N | O | W |
| T | I | E | | A | E | G | I | S | | P | H | A | S | E |
| H | A | D | E | S | C | A | T | | L | E | A | D | E | R |
| | | | P | C | T | | | T | O | R | N | | | |
| | | T | O | H | A | D | E | S | W | I | T | H | I | T |
| T | H | I | N | | R | I | V | A | L | | I | A | G | O |
| A | I | R | Y | | E | V | E | R | Y | | E | T | O | N |
| D | E | E | M | | S | A | S | S | | | S | E | R | E |
Mon 5/19/1980

| | | | | | | | | | | | | | | |
| --- | --- | --- | --- | --- | --- | --- | --- | --- | --- | --- | --- | --- | --- | --- |
| M | E | N | A | C | E | | | | E | X | E | T | E | R |
| E | T | O | N | I | A | N | | E | L | E | V | A | T | E |
| M | A | N | D | A | T | E | | N | A | N | E | T | T | E |
| O | L | E | O | | E | B | A | N | | O | N | E | A | L |
| | | | V | E | N | U | S | I | A | N | S | | | |
| C | A | M | E | L | | L | I | S | T | | U | S | C | G |
| A | M | E | R | I | C | A | N | | S | A | P | P | E | R |
| R | E | D | | D | R | E | I | S | E | R | | L | A | I |
| P | E | E | W | E | E | | N | E | A | R | E | A | S | T |
| E | R | S | E | | T | R | E | T | | A | N | T | E | S |
| | | | S | T | E | E | L | B | A | N | D | | | |
| P | R | O | T | O | | D | Y | A | D | | W | R | I | T |
| R | A | V | E | N | N | A | | C | I | L | I | A | T | E |
| I | B | E | R | I | A | N | | K | O | O | S | M | A | N |
| M | I | N | N | O | W | | | | S | T | E | A | L | S |
Thu 5/4/1978

| | | | | | | | | | | | | | | |
| --- | --- | --- | --- | --- | --- | --- | --- | --- | --- | --- | --- | --- | --- | --- |
| | | O | H | A | R | A | | E | D | G | E | R | S | |
| A | N | D | O | V | E | R | | S | E | R | M | O | N | |
| F | A | D | D | I | S | T | | T | R | A | U | M | A | S |
| R | I | M | | S | E | E | D | E | R | S | | A | G | E |
| I | V | E | S | | T | R | E | E | | S | I | N | G | E |
| C | E | N | T | I | | I | A | M | A | | L | I | E | D |
| A | R | T | E | S | I | A | N | | M | I | L | A | D | Y |
| | | | M | E | L | L | | T | O | R | E | | | |
| P | O | M | M | E | L | | D | E | S | I | G | N | E | D |
| E | R | I | E | | Y | S | E | R | | D | A | I | L | Y |
| W | A | N | D | S | | O | U | R | S | | L | A | I | N |
| I | T | A | | P | E | R | S | I | C | O | | G | O | A |
| T | O | R | M | E | N | T | | F | O | R | M | A | T | S |
| | R | E | L | A | C | E | | I | N | B | U | R | S | T |
| | S | T | A | R | E | D | | C | E | S | T | A | | |
Mon 1/23/1978

| | | | | | | | | | | | | | | |
| --- | --- | --- | --- | --- | --- | --- | --- | --- | --- | --- | --- | --- | --- | --- |
| O | R | A | L | | S | E | D | A | N | | D | O | R | M |
| B | A | S | E | | A | L | O | N | E | | E | L | E | E |
| I | N | S | T | A | L | M | E | N | T | P | L | A | N | S |
| | A | N | D | O | V | E | R | | | R | A | F | T | S |
| | | | O | N | E | R | | C | L | O | Y | | | |
| K | N | O | W | E | R | | W | H | I | P | | M | A | I |
| E | A | R | N | | | S | H | I | N | E | | I | N | N |
| I | C | E | S | K | A | T | I | N | G | R | I | N | K | S |
| T | R | A | | I | G | E | T | A | | | N | I | L | E |
| H | E | D | | S | E | R | E | | B | A | S | S | E | T |
| | | | A | M | E | N | | L | I | S | P | | | |
| E | A | G | L | E | | | S | E | T | T | I | N | G | |
| S | C | O | T | T | I | S | H | T | E | R | R | I | E | R |
| P | E | R | E | | C | H | A | I | R | | E | S | A | U |
| Y | S | E | R | | H | Y | M | N | S | | D | I | R | T |
Tue 6/7/1977

| | | | | | | | | | | | | | | |
| --- | --- | --- | --- | --- | --- | --- | --- | --- | --- | --- | --- | --- | --- | --- |
| T | I | T | O | | S | C | R | A | M | | C | L | A | P |
| O | N | Y | X | | P | H | A | S | E | | H | U | G | E |
| A | C | R | E | | R | O | M | P | S | | I | N | R | E |
| | H | E | N | R | Y | K | I | S | S | I | N | G | E | R |
| | | | | T | E | E | | | C | E | A | S | E | S |
| D | I | P | P | E | R | | C | H | A | R | T | | | |
| O | D | O | R | S | | J | O | E | L | | O | C | H | S |
| M | E | R | E | | S | E | P | A | L | | W | H | E | T |
| E | A | T | S | | C | A | S | T | | S | N | A | I | L |
| | | | I | N | A | N | E | | B | I | S | T | R | O |
| L | E | A | D | E | N | | | M | U | G | | | | |
| I | N | T | E | R | N | A | T | I | O | N | A | L | E | |
| E | T | O | N | | E | B | O | N | Y | | L | I | N | T |
| T | E | N | T | | R | E | T | I | E | | I | N | D | O |
| O | R | E | S | | S | T | E | E | D | | T | E | S | T |
Wed 10/15/1975

| | | | | | | | | | | | | | | |
| --- | --- | --- | --- | --- | --- | --- | --- | --- | --- | --- | --- | --- | --- | --- |
| L | E | W | S | | T | H | I | E | F | | I | B | E | X |
| A | X | I | L | | H | E | N | N | A | | N | I | L | E |
| L | I | L | Y | | R | I | N | D | S | | G | L | E | N |
| O | T | T | | P | E | R | | S | T | E | | L | E | O |
| | | C | H | E | W | | | | B | A | B | Y | | |
| A | P | H | O | N | I | C | | S | A | R | A | C | E | N |
| C | H | A | N | | N | O | B | E | L | | T | U | P | I |
| H | O | M | E | | T | W | I | R | L | | I | N | S | O |
| E | B | B | S | | H | E | T | U | P | | S | N | O | B |
| S | E | E | T | H | E | D | | M | I | S | T | I | M | E |
| | | R | Y | O | T | | | | T | E | E | N | | |
| M | I | L | | T | O | M | | A | C | T | | G | O | O |
| O | P | A | L | | W | A | U | G | H | | D | H | O | W |
| A | S | I | A | | E | N | S | U | E | | D | A | Z | E |
| T | O | N | G | | L | O | S | E | R | | T | M | E | N |
Tue 9/2/1975

| | | | | | | | | | | | | | | |
| --- | --- | --- | --- | --- | --- | --- | --- | --- | --- | --- | --- | --- | --- | --- |
| K | E | I | T | H | | A | B | A | S | | T | S | G | T |
| I | S | S | U | E | | P | U | M | A | | H | E | R | O |
| S | A | B | I | N | | P | R | I | N | C | E | T | O | N |
| S | U | E | T | | A | L | L | | D | E | M | O | T | E |
| | | N | I | O | B | E | | S | I | R | E | N | S | |
| C | R | E | O | L | E | | K | N | E | E | S | | | |
| A | B | A | N | D | | S | N | A | G | S | | S | P | A |
| S | I | T | S | | S | H | A | K | O | | S | C | O | W |
| A | S | H | | C | A | R | V | E | | T | A | H | O | E |
| | | | L | E | V | E | E | | D | O | N | O | R | S |
| | S | E | E | S | A | W | | L | A | Y | T | O | | |
| R | E | A | G | A | N | | Y | A | W | | I | L | L | E |
| I | N | V | E | R | N | E | S | S | | H | A | B | I | T |
| O | N | E | R | | A | T | E | E | | A | G | O | R | A |
| T | A | S | S | | H | E | R | R | | L | O | Y | A | L |
Tue 10/24/1967

| | | | | | | | | | | | | | | |
| --- | --- | --- | --- | --- | --- | --- | --- | --- | --- | --- | --- | --- | --- | --- |
| S | P | A | N | | C | A | S | A | | B | A | W | L | S |
| C | O | L | A | | A | S | K | S | | O | R | I | O | N |
| A | U | S | T | R | A | L | I | A | | O | U | N | C | E |
| T | R | O | T | H | | E | L | F | I | N | | C | A | L |
| | | | Y | O | D | E | L | E | D | | C | E | L | L |
| B | A | S | | D | O | P | E | | A | P | O | | | |
| O | N | C | R | E | D | I | T | | | A | S | L | A | P |
| S | T | A | Y | S | O | N | | K | O | W | T | O | W | S |
| H | A | N | O | I | | | J | A | M | P | A | C | K | S |
| | | | T | A | I | | A | L | A | R | | H | S | T |
| J | O | B | S | | S | A | M | A | R | I | A | | | |
| A | G | E | | A | L | L | A | H | | N | I | E | C | E |
| P | I | L | O | T | | G | I | A | N | T | S | T | A | R |
| A | V | O | I | R | | A | C | R | E | | L | O | R | I |
| N | E | W | L | Y | | S | A | I | D | | E | N | D | S |
Thu 9/7/1967

| | | | | | | | | | | | | | | |
| --- | --- | --- | --- | --- | --- | --- | --- | --- | --- | --- | --- | --- | --- | --- |
| S | T | A | G | | S | O | A | K | | S | P | E | A | R |
| H | U | G | O | | U | N | D | O | | E | A | T | M | E |
| A | L | A | W | | P | E | A | R | | E | T | N | O | N |
| W | I | N | N | I | E | | M | A | N | D | R | A | K | E |
| | P | A | S | T | R | Y | | N | O | L | O | | | |
| | | | | A | M | O | Y | | V | E | N | I | C | E |
| G | A | Y | B | L | A | D | E | S | | T | I | T | H | E |
| L | I | S | A | | N | E | M | E | A | | Z | E | A | L |
| O | D | E | T | S | | L | E | A | P | Y | E | A | R | S |
| W | A | R | M | E | R | | N | O | T | E | | | | |
| | | | O | W | E | D | | F | I | T | F | U | L | |
| A | L | A | B | A | M | A | N | | T | I | E | P | I | N |
| R | O | B | I | N | | T | A | B | U | | A | B | B | E |
| A | B | E | L | E | | U | S | E | D | | S | O | R | T |
| M | E | L | E | E | | M | A | D | E | | T | W | A | S |
Sun 7/30/1967

JAMBOREE

| | | | | | | | | | | | | | | | | | | | | |
| --- | --- | --- | --- | --- | --- | --- | --- | --- | --- | --- | --- | --- | --- | --- | --- | --- | --- | --- | --- | --- |
| A | H | O | M | E | | M | I | L | E | | R | O | S | Y | | T | O | S | S | |
| L | U | N | A | R | | O | M | E | N | | E | C | H | O | | A | C | H | E | S |
| A | M | E | R | I | N | D | I | A | N | | S | U | E | Y | | S | E | R | A | I |
| B | O | Y | S | C | O | U | T | | S | W | A | L | L | O | W | T | A | I | L | S |
| A | R | E | | | G | L | A | D | | I | T | A | L | | R | E | N | N | E | T |
| M | E | A | T | S | | A | T | A | L | L | | R | A | T | E | | S | E | R | E |
| A | D | R | E | M | | R | E | M | A | D | E | | C | H | A | P | | S | Y | R |
| | | | A | I | D | | | P | I | E | R | S | | E | T | E | S | | | |
| S | M | A | R | T | E | S | T | | T | R | I | C | E | | H | E | A | T | U | P |
| M | A | L | | H | A | L | O | S | | N | E | U | R | O | | P | L | A | N | E |
| A | L | A | S | | N | A | T | U | R | E | S | T | U | D | Y | | E | N | D | S |
| S | T | R | A | P | | T | A | G | U | S | | S | P | E | E | D | | G | E | T |
| H | A | M | L | E | T | | L | A | P | S | E | | T | R | A | I | T | O | R | S |
| | | | T | S | A | R | | R | E | T | R | Y | | | H | A | W | | | |
| B | I | B | | O | V | E | R | | E | R | O | I | C | A | | N | A | C | R | E |
| E | R | A | S | | E | Y | E | D | | A | S | P | E | N | | A | S | H | E | N |
| W | A | N | T | E | R | | P | E | R | I | | S | I | G | N | | | O | P | T |
| I | N | D | I | A | N | T | R | A | I | L | S | | L | O | O | P | H | O | L | E |
| G | I | A | N | T | | B | O | C | A | | H | A | I | R | R | A | I | S | E | R |
| S | A | N | T | A | | A | V | O | N | | E | T | N | A | | C | R | E | T | E |
| | N | A | S | T | | R | E | N | T | | D | E | G | S | | K | E | Y | E | D |
Tue 7/11/1967

| | | | | | | | | | | | | | | |
| --- | --- | --- | --- | --- | --- | --- | --- | --- | --- | --- | --- | --- | --- | --- |
| L | A | V | A | | I | T | E | M | S | | M | O | O | D |
| A | G | I | N | | N | O | N | E | T | | A | N | D | A |
| W | E | D | D | I | N | G | D | A | Y | | I | C | E | D |
| N | N | E | | R | O | O | | G | L | I | D | E | R | S |
| S | T | O | C | K | | L | A | R | E | D | O | | | |
| | | | E | S | T | A | T | E | | O | F | T | E | N |
| V | E | I | L | | A | N | T | | A | S | H | O | R | E |
| E | R | N | E | | E | D | I | T | S | | O | B | I | S |
| G | A | M | B | O | L | | R | U | T | | N | Y | E | T |
| A | L | E | R | T | | M | E | X | I | C | O | | | |
| | | | A | T | R | A | D | E | | A | R | A | B | S |
| C | O | N | T | O | U | R | | D | O | T | | C | U | P |
| A | M | O | I | | C | O | L | O | R | A | T | U | R | A |
| L | A | G | O | | K | N | E | E | L | | A | T | R | I |
| I | R | O | N | | S | I | S | S | Y | | N | E | O | N |
Fri 7/7/1967

| | | | | | | | | | | | | | | |
| --- | --- | --- | --- | --- | --- | --- | --- | --- | --- | --- | --- | --- | --- | --- |
| T | I | E | R | | S | H | A | Y | | R | A | M | P | S |
| A | B | E | E | | O | A | T | S | | O | V | I | N | E |
| F | A | N | C | Y | F | R | E | E | | D | O | N | O | R |
| T | R | Y | O | U | T | S | | R | A | G | T | I | M | E |
| | | | A | M | A | H | L | | H | E | R | | | |
| U | N | I | T | A | S | | O | P | E | R | E | T | T | A |
| N | I | N | E | | | P | L | E | A | S | | R | I | P |
| R | E | N | D | | S | A | L | A | D | | T | A | L | E |
| I | C | E | | P | E | R | I | L | | | H | I | E | R |
| G | E | R | S | H | W | I | N | | E | M | E | N | D | S |
| | | | H | O | E | | G | L | E | A | M | | | |
| R | O | T | U | N | D | A | | A | L | L | U | D | E | D |
| E | M | O | T | E | | S | T | R | E | I | S | A | N | D |
| S | E | D | U | M | | H | O | U | R | | I | D | E | A |
| T | R | O | P | E | | Y | A | M | S | | C | O | S | Y |
Mon 5/29/1967

| | | | | | | | | | | | | | | |
| --- | --- | --- | --- | --- | --- | --- | --- | --- | --- | --- | --- | --- | --- | --- |
| S | E | W | S | | U | M | B | O | | | C | H | U | G |
| P | L | O | T | | N | O | O | K | S | | O | I | S | E |
| A | L | O | E | | W | O | O | D | W | O | R | K | E | R |
| R | E | D | W | O | O | D | S | | A | D | D | E | R | S |
| | | P | E | R | R | Y | | B | R | E | W | | | |
| C | R | E | D | I | T | | A | I | M | T | O | W | I | N |
| L | O | C | | G | H | O | S | T | | S | O | R | G | O |
| A | U | K | S | | Y | O | K | E | D | | D | O | L | E |
| S | T | E | E | P | | Z | E | R | O | S | | N | O | L |
| H | E | R | A | L | D | E | D | | B | I | N | G | O | S |
| | | | L | A | I | D | | S | E | A | O | F | | |
| A | T | T | E | N | D | | W | O | R | M | W | O | O | D |
| W | O | O | D | E | N | B | E | A | M | | I | N | T | O |
| O | T | S | U | | T | E | T | R | A | | S | T | I | R |
| L | I | S | P | | | A | S | S | N | | E | S | C | E |
Sat 4/29/1967

| | | | | | | | | | | | | | | |
| --- | --- | --- | --- | --- | --- | --- | --- | --- | --- | --- | --- | --- | --- | --- |
| A | H | S | | | S | N | I | D | E | | P | L | O | W |
| M | O | T | H | | E | O | S | I | N | | R | A | R | E |
| I | R | A | E | | D | A | N | D | E | L | I | O | N | S |
| D | A | Y | L | I | G | H | T | | | O | N | S | E | T |
| | | A | I | R | Y | | | B | R | U | T | | | |
| A | C | T | O | R | | S | W | E | E | T | E | N | S | |
| B | A | H | S | | L | A | R | G | E | | R | A | P | T |
| U | N | O | | | A | V | O | I | D | | | S | I | R |
| T | I | M | E | | T | I | N | N | Y | | A | T | K | A |
| | S | E | A | T | I | N | G | S | | G | L | U | E | Y |
| | | | S | I | N | G | | | S | E | A | R | | |
| S | C | O | T | T | | | G | A | M | E | S | T | E | R |
| T | R | E | E | O | F | L | I | F | E | | K | I | T | E |
| L | A | I | R | | R | E | B | E | L | | A | U | N | T |
| O | W | L | S | | O | V | E | R | T | | | M | A | E |
Mon 4/17/1967

| | | | | | | | | | | | | | | |
| --- | --- | --- | --- | --- | --- | --- | --- | --- | --- | --- | --- | --- | --- | --- |
| P | O | O | F | | I | N | U | S | E | | S | C | A | P |
| L | A | M | E | | N | E | P | A | L | | U | R | D | U |
| A | H | A | B | | S | T | O | V | E | | M | A | Z | E |
| T | U | R | R | E | T | | N | O | V | E | M | B | E | R |
| | | | U | S | E | S | | R | E | V | E | | | |
| M | A | Y | A | P | P | L | E | | N | O | R | T | H | S |
| A | P | E | R | Y | | O | R | A | T | E | | H | O | W |
| P | R | A | Y | | P | O | R | C | H | | F | U | M | E |
| L | I | T | | W | I | P | E | R | | C | O | M | M | A |
| E | L | S | T | O | N | | D | E | C | E | M | B | E | R |
| | | | A | W | E | D | | S | A | N | E | | | |
| A | U | G | U | S | T | U | S | | M | O | N | D | A | Y |
| W | R | I | T | | R | E | C | A | P | | T | O | P | E |
| O | G | L | E | | E | L | A | T | E | | E | Z | R | A |
| L | E | A | N | | E | S | T | E | R | | D | E | A | R |
Fri 3/10/1967

| | | | | | | | | | | | | | | |
| --- | --- | --- | --- | --- | --- | --- | --- | --- | --- | --- | --- | --- | --- | --- |
| R | E | P | L | A | C | E | | T | E | S | T | A | T | E |
| E | N | I | G | M | A | S | | U | M | P | I | R | E | D |
| V | E | N | E | E | R | S | | B | I | R | L | I | N | G |
| E | M | U | | S | E | A | R | | N | A | T | A | T | E |
| T | Y | P | O | | E | Y | E | L | E | T | | | | |
| | | | M | A | N | S | I | O | N | | D | E | E | P |
| C | I | T | E | D | | | N | O | C | T | U | R | N | E |
| U | S | E | L | E | S | S | | P | E | A | L | I | N | G |
| R | E | L | E | N | T | E | D | | | B | L | E | S | S |
| B | E | L | T | | E | N | C | L | O | S | E | | | |
| | | | | R | E | T | I | E | S | | S | A | R | A |
| G | O | O | B | E | R | | I | A | M | B | | D | O | G |
| A | M | N | E | S | I | A | | N | O | I | S | O | M | E |
| D | I | E | T | I | N | G | | E | S | T | E | B | A | N |
| S | T | R | A | N | G | E | | D | E | S | C | E | N | T |
Tue 2/7/1967

| | | | | | | | | | | | | | | |
| --- | --- | --- | --- | --- | --- | --- | --- | --- | --- | --- | --- | --- | --- | --- |
| S | P | O | R | T | | A | S | E | A | | S | I | A | L |
| A | L | T | E | R | | C | A | N | T | | A | D | Z | E |
| G | O | O | D | E | N | O | U | G | H | | M | E | T | A |
| A | W | E | | M | E | R | L | | L | O | O | S | E | S |
| | | | D | O | W | N | T | H | E | H | A | T | C | H |
| A | S | S | E | R | T | S | | I | T | T | | | | |
| H | O | W | L | S | | | I | D | E | O | G | R | A | M |
| A | H | A | T | | F | I | V | E | S | | R | U | L | E |
| B | O | N | A | F | I | D | E | | | B | A | N | A | L |
| | | | | A | G | E | | A | D | O | P | T | E | D |
| H | O | L | D | T | H | A | T | L | I | N | E | | | |
| I | C | I | E | S | T | | A | B | E | E | | T | H | E |
| N | E | S | T | | F | A | R | A | N | D | A | W | A | Y |
| G | A | Z | E | | O | P | E | N | | R | H | I | N | E |
| E | N | T | R | | R | O | S | Y | | Y | A | N | K | S |
Mon 1/2/1967

| | | | | | | | | | | | | | | |
| --- | --- | --- | --- | --- | --- | --- | --- | --- | --- | --- | --- | --- | --- | --- |
| C | O | G | S | | F | A | R | C | E | | S | N | A | P |
| A | B | U | T | | I | D | I | O | T | | P | A | L | I |
| R | O | L | E | | N | O | R | T | H | | A | D | I | N |
| D | E | L | A | W | A | R | E | | I | O | D | I | N | E |
| | | | M | A | L | E | | S | O | B | E | R | E | D |
| M | I | S | S | I | S | S | I | P | P | I | | | | |
| A | M | A | H | L | | | C | R | E | S | S | I | D | A |
| T | I | K | I | | | T | O | Y | | | E | R | I | N |
| S | T | E | P | T | U | R | N | | | W | R | O | N | G |
| | | | | A | L | A | S | K | A | R | A | N | G | E |
| S | T | I | R | R | U | P | | A | B | I | G | | | |
| A | E | R | I | A | L | | L | I | S | T | L | E | S | S |
| B | R | A | G | | A | B | A | S | E | | I | N | C | A |
| E | S | T | E | | T | O | K | E | N | | O | V | A | L |
| R | E | E | L | | E | X | E | R | T | | S | Y | N | E |
Fri 3/22/1963

| | | | | | | | | | | | | | | |
| --- | --- | --- | --- | --- | --- | --- | --- | --- | --- | --- | --- | --- | --- | --- |
| R | A | N | C | H | | D | E | E | R | | I | T | A | L |
| A | L | O | H | A | | I | G | L | U | | N | I | N | E |
| C | A | N | E | S | | G | O | L | D | | A | D | Z | E |
| E | R | E | C | T | O | R | | | E | C | L | A | I | R |
| | | | K | A | R | A | T | E | | A | L | L | O | Y |
| F | R | O | M | | S | P | E | A | R | S | | | | |
| L | O | R | A | N | | H | A | T | C | H | E | C | K | S |
| A | V | A | T | A | R | | | | T | E | X | A | N | S |
| T | E | L | E | V | I | S | E | D | | S | C | R | A | G |
| | | | | A | N | I | M | A | L | | H | A | R | T |
| C | Z | E | C | H | | P | U | R | S | U | E | | | |
| R | O | M | E | O | S | | | K | U | M | Q | U | A | T |
| O | M | E | N | | O | O | Z | E | | B | U | R | K | E |
| A | B | E | T | | A | W | E | S | | R | E | G | I | N |
| T | I | R | O | | K | E | N | T | | A | R | E | N | T |
Tue 2/5/1963

| | | | | | | | | | | | | | | |
| --- | --- | --- | --- | --- | --- | --- | --- | --- | --- | --- | --- | --- | --- | --- |
| O | P | A | L | | R | U | M | O | R | | F | A | T | E |
| M | A | G | I | | A | G | I | L | E | | A | M | O | S |
| S | P | A | T | | P | A | C | E | M | A | K | E | R | S |
| K | A | R | E | N | I | N | A | | O | D | E | S | S | A |
| | | | R | E | D | D | | E | V | E | | S | O | Y |
| S | A | R | A | T | E | A | S | D | A | L | E | | | |
| P | O | O | L | | | | T | E | L | E | V | I | S | E |
| A | N | T | I | | E | T | O | N | S | | O | D | E | S |
| R | E | A | S | O | N | E | R | | | | L | E | A | P |
| | | | M | A | D | A | M | E | B | O | V | A | R | Y |
| M | A | S | | S | O | L | | V | A | N | E | | | |
| E | T | C | H | E | D | | D | O | R | E | M | I | F | A |
| C | H | E | E | S | E | C | A | K | E | | E | X | A | M |
| C | O | N | Y | | R | O | W | E | L | | N | I | N | O |
| A | L | E | S | | M | O | S | S | Y | | T | A | S | K |
Wed 12/19/1962

| | | | | | | | | | | | | | | |
| --- | --- | --- | --- | --- | --- | --- | --- | --- | --- | --- | --- | --- | --- | --- |
| J | A | M | B | | A | B | A | B | A | | A | S | O | F |
| O | M | O | O | | H | E | R | O | S | | H | Y | D | E |
| S | E | R | B | | E | D | I | T | S | | O | N | E | S |
| S | N | O | W | B | A | L | L | | U | P | R | O | O | T |
| | | | H | E | R | A | | A | R | I | A | D | N | E |
| C | H | R | I | S | T | M | A | S | E | S | | | | |
| H | O | O | T | S | | | C | E | R | A | M | I | C | S |
| O | U | S | E | | | A | H | A | | | I | N | R | E |
| P | R | E | S | E | N | C | E | | | O | S | C | A | R |
| | | | | B | O | R | D | E | R | S | T | A | T | E |
| A | P | P | R | O | V | E | | C | U | L | L | | | |
| F | E | L | I | N | E | | C | A | N | O | E | I | N | G |
| I | T | O | N | | L | O | U | R | Y | | T | O | U | R |
| R | A | Y | S | | L | I | E | T | O | | O | T | T | O |
| E | L | S | E | | A | L | D | E | N | | E | A | S | T |
Thu 6/28/1962

| | | | | | | | | | | | | | | |
| --- | --- | --- | --- | --- | --- | --- | --- | --- | --- | --- | --- | --- | --- | --- |
| | C | H | O | P | | M | I | S | S | | T | W | I | G |
| E | L | O | P | E | | A | S | I | A | | O | H | R | E |
| C | U | R | E | D | | N | O | R | W | E | G | I | A | N |
| H | E | N | R | I | K | I | B | S | E | N | | T | E | E |
| O | S | S | A | | O | L | A | | D | O | G | E | | |
| | | | H | O | W | A | R | D | | S | I | T | K | A |
| E | X | P | O | S | T | | S | A | M | | N | A | I | L |
| C | R | O | U | T | O | N | | W | E | D | G | I | E | S |
| O | A | T | S | | W | I | T | | D | U | E | L | L | O |
| L | Y | R | E | S | | P | A | P | I | E | R | | | |
| | | O | S | L | O | | L | A | C | | B | A | B | A |
| O | N | A | | I | S | A | K | D | I | N | E | S | E | N |
| M | I | S | S | T | A | T | E | D | | A | E | T | N | A |
| I | N | T | O | | K | A | R | L | | G | R | E | E | K |
| T | E | S | S | | A | P | S | E | | A | S | P | S | |
Mon 6/11/1962

| | | | | | | | | | | | | | | |
| --- | --- | --- | --- | --- | --- | --- | --- | --- | --- | --- | --- | --- | --- | --- |
| | H | A | M | L | E | T | | C | A | N | A | D | A | |
| J | O | C | A | S | T | A | | U | T | I | L | I | Z | E |
| E | R | E | C | T | O | R | | F | A | L | L | G | U | Y |
| W | A | R | | S | N | A | F | F | L | E | | G | R | R |
| I | T | A | L | | S | W | A | L | E | | M | I | I | I |
| S | I | T | E | S | | A | M | I | | M | O | N | T | E |
| H | O | E | I | N | G | | E | N | L | A | R | G | E | S |
| | | | S | O | I | F | | K | O | N | G | | | |
| S | P | L | U | R | G | E | D | | T | O | U | C | H | E |
| Q | U | I | R | T | | L | I | B | | R | E | L | A | X |
| U | R | G | E | | G | O | E | R | S | | S | A | L | T |
| A | I | N | | C | A | N | T | A | T | A | | R | O | E |
| S | T | I | M | U | L | I | | C | O | N | S | I | G | N |
| H | A | T | A | B | L | E | | T | W | I | S | T | E | D |
| | N | E | R | E | I | S | | S | E | L | W | Y | N | |
Fri 5/4/1962

| | | | | | | | | | | | | | | |
| --- | --- | --- | --- | --- | --- | --- | --- | --- | --- | --- | --- | --- | --- | --- |
| B | E | G | S | | P | S | T | S | | P | E | C | O | S |
| E | T | A | H | | A | T | E | E | | A | V | A | S | T |
| T | R | I | O | | T | E | L | A | W | R | E | N | C | E |
| H | E | N | R | Y | M | I | L | L | E | R | | T | A | W |
| | | | T | O | O | N | | | L | O | S | E | R | S |
| S | T | A | C | K | S | | M | A | T | T | E | R | | |
| E | A | P | O | E | | H | U | G | E | | A | B | I | E |
| R | I | O | M | | S | A | N | E | R | | S | U | D | S |
| A | L | L | I | | O | N | C | E | | B | E | R | E | A |
| | | O | N | R | U | S | H | | F | O | R | Y | O | U |
| J | A | G | G | E | D | | | C | R | O | P | | | |
| U | B | I | | M | A | G | A | Z | I | N | E | M | E | N |
| M | E | Z | Z | A | N | I | N | E | S | | N | A | M | E |
| P | L | E | A | D | | L | A | C | K | | T | I | L | T |
| S | E | D | G | E | | A | S | H | Y | | S | A | Y | S |
Tue 1/30/1962

| | | | | | | | | | | | | | | |
| --- | --- | --- | --- | --- | --- | --- | --- | --- | --- | --- | --- | --- | --- | --- |
| C | U | B | S | | S | T | O | R | E | | V | O | T | E |
| A | V | E | C | | M | E | D | E | A | | I | R | A | N |
| L | E | A | H | | O | P | E | N | S | | C | E | L | T |
| L | A | D | O | U | C | E | | O | T | H | E | L | L | O |
| | | | L | I | K | E | N | | W | A | R | | | |
| L | E | M | A | N | S | | E | P | I | S | O | D | I | C |
| E | X | E | R | T | | E | R | I | N | | Y | A | L | U |
| A | T | E | | A | D | D | E | N | D | A | | N | I | L |
| S | R | T | A | | R | E | I | K | | L | O | C | A | L |
| E | A | S | T | L | A | N | D | | B | I | P | E | D | S |
| | | | T | A | M | | S | H | A | V | E | | | |
| M | U | S | I | C | A | L | | E | T | E | R | N | A | L |
| I | C | E | R | | T | O | W | I | T | | A | O | N | E |
| S | U | R | E | | I | R | E | N | E | | T | O | N | G |
| E | T | E | S | | C | I | D | E | R | | E | N | O | S |
Sat 8/22/1959

| | | | | | | | | | | | | | | |
| --- | --- | --- | --- | --- | --- | --- | --- | --- | --- | --- | --- | --- | --- | --- |
| G | R | A | N | D | | | B | L | U | E | N | O | S | E |
| R | E | M | O | R | A | | A | I | R | L | I | N | E | R |
| A | D | O | R | E | R | | C | L | A | M | P | I | N | G |
| F | O | R | M | A | T | | K | I | N | | S | O | S | O |
| | | | | M | I | L | I | T | I | A | | N | E | T |
| G | O | G | O | | S | U | N | H | A | T | S | | | |
| O | V | E | R | H | A | N | G | | | H | I | P | P | O |
| L | E | N | I | E | N | T | | P | R | O | G | R | A | M |
| F | R | E | E | R | | | S | E | A | S | H | O | R | E |
| | | | L | O | B | S | T | E | R | | S | W | A | N |
| C | O | D | | D | E | P | O | N | E | S | | | | |
| O | L | I | D | | A | R | M | | B | E | A | R | U | P |
| L | I | V | E | I | T | U | P | | E | N | T | I | R | E |
| O | V | E | R | N | I | C | E | | N | O | R | M | A | N |
| R | E | S | E | N | T | E | D | | | R | I | A | L | S |
Tue 7/21/1959

| | | | | | | | | | | | | | | |
| --- | --- | --- | --- | --- | --- | --- | --- | --- | --- | --- | --- | --- | --- | --- |
| L | E | W | I | S | | B | U | S | H | | A | T | I | C |
| A | H | A | S | H | | E | M | P | S | | L | O | R | O |
| M | E | L | T | I | N | G | P | O | T | | L | E | A | L |
| B | U | L | L | F | I | G | H | T | | M | O | T | T | O |
| | | | E | T | N | A | | | L | U | T | H | E | R |
| H | A | W | | Y | O | R | K | | A | L | M | E | | |
| A | G | E | D | | | M | I | D | D | L | E | M | A | N |
| N | I | L | E | | T | A | N | E | Y | | N | A | M | E |
| G | O | L | F | L | I | N | K | S | | | T | R | I | O |
| | | W | I | E | N | | S | P | A | T | | K | E | N |
| T | R | I | C | O | T | | | O | D | O | R | | | |
| R | O | S | I | N | | C | A | T | A | P | U | L | T | S |
| A | C | H | E | | S | H | R | I | M | P | B | O | A | T |
| W | H | E | N | | A | I | M | S | | E | L | O | P | E |
| L | E | S | T | | W | H | A | M | | R | E | N | E | W |
Fri 9/27/1957

| | | | | | | | | | | | | | | |
| --- | --- | --- | --- | --- | --- | --- | --- | --- | --- | --- | --- | --- | --- | --- |
| S | C | A | M | P | | D | I | D | O | | T | R | U | E |
| A | D | I | E | U | | A | R | A | B | | H | E | R | A |
| L | I | L | A | C | | N | I | B | E | L | U | N | G | S |
| T | I | S | | C | A | D | S | | S | E | S | T | E | T |
| | | | H | I | R | E | | K | E | E | L | | | |
| L | O | H | E | N | G | R | I | N | | D | Y | N | E | S |
| I | B | E | R | I | A | | N | E | T | S | | E | A | T |
| T | O | A | D | | L | I | N | E | R | | H | U | G | O |
| H | E | L | | E | I | N | E | | A | D | O | R | E | R |
| E | S | S | E | X | | T | R | O | V | A | T | O | R | E |
| | | | V | I | T | O | | P | E | R | E | | | |
| S | T | E | E | L | E | | B | E | L | L | | P | E | A |
| W | A | G | N | E | R | I | A | N | | I | D | E | A | L |
| A | L | A | E | | Z | O | N | E | | N | O | O | S | E |
| M | E | L | D | | A | U | E | R | | G | E | N | E | S |
Mon 12/3/1956

| | | | | | | | | | | | | | | |
| --- | --- | --- | --- | --- | --- | --- | --- | --- | --- | --- | --- | --- | --- | --- |
| B | O | R | O | S | | D | E | S | K | | P | O | K | E |
| A | L | O | N | E | | I | D | E | E | | U | R | A | L |
| N | E | V | E | R | | A | N | N | E | F | R | A | N | K |
| D | O | E | | V | E | D | A | | P | A | I | N | T | S |
| | | | R | I | V | E | | A | S | K | S | | | |
| T | I | M | E | L | I | M | I | T | | I | T | E | M | S |
| U | N | E | V | E | N | | R | O | A | R | | N | E | T |
| R | A | T | E | | C | H | O | P | S | | A | N | T | E |
| I | N | E | | P | E | O | N | | A | L | L | U | R | E |
| N | E | R | V | E | | P | Y | G | M | A | L | I | O | N |
| | | | E | A | D | S | | O | A | R | S | | | |
| S | C | O | N | C | E | | B | A | N | G | | C | S | T |
| W | O | N | D | E | R | F | U | L | | E | L | O | P | E |
| A | N | C | E | | R | O | L | E | | L | E | M | U | R |
| P | E | E | R | | Y | U | L | E | | Y | E | A | R | N |
Thu 10/18/1956

| | | | | | | | | | | | | | | |
| --- | --- | --- | --- | --- | --- | --- | --- | --- | --- | --- | --- | --- | --- | --- |
| | | S | T | O | M | A | | E | M | B | E | R | S | |
| B | O | L | I | V | A | R | | S | A | L | M | O | N | |
| E | M | I | N | E | N | T | | T | R | A | U | M | A | S |
| R | E | P | | R | E | E | L | E | C | T | | A | G | A |
| A | L | P | S | | T | R | E | E | | S | I | N | G | S |
| T | E | E | N | Y | | I | A | M | B | | L | I | E | S |
| E | T | R | U | S | C | A | N | | M | I | L | A | D | Y |
| | | | B | E | L | L | | T | U | B | E | | | |
| H | O | M | B | R | E | | D | E | S | I | G | N | E | D |
| E | R | I | E | | O | D | O | R | | D | A | I | L | Y |
| L | A | N | D | S | | E | R | R | S | | L | A | I | N |
| P | T | A | | T | A | M | P | I | C | O | | G | O | A |
| S | O | R | D | I | N | O | | F | O | R | M | A | T | S |
| | R | E | O | P | E | N | | I | N | B | U | R | S | T |
| | S | T | R | E | W | S | | C | E | S | T | A | | |
Wed 3/21/1956

| | | | | | | | | | | | | | | |
| --- | --- | --- | --- | --- | --- | --- | --- | --- | --- | --- | --- | --- | --- | --- |
| E | V | I | T | A | | O | N | E | R | | K | I | S | S |
| L | E | N | I | N | | P | O | P | E | | N | O | T | A |
| S | A | M | O | A | | A | V | I | V | | I | T | A | L |
| A | L | E | | P | A | L | A | C | E | O | F | A | R | T |
| | | M | E | E | T | S | | | A | V | E | | | |
| A | H | O | R | S | E | | M | E | L | I | S | S | A | |
| W | O | R | S | T | | C | O | K | E | D | | I | L | O |
| A | L | I | T | | A | I | L | E | D | | C | R | O | W |
| Y | E | A | | O | C | T | A | D | | M | O | G | U | L |
| | S | M | O | T | H | E | R | | N | O | M | A | D | S |
| | | | C | I | I | | | H | O | R | A | L | | |
| L | O | T | U | S | E | A | T | E | R | S | | A | L | P |
| E | N | O | L | | V | I | A | L | | E | T | H | E | L |
| O | Z | M | A | | E | R | G | O | | L | I | A | N | A |
| N | E | E | R | | S | Y | S | T | | S | E | D | A | N |
Mon 3/12/1956

| | | | | | | | | | | | | | | |
| --- | --- | --- | --- | --- | --- | --- | --- | --- | --- | --- | --- | --- | --- | --- |
| F | L | A | I | R | | S | H | E | M | | B | U | S | H |
| L | A | N | C | E | | H | A | T | E | | E | P | E | E |
| U | S | T | E | D | | A | I | R | S | | S | T | A | R |
| E | T | A | | I | M | P | R | E | S | S | I | O | N | S |
| | | G | L | A | R | E | | | A | I | D | | | |
| S | P | O | O | L | S | | D | I | G | R | E | S | S | |
| H | O | N | U | S | | E | R | N | E | S | | T | A | B |
| A | M | I | D | | S | T | A | G | S | | B | A | N | E |
| Y | E | S | | S | N | A | K | E | | W | A | G | E | D |
| | S | T | A | T | U | T | E | | B | A | L | E | R | S |
| | | | C | O | G | | | T | U | N | I | C | | |
| P | R | O | T | A | G | O | N | I | S | T | | R | F | D |
| R | I | D | I | | L | I | O | N | | A | T | A | L | E |
| O | L | E | O | | E | L | S | E | | D | E | F | O | E |
| F | E | R | N | | D | Y | E | S | | S | A | T | E | D |
Tue 2/21/1956

| | | | | | | | | | | | | | | |
| --- | --- | --- | --- | --- | --- | --- | --- | --- | --- | --- | --- | --- | --- | --- |
| R | A | G | S | | I | B | S | E | N | | A | B | L | E |
| I | R | A | Q | | R | E | E | S | E | | D | R | A | T |
| D | I | E | U | | R | E | N | T | S | | D | I | V | A |
| S | A | L | A | M | I | S | | E | T | H | I | C | A | L |
| | | | W | I | G | | B | E | S | E | T | | | |
| L | S | T | | S | A | L | E | M | | L | I | B | R | A |
| A | I | R | S | | T | A | G | | S | L | O | W | E | D |
| P | L | E | A | S | E | S | | P | E | O | N | A | G | E |
| E | V | E | N | T | S | | M | A | C | | S | N | A | P |
| L | A | N | D | O | | C | O | L | O | N | | A | L | T |
| | | | G | A | M | U | T | | N | O | G | | | |
| R | E | A | L | T | O | R | | A | D | D | R | E | S | S |
| E | L | B | A | | L | A | T | H | E | | A | X | O | N |
| A | L | E | S | | E | T | H | E | R | | S | I | L | O |
| M | A | T | S | | S | E | E | M | S | | S | T | E | W |
Wed 8/3/1955

| | | | | | | | | | | | | | | |
| --- | --- | --- | --- | --- | --- | --- | --- | --- | --- | --- | --- | --- | --- | --- |
| L | E | A | D | O | N | | | B | U | S | H | E | L | S |
| O | C | T | O | P | U | S | | O | N | T | A | R | I | O |
| C | L | I | M | A | T | E | | A | D | O | R | I | N | G |
| H | A | M | | L | A | D | S | | E | L | E | C | T | S |
| S | T | E | S | | N | A | T | U | R | E | | | | |
| | | | C | A | T | N | A | P | S | | V | I | A | L |
| F | A | T | A | L | | | T | O | E | D | A | N | C | E |
| A | G | E | L | E | S | S | | N | A | I | L | I | N | G |
| R | E | T | E | S | T | E | D | | | E | S | T | E | S |
| O | D | E | S | | R | E | I | S | S | U | E | | | |
| | | | | T | O | M | A | T | O | | D | U | C | E |
| A | V | A | L | O | N | | L | A | B | S | | N | R | A |
| F | A | L | A | N | G | E | | R | E | L | A | T | E | S |
| A | D | A | P | T | E | R | | E | R | U | D | I | T | E |
| R | E | S | P | I | R | E | | | S | E | A | L | E | D |