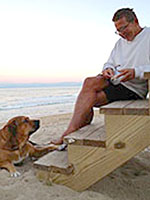 See the 230 answer words debuted by Gregory E. Paul.
Alternate names for this constructor:
G. E. Paul
,
G. Paul
,
Gregory Paul
Gregory E. Paul, one of the most prolific constructors of the Shortz Era, authored 116 crosswords in the Times from 1994 to 2005. His 86 Monday crosswords are the most of any constructor in the Shortz Era. He was also published in other outlets, sometimes under the pen name Roscoe Beet, one of his dogs.
Born in 1954, he grew up in Scottdale, Pennsylvania. He attended Goshen College in the 1970s. (His third Times puzzle includes the entry GOSHEN [Indiana college]). He later graduated from Eastern Mennonite University.
After his constructing years, he attended Southwest College of Naturopathic Medicine in Arizona, graduating in 2009. He then moved to North Carolina's Outer Banks, where he practiced homeopathic medicine.
He passed away in 2017. His obituary noted, "He is remembered by all as someone with a great laugh, his big dog Bagel, walking the beach, and a passion for cooking and health."