This web browser is not supported. Use Chrome, Edge, Safari, or Firefox for best results.
XWord Info Scored Word List
A scored word list is one of a crossword constructor's most important tools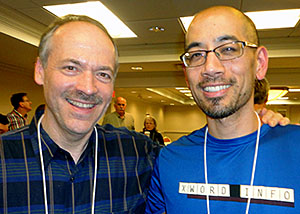 "XWord Info is a source of excellent tools for crossword constructors, including a scored word list for optimizing fill. I recommend it."
"It's fitting that GAME-CHANGER appears on this word list. That's what we've got here for crossword constructors."
A great word list can help constructors produce great puzzles. The new "XWord Info Word List" contains answer words from every NYT puzzle in the Shortz Era including Variety and Acrostic puzzles and even rebus crosswords, plus many tens of thousands more added by Jeff Chen. This huge variety of useful words is a treasure trove for constructors.
Additionally, most words are scored so you and your crossword construction software can make better and more efficient choices when filling a grid.
Words from the XWord Info Word List show up in Finder searches for Regular Users. Angels can also download that list to use with Crossword Compiler or with CrossFire.
Questions? Please read our Word List FAQ.
You don't yet have access to these links
You need to be logged in with an Angel-level account to see these lists.
If you already have an account, please log in now.
If you need to create an account, please pay now at the Angel level, and you will have Angel access until Monday, December 5, 2022.
Thank you for your support!
The XWord Info Word List (Angels only)
This list has 230,192 words scored from 5 to 60. New words are added regularly.
Download the XWI List as .txt for Windows
Download the XWI List as .dict for Mac
Jeff Chen's Personal List (extra cost)
Jeff Chen's Personal List is the constructor's gold mine. It includes everything in the XWord Info Word List plus 30,924 more high-value words scored at 60 that have never appeared in an NYT puzzle.
Jeff continues to update this list too, and a one-time additional fee gives Angels lifetime access, as long as you have a current Angel account.
See the Word List FAQ for more info or .
If you are already an Angel and want this premium list, you can send $200 directly to Jeff Chen using PayPal.
Download Jeff Chen's Personal List as .txt
Download Jeff Chen's Personal List as .dict