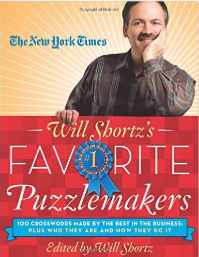 In 2015, Will Shortz was asked to pick his favorite puzzlemakers for a new crossword collection.
To simplify the decision, he set some criteria: each contributor had to be current with at least 25 published NYT puzzles at all skill levels including Sundays. The results are the constructors you see below.
Interestingly, the constructors themselves got to choose ten puzzles each, eight dailies and two Sundays, so you're seeing the ones they're most proud of.
Each constructor also has a brief bio. To read those, you need to buy the book.
Update: apparently in at least some cases, puzzles were chosen by the editor, not by the constructors, despite what the Introduction in the book says.
Across Lite files are no longer available, but you can solve each puzzle on the NYT website.
Click any date to see the full solution, or solve from the PDF where available.