Very nice puzzle that I would have picked as the POW! in many other weeks. Peter is so strong at taking full advantage of his long slots, converting them into colorful entries, while keeping his grids almost completely empty of short gluey entries. It's like those beautiful 3-D Chihuly glass installations, where you can't see any of screws or wires holding everything together, and you wonder how the heck he achieved it.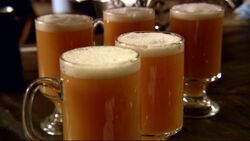 Peter is also really good at pushing and pulling at his grids in order to generate a couple of extra long slots. This "stair-stacked" center arrangement — BIODEGRADED over CAMDEN YARDS over JUDGE WAPNER — is something that many constructors can execute on. But how many stretch that middle section so that they can add MADE WAR, ONE NAME, and IGGY POP to an already juicy center? That's a great way to give the solver even more than they expect.
There's so much nice material packed into this grid. ERYKAH BADU (even this pop culture idiot knows some of her music) intersecting the central stairstack, and IVORY TOWER / NOSY PARKER running off of that? Wow, that's impressive. And on the opposite side, BUTTERBEER from Harry Potter (always something I wanted to try) with I SMELL A RAT is excellent work.
And to end the puzzle with SRSLY, texting shorthand kids these days use, that's fun. Gives the puzzle a little freshness.
The only region I thought had a little missed potential was the upper right. LIMEADE(S) has been in crosswords a bunch of times so it feels a bit stale to me, and AVERTED is a fine word but nothing I'd count as an asset. There's also ADDRESS BAR ... that feels fine, but perhaps not stellar. And I sort of know KID ORY because I played trombone for 20 years, and I *think* he's gridworthy, but I wouldn't count him as an asset.
Finally, sectioning Peter mentions does make construction immensely easier, able to tackle one portion at a time. It does cut off the NW and SE more than I would like, with just two entries connecting each section to the middle of the puzzle.
These types of items are picky; not things I would even mention for most other constructors. But just like Patrick Berry, I have to employ extremely high standards for Peter's puzzles, otherwise I'd give almost every one of his the POW.