Jeff Chen notes: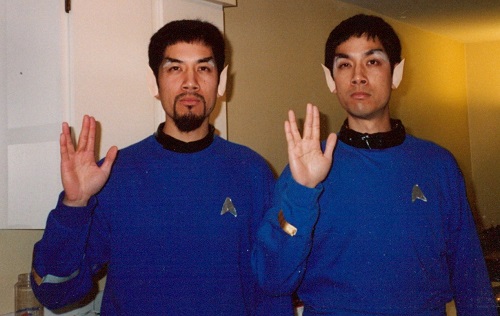 Nice start to the week, a vowel progression using S + the five long vowel sounds. I like that Kevin and Acme choose some wacky spellings like SIOUX instead of the straightforward SUE. Kept me on my toes. And the themers are well-chosen, a quintet of strong phrases. It's hard to argue with SCI-FI CONVENTION. I've never been to one, but I'm hoping my brother and I get a chance to use our Spock and Evil Spock (one guess as to which one I am) costumes again.
Great layout today. Vowel progressions necessitate five themers of course, which usually makes gridwork a little challenging. Many constructors would section off the grid into bunches of short fill to make things easier, but Kevin and Acme do well to leave four slots for longer fill. WHERE AM I, TIME FLIES, NON TOXIC, GET OVER IT! Four for four, if you ask me. Also, just as they've spaced the theme answers out, they've spaced these four long fill entries out too. Good spacing often is key in achieving sparkly, clean fill.
Since this theme type has been done quite a bit in the past, I would have liked a little more tightness. The first three had me smiling (aside from SAY HEY KID missing the important "THE" start), with identical three-word phrases (allowing for hyphenation is fine by me in this case) and three-letter starts. Perfect! The fourth made me pause, as the SO broke the pattern. Why not SEW? I wondered.
And the fifth went completely different with SIOUX. That's perfectly fine, but I think I would have really liked it if all the themers had fit identical patterns, or all of them had been completely different. Personal preference, of course.
Nice work in the fill today, really just the NE corner giving me a slight pause with its ONE TO, OR A, and OTERI. The last is a perfectly fine entry, and the SNL tie-in helps, but until she does something with her career like Kristen Wiig, I'll usually try to avoid using her in grids.