Neat pattern! A visual treat to drink in this sort of wide-open grid, the likes of which I've never seen before. I love that Joe takes advantage of underused mirror symmetry to do something cool, running a set of full triple-stacks through two other sets. Eye-popping.
This new type of development is something I'm willing to bend the rules for. Typically, my themeless solve becomes troubled by the presence of five(ish) or more gluey bits. Feels inelegant; too rocky for my taste. So usually I'd give a puzzle the stink-eye if it contained AS SIN / ONT / EPI / ABOO / NSTAR / ASA / SES / ERNS, and especially the oddball IN ICE. (If only Han Solo had been frozen in ice, not carbonite!) Although I did notice the preponderance of glue globs, the huge asset of such a cool visual impact outweighs the liabilities for me.
Still not understanding the great clue [Natural thing to feel] for ONEG? I was equally ired that only people with O NEG blood types feel natural! I mean, how blood-ist can you be! Oh. It's ONE G, as in the force of gravity? Well, that's a bit more natural.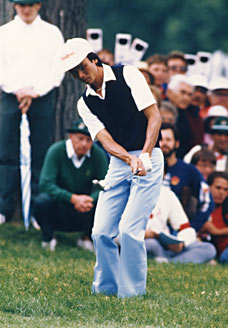 I do wish there hadn't been quite as many esoteric names. DIDI CONN and REYNOSA … huh. And as much as I like seeing CHEN in the grid, I had no idea who this TC CHEN fellow was. Felt familiar, but that's just because all us Asians look alike.
And there was the RESTS ON ONES LAURELS. Er, SOARS. OARS, dang it! A quick Googling shows only about 1,000 hits (with RESTS ON ONES OARS in quotes). Not a great sign.
Overall, a neat new development with a high wow factor. Would easily have been my Puzzle of the Week if the liabilities had been cut roughly in half.
ADDED NOTE: Matt Gaffney pointed out T.C. Chen's record collapse in the 1985 US Open. After reading more about him, and seeing some clips of how good-natured he is, I decided I like him.
Plus, he probably is related to me.