'Can we talk?' We would love to tell you that JOAN RIVERS was the seed entry for this crossword. However, if you look at our ...
read more
"Can we talk?"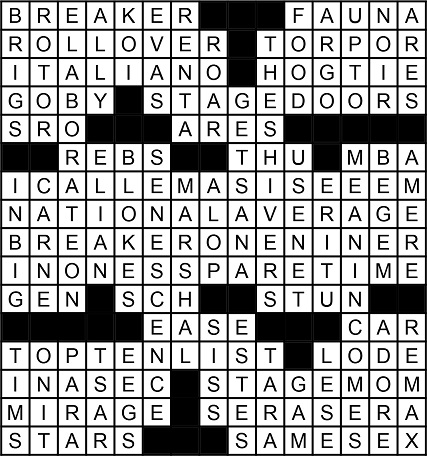 We would love to tell you that JOAN RIVERS was the seed entry for this crossword. However, if you look at our initial (and never submitted) version of this puzzle, the long down entry in the tenth column was originally THE_SHIVERS ("What a haunted house may give you"). Here is how this puzzle evolved:
In June 2014, the two of us started collaborating on some original strategies to create novel quad stacks with fewer obscurities and fresher entries than are common for this genre — a story that will have to be told in another place at another time. The present grid, the sixth that we decided had enough promise to pursue seriously, started to emerge toward the end of July. An immediate concern was that the customary request from a trucker to interrupt an ongoing CB radio conversation is most commonly reported as BREAKER, BREAKER ONE NINER. After some discussion, we decided to try what we thought was a neat rule-breaking trick, putting the first word (BREAKER) at 1-Across, and having the 15-letter BREAKER ONE NINER cross-referenced.
However, once we started cluing this grid, we realized that "Words from a good buddy" worked equally well whether or not the answer grid had one or two BREAKERS. Therefore, we decided to redo the northwest corner and remove a black square that had previously been needed to accommodate BREAKER, and as long as we were at this, continue to try to improve other portions of the puzzle. Thus, we also removed a second symmetrically placed black square in the southeast corner and tried to remedy the inadvertent inclusion of two phrases both starting with STAGE.
In the midst of the aforementioned rework, we noticed that JOAN RIVERS could fit in nicely — this was weeks before she checked into a Manhattan clinic for a minor medical procedure, and wound up having her final life battle headlining the tabloid and mainstream media in print and on on the air. Thus, our inclusion of the late comedienne in our puzzle is a complete coincidence. Nevertheless, the day after she died, which was a little over two weeks after we submitted the puzzle, we heard back from Will Shortz, who mentioned that due to 15-Down he might run the puzzle soon. The terrific and unusual eight-line clue for 15-Down, along with many other fine, fair clues, were written by Will. In all, well over half of the clues in the puzzle are Will's, invariably for the better. We do hope that solvers, regardless of any earlier notions about quad stacks, enjoy working through this puzzle.