Paolo's Sunday debut! I like how he's been stretching himself as a constructor, first doing themelesses, then early week, and now a Sunday 21x. Very cool to see a person push and stretch themselves.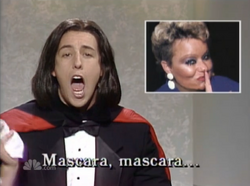 The theme is pretty straightforward — phrases where one of the words has its first letter moved to the end, to produce funny results. I had mixed feelings on them, as DAME CHEESE (EDAM -> DAME) is amusing, but HEAR PERLMAN and SENATE IDEA felt more dry.
I really liked the ESPRIT -> SPRITE find, as it's neat to see that long word get an interesting transformation. It's too bad that the rest are short words, just four or five letters. There are so many dozens (hundreds?) of short words that can be transformed like this, so the puzzle felt a bit loose for my taste. Would have been great to get a few more 6+ letter ones — that could have tightened up the theme.
His grid is quite nice — it's clear that all his prior work has helped him develop the skills needed to tackle the daunting 140-word 21x Sunday puzzle. Take his upper right corner, for instance. That type of 8x3 chunk is not easy to pull off for a newer constructor, but it's a very common phenomenon in themeless puzzles. Paolo does so well here, with THE FORUM, SI SENORA, and OPERAMAN. What a great set of entries! With only TSO a little rickety (and saved by a good historical clue), I doubt Paolo could have pulled that off without all his work in themeless grids.
I would have loved some extra element — a tighter theme (all names? all verbs to nouns? something else in common that tied the themers together?), more transformed words of six or more letters, something spelled out by the new first letters — but it generally works as a straightforward theme. And it was awfully nice to get some snazzy bonus fill like DOPESLAP, EGGHEADED, ABSINTHE, etc. Enhances the solve to get so much themeless-quality fill.
ADDED NOTE: Wish I had caught REAR ENDED (highlighted below). Neat how that term literally describes those nine letters. Would have been great if some clue had alluded to it, or the letters had been circled — I have a feeling that a lot of solvers will miss this element. I'm glad that Paolo pointed it out! That's the kind of extra layer I was hoping for, making the puzzle feel tighter, more elegant.