AUTOTUNE! If you haven't already seen "The Unbreakable Kimmy Schmidt," it's well worth watching if only for the autotuned opening song. I thought the show had its ups and its downs, but even the bad episodes were made palatable by that awesome theme.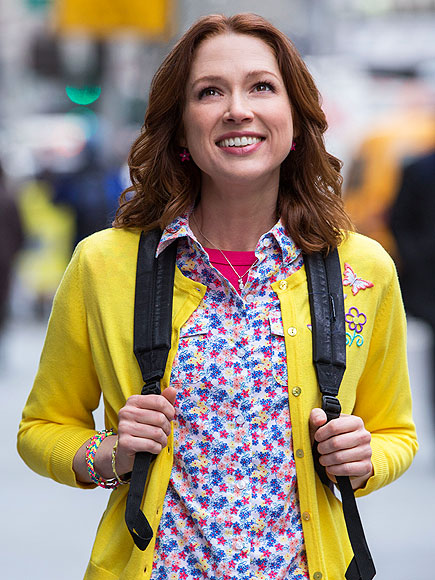 Interesting layout today, featuring only 10 answers of 8+ letters. Most of those were pretty strong — DRAG SHOW, ONLINE AD, and HULA SKIRT some of my favorites — but I wasn't sure if GET WEIRD felt natural enough. Is GET BAD or GET CONFUSED or GET WILD equally acceptable ... or just weird? Not sure.
So that places a lot of pressure on the seven-letter answers to generate color and snazz. Of the whopping 18 (!) seven-letter entries, some are quite good. DAS BOOT gets a great clue, describing a amusingly-named drinking vessel. PACHISI teaches us a bit about the etymology of the name. CANKLES is a funny word, although I don't know how well this will go over with certain solvers. (The term is a portmanteau of "calf-ankles". Do yourself a favor and don't look up pics.)
Normally, I love the onomatopoeia of KERPLOP … but as Ashton mentioned a while back, he likes to search for fill where adjacent or crossing answers relate, giving mini-themes. I'm not such a huge fan of KERPLOP crossing TOILET in my morning crossword. Ahem.
STAY DRY and TALK BIG also hit me the same way as GET WEIRD. TALK A BIG GAME, for sure. TALK BIG? Dunno. STAY DRY … okay, it's legit, as in a mom saying ["Keep out of the rain!"]. Perhaps more of a neutral entry for me.
So with a decent (but not outstanding) number of grid assets, I'd expect the shorter stuff to be pretty darn clean. James and Ashton do pretty well in this regard. TKTS is a bit awkward and KERB is pretty out there, but neither is puzzle-killingly terrible. And while some people will hate CAGER, there seems to be dictionary support for it.
Overall, some strong vocab, as well as some that didn't quite hit for me.