Remember that Skittles tagline, "Taste the rainbow!" Today, we solve the rainbow. Er, solve the rainbow using a purple for indigo + violet substitution.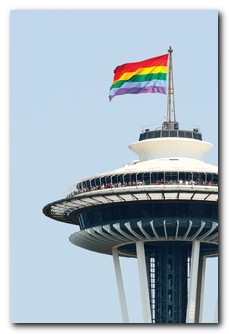 So more like, solve the rainbow, but only in a manner of speaking. Esque. Ish.
It's no surprise that I stayed out of marketing.
(start sheepishness) I didn't realize this puzzle was supposed to be the rainbow flag — which has only six colors, not seven! Jim pointed that out to me after I groused about not adhering to ROY G. BIV. I'm especially embarrassed since pride month is huge here in Seattle. There are rainbow flags in every other storefront. (end sheepishness)
I enjoyed the entries that didn't work without the color. BAY PACKER means nothing by itself, but a lot of cheeseheads are going to enjoy seeing (GREEN) BAY PACKER in the grid today. Same goes for LANTERN – what a boring name for a superhero. GREEN LANTERN, now that's much better!
On the flip side, the path to an Oscar could be just a CARPET. And PEPPERS are salad items. Not completely necessary to think of these as (RED) CARPET and (YELLOW) PEPPERS, yeah? So they don't work as well as the other themers.
Interesting choice to work in ADIOS AMIGOS and OFF ONE'S GAME. Both a super solid pieces of fill. But they do masquerade as themers at first glance since they're the longest across answers. I might have preferred to break them up since AP SPANISH and PASTORATE are good enough bonuses for one puzzle.
Some nice finds, and excellent gridwork – so many short theme answers to work around. Check out how many down answers run through three themers, which usually is a huge problem. Amazing that the grid is so smooth.
Colors of the rainbow have been tapped for crosswords a bit too often, so something amazing has to be done to catch my attention. This one wasn't quite there for me. If PRIDE MONTH or RAINBOW FLAG had been in the grid somewhere (catching this unobservant idiot's attention), that could have done it. Heck, use one of those as a title, and it would have gotten some POW! consideration.