So cool to find out that Ross, who I've come to admire as an up-and-coming constructor, is related to Garry Trudeau, who I've long admired! I used to be a huge "Doonesbury" fan. I love it when artists use their power to needle people who need their power checked, and Trudeau got some great zingers in on both Bush 41 and 43.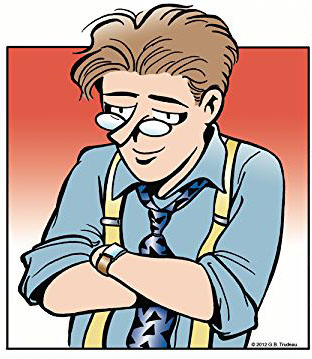 They team up today to give us STAND UP COMICS, i.e. comic strips "standing" in the vertical direction. I liked best the ones that they obfuscated – GARFIELD masquerades well as the former POTUS, James A. Garfield. BABY BLUES commonly describes a set of "dreamy eyes," but it's also the name of a hilarious comic strip about a family raising their kids.
And MUTTS! One of my favorite strips of all time. So gentle, the adventures of Mooch and Earl. YESSH!
(If you haven't heard of BABY BLUES or MUTTS, I give them both a high thumbs-up.)
TIGER is … another comic strip? And OPUS confused me since I was a daily "Bloom County" reader. But apparently, there was a follow-on OPUS comic.
DICK TRACY is one I knew right away, even though it's been years since I read a DICK TRACY strip. But there's no real way to disguise it, a la GARFIELD or POGO. A bit too obvious, taking away from the a-ha moment in the end.
The clue for STAND UP COMICS confused me – I've seen DC COMICS played upon with Dane Cook and Dave Chappelle a couple of times now. Why use these guys as examples? Why not Margaret Cho, or George Carlin? It felt misleading to use those two D.C.-initialed guys.
So much bonus fill! AFLAC DUCK, SERENADE, MEAN GIRL, etc. Perhaps shading or circling the theme answers would have made them stand out better, amongst such great background stuff? As much as I loved those extras, they muddled up the puzzle a bit for me today.
Nice addition to the celeb crosswords series. Great that it was so directly tied to Trudeau's profession.