Fun idea, JACK and the BEANSTALK theme today, with the GIANT at the top. I like the visual, imagining JACK at the bottom, about to start on his quest to the top. The FEE FI FO FUM also nicely bounced about, echoing back and forth across the puzzle.
We had another Jack and the Beanstalk theme a while back, but I like that Will put enough time between them so that not everyone will immediately remember. Another year or two would have been ideal, so people with annoyingly OCD brains like mine would have a chance to forget, but two years is pretty decent.
This is a tough grid to work with. Placing that BEANSTALK right down the center forces four big corners, often a challenge to fill. The NW corner comes out pretty nice, a Scrabbly X in OXIDIZE, and REARLIT and SET AHEAD aren't bad. I like EZINE as a term too, so overall it's clean enough to do the trick.
Oh, that tricky SW. I'm in agreement with Will (and Bruce) that the original could have used some cleanup. I do like that the new SW is much smoother. I don't like that SARG / FREEH / GERARDO area, though. GERALDO feels totally fine to me, as he had his own national TV talk show. And although "Rico Suave" rings a bell, GERARDO does not. Could just be my ineptitude in pop music, but that region feels potentially unfair to a big market segment of solvers. "Unfair" is such a subjective term, but "satisfaction" is something that can be measured more easily.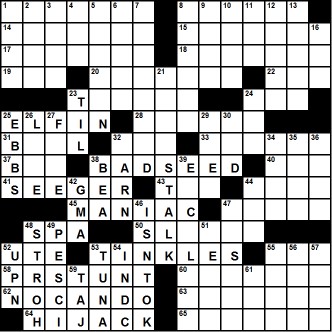 Out of curiosity, I tried my hand at it, and with the given constraints, I couldn't do any better. But I don't think that's a good reason to stop, given how important solver satisfaction and that feeling of "fairness" is. I tried adding a set of cheater squares, which helped a lot (left) and still retained Bruce's great NO CAN DO. The visual does suffer slightly, but I think it would have been a better trade-off. I'm sure there are other ways to do it; perhaps lifting JACK to intersect the K of BEANSTALK?
On that note, I would have liked more oomph to the visual. It's neat that the BEANSTALK is growing down the center of the grid. But I find it odd that it's sort of suspended in midair. How is JACK going to reach it to start climbing? Additionally, it would have been great if MAGIC BEANS had somehow been incorporated, perhaps percolating under the earth. Regular crossword symmetry of course prohibits this sort of thing, but maybe mirror (left-right) symmetry could have enabled a crisper and more lively image.
Anyway, an interesting take on the fairy tale. A good idea to bring it to a 15x picture, with a fun visual of JACK, the BEANSTALK, and the GIANT.