Jeff Chen notes:
For those Bee Gees fans out there, I'm sure this one resonated well. Not knowing the names of THE BEE GEES though (I might — ahem — or might not have thought each of their last names was "Beegee"), made it a little confusing for me.
I enjoyed uncovering the themers. Who doesn't like a little BARRY WHITE to get you singing "Can't Get Enough of Your Love, Babe," a tribute to ROBIN WILLIAMS, and a nod to one of the most beloved children's book authors of all time, MAURICE SENDAK? I had trouble figuring out why THE BEE GEES were related to these three, and I got especially confused by the final GIBB revealer (are you sure "Robin Beegee" doesn't sound familiar?), but a quick search made sense of things. A head-scratcher for me, but 1.) I liked learning a little about THE BEE GEES, and 2.) I found it a nice discovery, that three famous people shared THE BEE GEES' first names, even though they're not exactly Tom, Dick, and Harry kind of everyday names.
Joel does quite well with his construction, placing GIBB in a reasonable position. It would have been nice for it to be at the final across answer, but those terminal Bs can cause all sorts of problems given the additional constraints. I appreciated the effort to get in BULL MARKET and TAKE A STAND, two lovely long answers.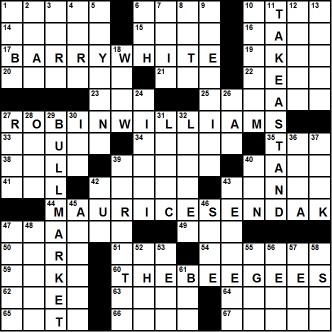 One nit to pick, I feel like the puzzle could have been structurally strengthened by moving some black squares around. Check out the BULL MARKET / HARD TASK region — having two crossing pieces of long fill usually causes some difficulties by itself. Given the CRADLE 6-letter slot in there too, that's bound to result in trade-offs. Not a huge fan of HARD TASK (I put in HARD WORK, and convincing myself that HARD TASK was actually a thing felt like hard work), and ULT isn't great. It would be a different story if HARD TASK had been a strong answer, worth a piece of glue like ULT. I might have shifted the blocks around as seen to the left, and there are dozens of other arrangements that could work as well. 76-worders are so much easier than 74-worders in terms of packing in a few more nice long downs.
I'll likely still mix up whether the more famous ANDY GIBB was a BEE GEE, but now I can say that it's ridiculous to think ANDY BEEGEE was one of the quartet. Er, trio. Hard work, indeed.