I thought I was so smart. As soon as I uncovered HITTING STREAK, I raced down to 62-Across to enter one of the greatest hitters of all time … TED WILLIAMS. As it turns out, TED WILLIAMS was not only a left fielder (not a CENTER FIELDer), but he wasn't a YANKEE.
It's amazing that anyone actually listens to me.
Tribute puzzle today, lauding one of the greatest accomplishments in all of sports, a record likely never to be broken, the historic HITTING STREAK of the great TED WILLIAMS. Gah! JOE DIMAGGIO had such a place in the forefront of American culture back then, not only being one of the premier sports stars of his time, but gaining even more notoriety with his tumultuous relationship with Marilyn Monroe. Definitely a crossworthy guy.
A tough grid today, forced by the plethora of short themers. A 11/7/6/13/6/7/11 pattern … that string of seven numbers looks just crazy, doesn't it? Four black squares must get deployed right off the bat to split up HITTING / STREAK and YANKEE / CLIPPER, and spending your black squares early usually makes things difficult. Often, that sort of segmentation leads to excessive three-letter words or necessitates unsightly glue bits to hold sections together. I also find that having so many little themers makes things feel choppy, having to jump around from one themer to the next to the next.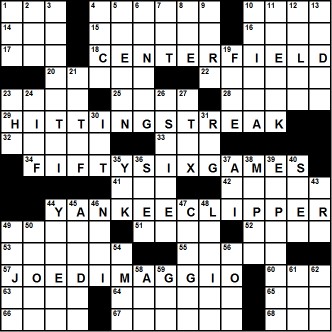 It's technically possible to do a 11/13/13/13/11 arrangement, which would help the flow of the solve (a rough skeleton sketched out to the right). But that'd call for some ugly chunks of black squares on the side — not really visually appealing, is it? Hardly ever easy; always the trade-offs.
As with most straight-up tribute puzzles, I finished wanting a little more. It would have been incredible if JOE DIMAGGIO had somehow crossed MARILYN MONROE, yeah? Or maybe FIFTY SIX GAMES had appropriately come at 56-Across? How about featuring his other great nickname, JOLTIN JOE? I like a tribute puzzle every once in a while, especially if it's around a timely anniversary, but the best ones usually have that je ne sais quoi that make them stand out.
Finally, some really nice pieces of fill in the NE and SW. Those themeless-like stacks can be really rough to fill when one themer runs through them — it's way more than twice as difficult when two themers constrain them. With STREAK and FIFTY SIX GAMES handcuffing that corner, getting SUSPENSE / ON HIATUS / SHOCKER with very little price to pay is a treat.