Fun experience today, trying to figure out what these people had in common as I went through the puzzle. I had no idea each of them had a twin — pretty cool, considering I'm an identical twin myself, a member of the UW Twin Registry, and have participated in twin studies. (The electrode experiment was surprisingly mild. And shockingly fun.)
The number 13 carries so many negative connotations in our society, and much of it is based on superstition. But in crosswords, there's a real reason to be scared. Patrick Berry calls the 13-letter entry an "inconvenient length," and for good reason.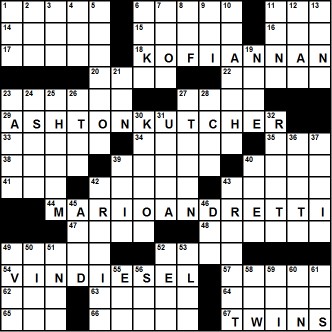 ASHTON KUTCHER and MARIO ANDRETTI force a difficult layout issue: go big, like Tom did, or take the chicken-hearted way out (see grid to left). The latter makes filling so much smoother, but check out the ugliness of those giant black square chunks.
Tom's approach is one I almost always prefer, since it allows for great fill like CHICK MAGNET and MONSTROSITY. But today, because Tom goes really big with the extra entry TWINS, each of those long pieces of fill must run through three themers. Talk about high constraints. Along with IMAGERY and SAUNTER (both nice), the constraints result in a smattering of OBE and IZE, plus a tough crossing of Michael IRVIN and VIN DIESEL. I don't mind IRVIN at all, as he was a game-changing WR for the hated Cowboys, but along with other esoteric names — PATTI, ASHER, EARLE all nearby — it felt like too much.
It's hardly ever easy when you shoot for the moon. But I generally like the trade-off here.
The theme made me curious enough to look up all the not-famous twin halves, and I was disappointed to see they weren't all identical. There's something inherently fascinating about having essentially a clone. My brother's babysitter once saw me and my wife out to dinner and was aghast, thinking that my brother was messing around. Then there was the time one of my brother's friends followed me around a grocery store and out to my car, all the time covertly spying on me. No, that wasn't creepy at all.
It's really neat that MARIO ANDRETTI has an identical twin brother. It's not nearly as neat that KOFI ANNAN had a fraternal twin sister. Now, if she looked exactly like him …
Finally, loved the clue for PHARAOH; a "pyramid schemer" indeed. Great to see that type of playfulness on a Monday.