Five things I think I think: 1.) Beautiful NW/SE corners. It's so hard to stack four long entries atop each other and keep them ...
read more
Five things I think I think:
1.) Beautiful NW/SE corners. It's so hard to stack four long entries atop each other and keep them both lively and clean. BROMANCE / EASY POUR / NTH POWER / TEAR GAS with MY PRECIOUS is beautiful work, with just the tiny EER as a blemish. Just about the prettiest corner I've seen in a long time. How is it possible to pack so much great stuff into such a small area?
2.) Julian does deploy a lot of his black squares in order to segment those corners. Perfectly fine, but it does make filling the rest of the grid a bit harder. That central section is a biggie — awfully tough to fill an open area featuring a lot of 7's and 6's. He does well there, using a bit of neutral stuff like VARIED and SERIES to cement some nice answers in place.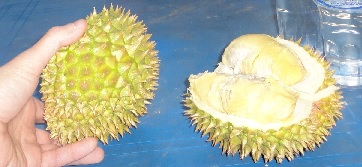 3.) For those of you who don't know what DURIANS are, they're a divisive power in Asia. Some people (like Julian) go crazy for them, others (like me and the rest of the sane world) say they don't pass the breakfast test. They smell so horrifically bad (sorry Julian!) that some hotels in Malaysia have "NO DURIAN" signs. When Jill and I were there two years ago, a cabbie talked about how sad it was he couldn't eat his beloved DURIANS in his car because he would lose all his customers for the day. Go figure.
4.) Just EER / RTE / AGNI / A GOB felt like a fairly low price to pay for the sheer quantity of great entries — I count roughly 15 entries toward Julian's assets; a huge number. If it hadn't been for that pesky DRURY / IDY crossing, this would be POW material for me. Even for a Saturday puzzle where solvers are expected to know more, to be able to figure out crazy wordplay, I find this crossing unfortunate. Even if it might be deemed fair because Drury Lane is well-known enough in the theater community, I think this corner's going to detract from overall solver satisfaction.
5.) A shame that contract bridge isn't as wildly popular as it used to be. One very useful bidding convention is called "reverse DRURY." As I keep on telling anyone too slow to run away, bridge would solve all the world's problems.