Liz gives us the INSIDE DOPE today, four instances of DOPE broken across two words. A 10/11/9/11/10 in a 74-word grid is a tall order. Five theme entries already increases your level of difficulty, making the middle one nine letters ratchets it up further, and shooting for a 74-worder puts the triple hurt on a constructor.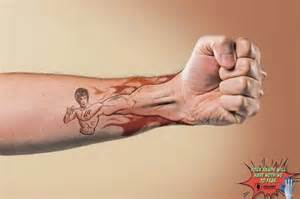 I like the ambition of it, especially in all the long fill Liz had to incorporate. You'll almost always win my heart with BRUCE LEE in the grid, one of the few true Asian superheroes. Many a time in my youth I got saved from getting into a fight because kids assumed I knew kung fu. I didn't correct them, and I'll leave that ambiguous in case any of those people are reading. (If you are, I do.)
In the same vein, PHASERS in the same puzzle? You had me at BRUCE LEE, but dang! If only BRUCE LEE had been armed with two PHASERS in his movies, people would still be intimidated by me.
I had quite a bit of trouble finishing, actually giving up in the NW corner. I don't think I've ever been so happy to see a RRN (random Roman numeral) as I was to see LII. Even then, GRAND OPERA is something I'll have to add to my vocabulary, and the proximity of the random river and the Madonna song I had never heard of made it tough. If only I had paid attention in art class with BERNINI, everything might have fallen. As much as I like the high-class nature of BERNINI and GRAND OPERA, it would have been so nice if they hadn't crossed each other.
I tend to prefer hidden words when there isn't solely one single hidden word. Synonyms for DOPE would have been a nice touch, perhaps ASS, FOOL, TWIT, etc. hidden? It was good to read Will's comment about this puzzle being three years old. The crossword art form evolves so rapidly these days.
But overall, a good amount of fill tickled my fancy today, BUYS OUT one of those finance terms I personally dig, and a great clue for LIME TREE. "Why on earth would you pick fruits when they're still green?" I asked myself, just before head-desking.