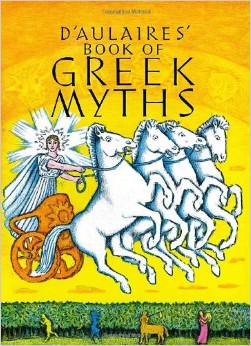 As a kid, I spent many hours, many days, many weeks, poring over "D'Aulaires' Book of Greek Myths." I love Greek mythology. I mean, I REALLY love Greek mythology. So it was fun to see the legend of the MINOTAUR featured in today's puzzle.
I like that Greg was able to work in quite a bit about the myth. One compelling feature of this story for me was the THREAD that ARIADNE gave THESEUS, which helped him find his way back through the LABYRINTH. I still picture with fascination a hero winding his way through the world's most complicated maze, a ball of thread in one hand, a sword at the ready in the other.
And with all the constraints, I liked that Greg managed to keep everything pretty clean. There's an A DAY and an ITS AT, plus RINSERS to accompany LOADERS, but given how much theme is worked in, that's really not much at all. KING MINOS did come easily for me thankfully, since that ABIDJAN / KING MINOS crossing would be rough for someone not familiar with the legend. THESEUS or the MINOTAUR, yes, those are names I think the NYT solving population really ought to know. KING MINOS is pushing it, so I would have liked to see fair crossings on all of those letters.
Wondering about ABIDJAN, listed in Wikipedia as the second-largest French-speaking city? Will and Frank and I had a long exchange about that, deciding that the "metropolitan area" definition of city is better here than "administrative city center." Seems odd to say that Paris has only two million residents, yeah? So although some reliable sources say differently due to their implied definition of "city," the best order seemed to be 1.) Paris, 2.) Kinshasa, 3.) Abidjan.
Overall, I wish there was a better visual representation of the legend — it's too bad Greg's original was just too different from the crossword mold. And the poor MINOTAUR, penned into a single square like a cow.
Finally, great clue for LEGOS. Getting all of the Greek mythology was a treat in itself, but to get the misdirection of thinking about which kids might stick together in a playroom was another highlight.