This puzzle started with the bottom stack, a lonely orphaned 4x15 sitting in my file of unfinished projects. The problem was that any potential top stack was going to be quite restricted, by the symmetry created by the bottom stack. After a couple of months, I decided to try the ultimate stack-maker's "cheat": loading up the bottom row with esses. So after grappling with my conscience for a full three or four nano-seconds, I hit upon STEMLESS GLASSES. If most of the Downs (through the top stacks) had not been rock-solid (with the sole exception of CTNS) I would have abandoned the STEMLESS GLASSES route and gone back to the drawing board.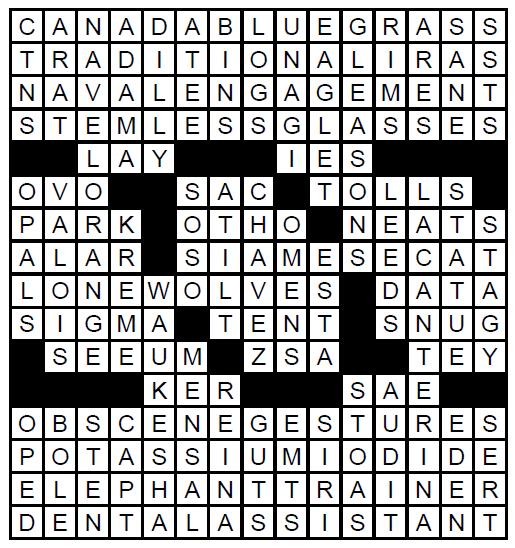 This, as is so often the case, created a whole new set of problems: I couldn't for the life of me get the centre of the puzzle to work, unless I enlarged the grid and made it a 15x16. To make matters worse, PALESTRINA had to extend into a relatively obscure Haydn opera LA CANTERINA.
And finally, what I needed was a good LOGS??? entry to match a potential ???GUTS at the bottom. Unfortunately I had a mental block, thinking of only computer-related LOGS OUT, LOGS OFF, etc. Finally it dawned on me that those LOG SHIPS that sail up and down the (Juan de Fuca) strait less than a 1/2 mile from my house might come in useful (I live in British Columbia; major export = logs)!
Keen-eyed observers will notice that I've developed an obsession with circus elephants. Last month, I gave you TRAINED ELEPHANT, and today it's ELEPHANT TRAINER. I'd love to say this is a super-duper circus theme that'll run though my themeless puzzles, but alas, I cannot. These puzzles were constructed over two years apart, with dozens of other puzzles written and published in between, so the mini-dupe caught me by surprise when I noticed it a few days ago (that's my excuse and I'm sticking to it!).
Finally a shout out to Kevin Der for paving the way back in 2010, by getting the whole double-quad-stack thing going. Coincidentally CTNS was also a stack-crossing entry in Kevin's pioneering puzzle. So you can think of CTNS as my tribute to Kevin Der, or maybe just a poor 4-letter fill word I'm desperately trying to justify using!
Anyway, I hope you'll find the rest of this puzzle, minus the circus elephants, trainers, and CTNS an enjoyable and challenging solve!