Jeff Chen notes: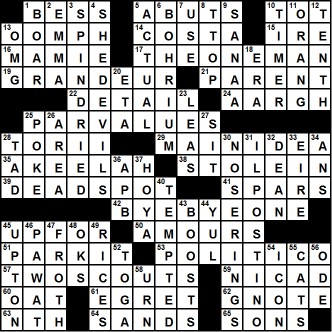 The grid to the right is what happened when I tried to do this one on my own. (I felt there had to be a progression from BOGEY to PAR to BIRDIE to EAGLE.) I didn't really like the themers. The fill. The layout. The solving experience. The author. But I proudly showed it to Jill.
"Hmm," was her reaction.
She's very considerate of my feelings. Canadian-esque, I might say.
Thankfully, I had the wisdom (dare I say, genius) to bring her on board so we could tear it down and create something a whole lot better. Sometimes I wonder how my wife's brain works. Normally when someone says "I need a seventeen-letter phrase incorporating the word EAGLE," you don't expect people to respond. Ever. (Then again, people often ignore me. For good reason, I'll admit.) But Jill blurted out THE EAGLE HAS LANDED within roughly 16 microseconds. I did some puffing out of my chest and blurting out things like "well, that one's kind of obvious, isn't it?" But I deigned to go with it. So generous am I.
The gridwork was a bear. Stacking PAR above or below each of the themers proved incredibly challenging. There was no intention to purposefully have POOL PARTY and WATER PARK be such long answers — short answers like PART and PARDON failed miserably in roughly a thousand-billion different ways, none of them quite working. Finding this particular arrangement was just a stroke of luck, one of those things where if you try a thousand different things, one might actually work.
Hope you enjoy! (And for those still confused by the theme, EAGLE, BIRDIE, and BOGEY are golf terms for two under par, one under par, and one over par.)