Jeff Chen notes:
I still chuckle at Paolo's interest in Seinfeld. It's one of my favorite shows of all time, having spawned so many phrases in use today — but it aired back when I was Paolo's age. It's cool to see how someone from a generation (or two?) behind me shares for all things Seinfeldian. Hands up if you filled in MANSIERE for MAN___! Okay, MAN PURSE is pretty good too, but the "bro vs. mansiere" (a support garment for men) would have made me laugh so much. I'm super curious if that might have been Paolo's original seed entry.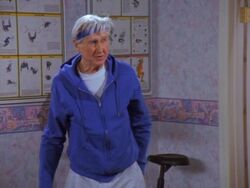 And ITS GO TIME! I laughed so hard when I realized both Paolo and I were thinking "Mandelbaum, Mandelbaum, Mandelbaum!" (Sorry, non-Seinfeld fans — go watch the series. You won't be sorry.) That phrase right below BRING IT ON = a brilliant pairing. I've been appreciating more and more when themeless constructors figure out ways of putting related entries adjacent to each other.
Paolo uses a grid heavy on seven-letter entries, and some of them are great. BAR BETS always amuse me (especially those employing a trick of physics), BAD EGGS and USO TOUR are nice, and although STAN LEE is just an abysmal actor in his movie cameos, I greatly admire what he's done. He's been so incredibly productive.
As with many seven-letter-heavy themelesses though, I agree with Paolo that there was untapped potential. Entries like WRESTED, GLEANED, EPITOME are fine, but they don't give me the same elation as ITS GO TIME! And ESSENES is a valid word, but constructors have been relying on it so heavily over the years, what with all those Es and Ss so useful in a terminal spot.
I would have loved to see what Paolo could have done by shifting the three black squares above BIG EATER up one row — BAD EGGS / I LOVE LA / GLEANED is a decent triplet, but it felt like a triple of eight-letter words might have made that lower left corner stellar.
With just a bit of ARE NOT (any [Playground comeback] isn't great), DONA (tough Portuguese), TOD (esoteric cartoon name), Paolo holds his grid together well. Some potential left on the table, but man oh man do I love the Seinfeldian feel of Paolo's work.