Some funny results today involving a sound addition, Mountain Dew to MOUNTAIN DUET, Vanity Fair to VANITY FERRET (hilarious!), magazine rack to MAGAZINE RACQUET. I was never sure of the pronunciation of CRUET (crew-eht, not crew-ay). Huh. Now I know.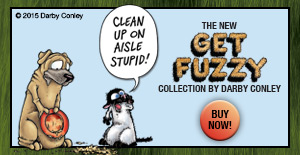 Far and away, my favorite section was the lower left, with GET FUZZY crossing PLOTZ. I recently introduced my 11-year old nephew to the hilarity that is GET FUZZY, with Bucky Katt's poorly thought out evil schemes, and Satchel's innocent dunderheadedness. And PLOTZ is Yiddish slang to faint away in dramatic form, as in "that drama queen just plotzed!" Love, love, love that bonus fill. The L of PLOTZ is going to be tough for people who don't know that or NALA of "The Lion King," unfortunately. I can see an argument that it's not particularly fair.
I also liked entries such as SCHERZO, ASGARD, SNUCK UP ON, but overall, I felt there was too much crossword glue for my taste. The theme density is a little high, given that all four themers are long. But still, I noticed the little bits everywhere, from ETHNO / ENVIRO — two prefixes crossing each other — to a smattering of TAI, HTS, OPP, NEOS, ENNE, etc. Some of it is in the name of working in great fill, like NATCH, but man, the price to pay in that north region is steep.
Will has mentioned that he's trying to phase out SDI, Reagan's "Strategic Defense Initiative." I actually don't mind it that much since the so-called Star Wars defense system was a big topic of discussion when I was a kid, but I see where he's coming from — those acronyms are rough. It looks almost necessary given the layout, stuck in that highly constrained region between SNUCK UP ON and LACE INTO.
LACE INTO … dictionary says it's legit, as "attack, devour, or scold." Still, it's not my favorite use of a precious 8-letter slot.
Some amusing results generated off of solid base phrases, with some rocky points. Still, the image of Satchel Pooch PLOTZing away gave me a huge smile.