Robyn is quickly becoming one of my new favorite themeless constructors. I've loved her voice in the past, what with glorious seed entries such as MADE YOU LOOK, MIRACLE MAX, TRACTOR BEAM, RON WEASLEY. Sometimes you feel like you're right on the constructor's wavelength, and Robyn knows how to tickle my fancy.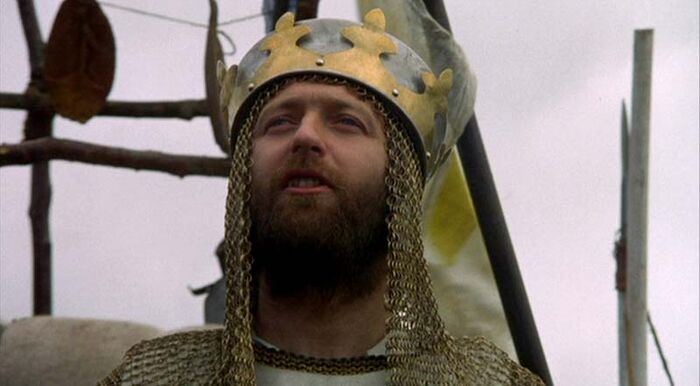 Sure was the case today with LIVING DEAD, KING ARTHUR clued to "Monty Python," and that delightful WINEMAKER clue, [Port authority?]. Beautiful stuff!
Better yet, Robyn's been honing her work, continually perfecting her craft. I'd found some of her prior themelesses lacking in grid flow (choke points cutting off sections of the grid from each other), or using too much crossword glue. Not the case today! There's an ESTE and AMAN, but I'd happily take those for all the goodies she worked in.
And the goodies! Starting off with 16 long (8+ letters) slots is a tough ask — most constructors will manage to convert maybe only 10 of those into sizzling entries. Robyn used hers to the (miracle) max, SOUND BITES, FLOORS IT, I SMELL A RAT, etc. No THERE THERE needed, because everywhere I turned, more great stuff.
Perhaps NATTERED was more neutral than an asset? But even that is a pretty fun word. JEREMIAH may be dull for some, but what a great nickname in "The Weeping Prophet"!
And the cluing! WINEMAKER's clue was the highlight for me, but such an innocent [Full of ups and downs] for HILLY. [Make a (GARDEN) bed?]. A TUNER gets you from station to station (not a train). [School card] wasn't a report card, but a card, as in a joker; a CLASS CLOWN. So entertaining!
Loved this one. As much as I like variety in themeless constructors, Robyn is one of the few people whose byline I'd like to see perhaps once a month. Maybe more.