Gary gives us the SPIN CYCLE to accompany Byron's recent RINSE CYCLE puzzle. A strong choice of themers, UP IN SMOKE and HMS PINAFORE my favorites. The latter makes me smile, thinking about Bart Simpson tricking Sideshow Bob into singing the entirety of HMS PINAFORE in order to stall for time.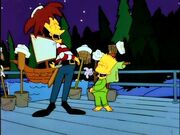 Given how easy it is to find phrases with INSP and NSPI somewhere within them, I might have liked a bit more diversity rather than two Hollywood men. A bit of searching turned up such fun ones as SHIN SPLINTS, HUMAN SPIDER, GOLDEN SPIKE, or my favorite, THE GOLDEN SPIRAL.
I really appreciated some of the longer stuff like LAY A TRAP, PET SCAN, ARSENAL, OVER HERE. MASH NOTE felt a bit fusty, but even that was kind of fun.
And in general, I think Gary did a very nice job with his short fill … with one glaring exception. Now, I debated whether or not this is way too picky, but I'm a steadfast believer in making early-week puzzles accessible to all kinds of solvers. I'm a huge jazz fan, but OLETA Adams only vaguely tickled my brain. Crossing that with "It's ___ Thing" got me hung up. "It's A MOVE Thing" sounded like it could be a pop/dance song just as much as "It's A LOVE Thing."
On one hand, it's only one square. On the other, I think a puzzle should ultimately set up the solver to beat it for a feeling of euphoric satisfaction. Just one square can leave such a bad taste.
That said, the rest of the puzzle is really well executed. Impressive to have so much theme material, plus a few longer pieces of fill, and only require A TIE to hold things together.
As Gary humbly mentioned, I liked the elegance of Byron's execution better — neat to see the cycling all in a column like it was in a washing machine — but Gary's puzzle still entertained me.