Jeff Chen notes:
ML pointed out how the word COGNOSCENTI (or its singular COGNOSCENTE) was both interesting and appropriate to crossword people, and as usual, we were off to the races. After much iteration, we were able to come up with a center triple-stack all (loosely) related to "The Cask of Amontillado," one of my favorite Poe short stories. (Fortunato is a snooty COGNOSCENTE of Amontillado, and Montresor exploits that hubris in his plan for revenge.) When we realized Halloween would be on a Friday this year — ripe for an appropriate mini-theme — it felt like kismet.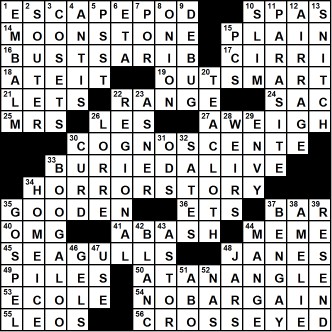 We actually finished a first version with more blocks and more words (see left), which surprisingly turned out to be a little harder to fill well. Unusual for that to happen, but sometimes the letter patterns do tricky things. I was a little skeptical of SATE SAUCE, but a quick check with some of my Malaysian friends came back with the result that SATAY SAUCE in fact was the "incorrect" one (along with some appropriately snarky comments about how they wouldn't eat our Americanized Asian foods if they had been BURIED ALIVE and it was the only option). I was all ready to settle for the alternate grid, with its more choked-off grid (the NW flows into the rest of the puzzle so nicely in the original, and feels comparatively sectioned off in the alternate), so it was a pleasant surprise to be able to go with the more wide-open grid.
As an aside, Sanford and Son is one of my favorite shows of all time. If I had my druthers, that theme song would be playing in the background 24/7, and all grids would be filled with AUNT ESTHER swinging her purse at FRED SANFORD's face while spouting off her Bible verses, GRADY WILSON shuffling along with his wisecracks, and LAMONT's buddy ROLLO taking the brunt of Fred's ridiculous one-liners. Heck, even the horribly stereotypical AH CHEW makes me laugh. The entire show is so politically incorrect, it gives me an appreciation for how far things have come in 40 years.
I'm usually one for uplifting entries, grids and clues that make the solver finish with a sense of happiness, but sometimes exceptions keep things interesting. (Full disclosure, I had to sleep with the lights on after finishing "Harry Potter and the Goblet of Fire.") Now, who's up for a nice glass of Amontillado? Just follow me downstairs...