Jeff Chen notes:
What a great start to this "breaking the mold" theme week! I'm a sucker for puzzles with visual elements, and I love Patrick's unique style of art, so this one worked very well for me.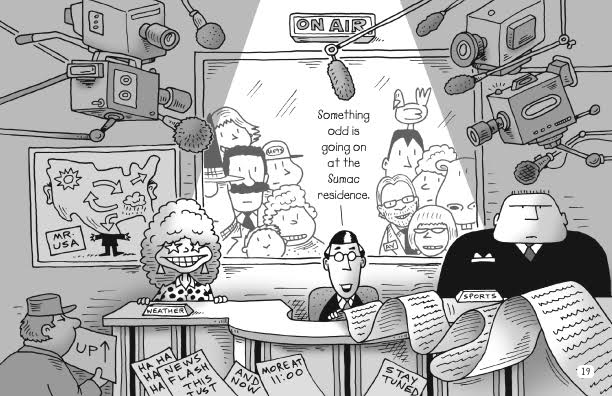 The theme — spoonerizing A POCKET FULL OF RYE into "a rocket full of pie" — is simple enough for a Monday and it made me laugh. Plus, Patrick's drawings are just nice to look at.
I liked how NURSERY RHYME and SPACE STATION apply to the two drawings, too — great to get some bonus theme material to flesh out the puzzle.
What with effectively five theme answers (including the big spaces for the two drawings), it's great that Patrick works in some colorful fill. There's not a lot of long stuff, just LIME TREE and STARGATE, but a dose of geography in BOGOTA, WARSAW, and LIBYA zest things up. Even the six-letter entries like EUREKA! and YES YOU serve their purpose well.
I personally dislike partials more than any other sort of glue (except random Roman numerals), so I didn't care for IF AT or AS BIG, but otherwise the puzzle is so smooth. Very well executed.
It stinks to be an Across Lite solver today (which I usually am). The puzzle makes absolutely no sense what with giant chunks of 3x3 black squares; no way to display those comic strip panels. Might have been better to just do away with the .puz file completely. Get into the 21st century already, crossword software!
Great idea to work cartoon panels into a crossword grid, something I can't remember seeing before. BTW, there's another puzzle this week that I also loved, so there'll be two POWs! this week.